Photo Gallery
Unum office space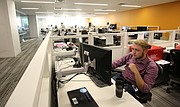 Unum Group is remaking its work space inside its iconic downtown Chattanooga headquarters, spending upwards of $40 million in the city and $100 million in its offices companywide.
"We needed the company to operate in a more open environment," said Rick McKenney, the insurer's chief executive officer and president.
McKenney on Tuesday walked through the ground floor of one of its buildings, called Home Office East, which has received the makeover in Chattanooga, pointing out the vast changes in appearance and work stations.
More color, light, and collaborative space are hallmarks of the revamped offices, which McKenney and his management team believe will appeal to multiple generations and help the insurance giant operate more efficiently.
"It's much more efficient. It's flexible," said the CEO of Chattanooga's biggest locally headquartered company that last year hit $11.6 billion in revenue selling disability and other kinds of insurance.
BY THE NUMBERS
* $40 million: Investment in Chattanooga campus makeover* 390,000: Square feet renovated* 215%: Gain in meeting roomsSource: Unum
About half the some 2,800 employees in Chattanooga don't have their own permanent desks now, but they use a variety of open work spaces within the building. Cubicles are fewer, and their walls lower. Glass-walled conference rooms dot the floors in the tower. There's even a so-called meditation room where employees can get away for short periods.
Laptops for all employees help with mobility and innovation, according to the company, with workers having the flexibility to choose their work setting. Work stations have sit and stand desks. Employees have access to lockers stationed against walls to store their stuff during the day.
Walking in off the street to where there was once terrazzo floors in the building, part of which dates back to 1959, there's now tile and laminate.
A central area, dubbed "the heart," offers space for impromptu meetings and collaboration. There's a coffee shop, called Common Grounds, and a micro-market sourced by local vendors Cadence Coffee and Vibrant Meals. There's also space for table tennis and other games.
It also features a "tech lounge" where workers can come to get technology support.
Each floor offers so-called "town centers," or community and collaboration locations. Operating units within the company are broken into "neighborhoods" to provide them with home bases.
Richard Meadows, Unum's vice president of corporate real estate, said Chattanooga has more metal design elements within its space to reflect its industrial heritage.
In Portland, Maine, where the insurer also has major operations, there's more use of brick to point to its history, he said. In Columbia, South Carolina, where the company's Colonial Life operations are stationed, there's wood accents.
"The heart - we want it to be the activity hub of the building," Meadows said.
McKenney said that while the work place shifts aren't on the cutting edge, it's "pretty uncommon as people look to flexible space."
"It's a significant investment," he said, saying Unum is trying to put itself among the leaders in the insurance industry when it comes to space.
Plans are to continue some changes into the Chattanooga company's adjacent building, Home Office West, though it's grand atrium will stay, officials said.
All the work campuswide is expected to be completed by mid-summer of 2020, Meadows said.
Sarah Hipp, an eight-year Unum employee and a manager in the absence management center, said there was an adjustment. But, she said, she doesn't ever want to go back to the former work space set-up.
Tim Moran, a disability benefits specialist who has worked at Unum for three years, termed the space "very vibrant." He likes that it spurs collaboration.
McKenney said the renewed space is "another representation of how we're committed to investing in Chattanooga."
"We think this is a great place to operate," he said.
Contact Mike Pare at mpare@timesfreepress.com or 423-757-6318. Follow him on Twitter @MikePareTFP.