Photo Gallery
'Skies and Other Flights of Fancy'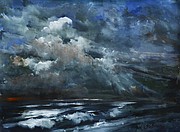 Sandra Brown remembers the painting that led to her breakthrough as an artist. She hated it.
Hated. It.
The problem, she believes, was the mindset she originally brought to her craft.
"When I started to paint, I wanted to create a perfectly rendered, recognizable image," she recalls, adding that she "pursued this train of thought for many years."
Until the day she took a good long look at this watercolor painting she detested and knew what she had to do.
"It was a landscape of clouds and so forth, but it started getting darker and darker and pastier and pastier and more and more opaque. There was no dimension, no depth, no value. There was nothing there. I thought, 'I'm just going to throw water at it.'
If you go
* What: Sandra Brown solo exhibit, "Skies and Other Flights of Fancy"* When: Through Sept. 27* Where: Michael's Fine Arts and Framing, 1325 Dug Gap Road, Suite A, Dalton, Georgia* Phone: 706-278-8840* Online: www.Facebook.com/MichaelsFineArts
"So I grabbed the biggest brush I had - because I thought it would cover more territory that way - and I started throwing colors down. And, man, I was so intrigued by what was happening. I started seeing colors and shapes in a different way than I'd ever seen before."
Suddenly, her creative lightbulb had sparked.
"I started working with this piece, pursuing emerging forms - or not. If I lost interest, I kept at it, and miraculously I painted something that resonated with me. I never looked back."
A solo exhibition of some her latest creations is on view this month at Michael's Fine Arts and Framing in Dalton, Georgia. Brown describes "Skies and Other Flights of Fancy" as "a personal visit to invented places as seen by the mind's eye." None of the scenes "is a bona fide place per se," she says, but rather ideas and memories that pop into her head.
Brown holds a degree in art, with a minor in math, from Northeastern Illinois University, and eventually taught both subjects while living in Chicago. When she got a shot at early retirement, she and her husband, Ron, relocated to Wisconsin, where she worked for a while as the director of an art center.
But the Browns were growing tired of cold and snowy winters. The couple had always loved Appalachia - her husband collects old 78 rpm records of Appalachian string bands - so they began contemplating a move south. She was enticed by a job offer in Morristown, Tennessee, but they had trouble finding a house they liked and there was snow on the ground on the January day they visited, so they kept driving.
"I told him, 'Keep on I-75 until the snow disappears. We'll go as far as we can.' And we stumbled upon Athens."
They settled in Athens in 2001 and she became active in the Athens Area Council for the Arts and its Arts Center. She has scaled back to teaching just three workshops a year, but for many years she taught a regular rotation of classes, often including a "Master Disaster" session to help artists in training learn how to salvage a painting they dislike, based on her own experiences.
"Before that breakthrough, I always cared what happened, but getting to a place where you can feel loose and free and you kind of get in the zone, that sort of transitioned me from wanting every petal of every flower and every leaf on every tree to be exact to something more impressionistic," she says.
"When you're at the point when you throw caution to the wind because it really doesn't matter, I think you are in a better place emotionally in respect to your creativity."
Contact Lisa Denton at ldenton@timesfreepress.com or 423-757-6281.