Photo Gallery
'Skies and Other Flights of Fancy'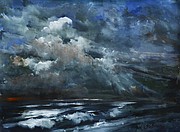 Sandra Brown remembers the painting that led to her breakthrough as an artist. She hated it.
Hated. It.
The problem, she believes, was the mindset she originally brought to her craft.
"When I started to paint, I wanted to create a perfectly rendered, recognizable image," she recalls, adding that she "pursued this train of thought for many years."
Until the day she took a good long look at this watercolor painting she detested and knew what she had to do.
"It was a landscape of clouds and so forth, but it started getting darker and darker and pastier and pastier and more and more opaque. There was no dimension, no depth, no value. There was nothing there.