Photo Gallery
Red Bank wins at East Hamilton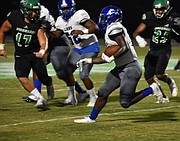 With its defense making big plays and wide receiver Lucas Brown continuing to excel, Class 3A's third-ranked Red Bank Lions showed grit and toughness once again in a 21-14 victory Friday night at East Hamilton.
Class 4A's 10th-ranked Hurricanes committed four turnovers, with three in the first half that led to scores as Brown carved up the secondary for 146 yards and two touchdowns.
Kel Eddins intercepted a pass right in front of the goal line in the final two minutes, and the visitors stood tall one more time when a pass deflection ended the game.
Through a 4-0 start, Red Bank's defense has 14 takeaways.
Red Bank DB Kel Eddins with a game saving interception. Lions have forced 4 turnovers tonight and have 14 on the season. 1 minute left up 21-14 on the road. #BestofPreps pic.twitter.com/O1h5CSoKyZ

— Patrick MacCoon (@PMacCoon) September 14, 2019
"Our defense is really big at attacking the football," Red Bank coach Chris Brown said. "Big turnovers help alleviate some of the pressure. Four weeks in, our guys are battle-tested. They have shown a lot of resiliency, a lot of backbone and togetherness on Friday nights."
East Hamilton (2-2) fought back from a 21-0 deficit with 4:10 left before halftime, forcing the Lions into three straight three-and-out series in the second half.
The Hurricanes missed a major opportunity at the close of the third quarter, though. Lined up in the wildcat formation on third-and-goal from the 1, the snap went awry and a field-goal attempt soon after was no good.
Junior quarterback Haynes Eller impressed during the incomplete rally, connecting with Conner Thornburg for a 30-yard touchdown pass down the sideline to cut the deficit to seven with 6:45 remaining. Thornburg scored both touchdowns, with his first a 10-yarder.
"At halftime we made some great adjustments defensively and didn't let them score in the second half," East Hamilton coach Grant Reynolds said. "I was proud of the way the kids played. We just made too many mistakes, but playing good teams only will help us come playoff time."
The Lions' expectations are high.
"We have only given up one rushing touchdown this season, and we have to clean up some missed tackling we had in the second half," senior linebacker Clark Lockerby said. "We have proven a lot early on against some bigger and deeper teams, but we still haven't played our best yet. Turnovers can help change the game any night, though."
Eddins, who had a fumble recovery and interception late, added: "When you practice hard it translates to the game. Every play we just keep going at it. When we come together, we can be a pretty good team. We are all one. I think even better days are ahead if we keep grinding."
Contact Patrick MacCoon at pmaccoon@timesfreepress.com. Follow him on Twitter @PMacCoon.