Photo Gallery
TVA coal ash cleanup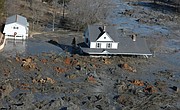 Part of the Obama administration's war on coal was just to try to discourage coal use period. We think states should should be free to move forward with their coal-fired generation, which is still an important part of our energy.
The Tennessee Valley Authority is planning to spend billions of dollars over the next 20 years cleaning up the legacy of what was once its biggest source of power - coal.
TVA CEO Jeff Lyash, the grandson of a coal miner who briefly worked himself in a coal mine growing up in Pennsylvania, said coal helped power America and will continue to play a role in future power supply for TVA. But there is now a price to pay for cleaning up the coal ash and other residuals left after the coal is burned and many of the fossil plants are shut down.
"These coal plants over the last 100 years are really what electrified the U.S. and now we're dealing with 100 years of the deferred costs of those plants,"Lyash said. "It's not just for us at TVA, it's the entire utility industry."
Lyash, who is also chairman of the Electric Power Research Institute, said TVA is working with other utilities to identify the best disposal and cleanup methods for the legacy of what still provides about 28% of America's electricity supply and nearly 20% of TVA's power.
Lyash said TVA is creating a panel of independent experts to help advice the utility "to make sure there are the technologies and there are the techniques to best deal" with the coal ash and other residuals left behind after coal is burned to generate electricity.
But as power demand stagnates and renewable sources become more cost competitive, coal-fired generation of electricity is expected to continue to decline, especially if more carbon controls are put in place to help limit greenhouse emissions linked with global warming. Even without tighter carbon controls, TVA expects to generate only about a third of the amount of power from coal this year that its did a generation ago.
Trump seeks coal revival
The Trump administration, in response to court rulings and the president's pledge to help revive the "clean, beautiful" coal industry, killed President Obama's signature climate change policy, the Clean Power Plan, which required states to reduce carbon emissions by nearly a third by 2030. EPA Administrator Andrew Wheeler said one analysis predicted the Obama rules would have destroyed much of the coal industry and produced double-digit electricity price increases in 40 states.
The EPA under Trump also has limited the effluent limitations guidelines under the Clean Water Act which EPA estimated would have cost $480 million per year. During a visit to Chattanooga last week, Wheeler said he wants the effluent limitation and coal combustion residual regulations "to come out at the same time so the regulated community knows what they have to do long term for everything, instead of a piecemeal approach."
"I think aligning our regulations and letting the industry know what is expected to them is going to help on compliance," Wheeler said. "Part of the Obama administration's war on coal was just to try to discourage coal use period. We think states should should be free to move forward with their coal-fired generation, which is still an important part of our energy portfolio."
Coal cutbacks and future
Even without such carbon limits, however, TVA is shutting down its aging Bull Run and Paradise plants within the next three years and replacing that power with cheaper natural gas and purchased power. But the federal utility will continue to operate Gallatin, Kingston, Cumberland and Shawnee fossil plants, at least for the foreseeable future.
A diverse portfolio able to adjust to market changes is best suited to keep rates low and reliability high, Lyash said. Despite the billions of dollars TVA expects to spend on cleaning up coal residues, the utility is planning to try to avoid any rate increases in the next decade and absorb the coal cleanup costs without burdening consumers with higher bills to pay for it.
"We've had 60 years of benefit from the coal plants at TVA and now we have a deferred cost to pay for it," Lyash said last month after TVA adopted a 10-year plan to try to keep electric rates stable through 2029. "That is for a benefit already received."
TVA is doing more to ensure dikes and earthen dams are safe so the utility doesn't have another accident like the Kingston coal ash spill in 2008. More than 1.1 billion gallons of coal sludge spilled into the Emory River and nearby properties when a wall in the coal ash pond near the plant collapsed in the worst such spill in American history. TVA has spent $1.2 billion cleaning up and compensating injured property owners from that disaster and TVA is spending at least that much again on converting other coal ash ponds to dry ash storage to avoid any other such spills.
TVA also is having to clean up sites and underground wells, including those at its Gallatin and Allen fossil plants, where residues have created groundwater pollution problems.
At Cumberland, Lyash agreed to a settlement this spring with state and federal regulators to dig up 12 million tons of coal ash stores in unlined pits and clean up the contamination left by the coal residues. Under the settlement, TVA has 20 years to complete the removal, which TVA estimates will cost it $640 million.
David Salyers, commissioner for the Tennessee Department of Environment and Conservation, praised the settlement to clean up Gallatin, which was spurred by lawsuits against the agency by several environmental groups.
"We are thrilled with the settlement at Gallatin," Salyers said last week during a visit to Chattanooga. "We applaud TVA for coming to the table and working with us through some difficult issues."
Salyers said TDEC is evaluating seven other TVA sites to determine the best cleanup process.
Last week, TVA released an environmental impact report for the cleanup of Gallatin, recommending a flow management system along with its move to dry ash storage at Gallatin. TVA prefers that option to the alternative of building new process water basins for use with the existing system.
TVA will receive public comment on the Gallatin plans through Oct. 9.
Costly cleanup ahead
Regardless of which plan is ultimately chosen, TVA's new long-range spending plans adopted by the TVA board includes more money for cleaning up TVA's coal generating assets, which once included 59 coal generating units. Lyash declined to specify the amount he anticipates having to spend on coal ash in the agency's new 10-year plan, but he said it will likely take TVA decades to fully clean up and pay for all the legacy costs.
"Think of coal ash spending in the $3-$5 billion range over 20 years," Lyash said. "The important thing here is to do what the best science informs and directs us to do, which means we need to take the time to do the geological, the hydrology and the environmental studies for each of these sites to determine what the best course of action is for closure and for ground water mitigation."
Lyash says he is sympathetic to workers who claim they were injured by the cleanup of the Kingston coal ash spill and says he would not use Jacobs Engineering under the current circumstances to lead any similar cleanup. But he defends the use of Jacobs and says the courts must now work on the resolution of the worker disputes in their lawsuit against Jacobs.
"TVA has the same challenge as any other utility which has historically operated coal plants in this country and that is, "how do we constructively and responsively deal with coal combustion residuals?' " Lyash said.
TVA has shut down more than half of the coal generation it once operated with the closing of its Watts Bar, John Sevier, Widows Creek, Colbert, Allen and Johnsonville plants. With the planned shutdown of Paradise and Bull Run plant, TVA estimates it will cut its carbon emissions by more than 60% from the levels reached in 2005 and carbon emissions should drop by 70% from those peak levels by 2030.
"We're already well down the path of reducing that carbon risk," Lyash said.
Political climate debate
But environmental groups complain that the pace of TVA's slowdown in carbon emissions is slowing even as the global warming which scientists link to such emissions continues to grow. In the 20-year power plan adopted last month by the TVA board as a planning guide through 2030, TVA projects that coal will continue to provide 15-20% of its power for at least another couple of decades.
"TVA deserves credit for making the reductions it has, but they continue to tout their reductions even though the pace of those reductions has slowed dramatically," said Stephen Smith, executive director of the Southern Alliance for Clean Energy, an environmental group based in Knoxville. "The crisis we are seeing from the impact of global warming is accelerating. There is a disconnect with what TVA is doing and what the scientists say we need to do. TVA needs to continue to retire additional coal plants and I think Kingston and Shawnee are both logical targets to retire and ultimately we'd like to see TVA phase completely out of coal."
Former TVA Chairman S. Davis Freeman, who worked at TVA for two decades as both an engineer and an attorney before President Jimmy Carter named him to head the utility in 1977, said TVA has lost its pioneering mission and should return to its roots by helping America move away from fossil fuels.
"The TVA Act was one of the most visionary of the original New Deal, but they have lost that vision," said Freeman, who headed four other utilities after TVA and now works as an advisor to the Friends of the Earth. "TVA ought to be leading the nation, not just acting like a monopoly utility."
Freeman said the economics and environment demand that TVA move away from carbon.
"We face an unprecedented challenge from climate change and the low cost power of the future is going to come from the sun and the wind and the batteries that back them up, not from burning coal," he said. "The costly cleanup from these coal ash spills and leaks is just another reason we have to move away from fossil fuels to power our country."
Contact Dave Flessner at dflessner@timesfreepress.com or at 757-6340.