When college football resurfaces following the COVID-19 pandemic, coaches could discover that retaining players may be just as challenging as recruiting them.
The NCAA's Division I Council is expected to discuss a one-time transfer waiver for student-athletes in all sports as soon as next week and then vote on the waiver in late May. The waiver then could go into effect this summer, granting all first-time transfers eligibility for the 2020-21 school year.
"My mindset has been that it's coming whether I like it or not, so I can't really talk about how many ways it's going to hurt us rather than understand how I need to live with it," said Charlotte football coach Will Healy, the former Boyd-Buchanan quarterback and former University of Tennessee at Chattanooga assistant. "There will be unintended consequences. What if I had left Austin Peay for Charlotte and wanted to take my top 15 players with me? If we have a guy here who has an opportunity to play at Alabama, I'm going to be frustrated that he left and it's going to leave a big hole, but it's the same way Alabama feels when a junior leaves early for the NFL.
Photo Gallery
NCAA one-time transfer waiver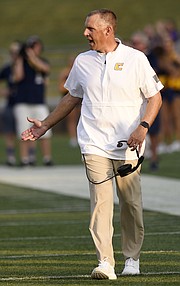 "I had a coach several weeks ago leave for an opening at Florida State. Why shouldn't a player be allowed the same thing?"
The Atlantic Coast Conference announced after its winter meetings Feb. 12-14 that its members were in unanimous support for the one-time transfer waiver, joining the Big Ten in voicing its approval. The Southeastern Conference had a few of its football coaches weigh in on the topic before the coronavirus outbreak put such widespread conversations on the back burner.
UTC coach Rusty Wright has been operating in a world where players who have yet to graduate have been required to sit out a season after transferring within the FCS ranks, just like those going from one FBS program to another, but he is prepping for the new landscape.
"It will not be that big of a deal this first time around, because it's supposed to go into effect August 1st, but after this year, it will affect us a lot," Wright said. "You will see more guys at our level going lateral than you will see FBS guys dropping down. In my opinion, programs like Will's at Charlotte will become more of a glorified G-League for the Power Five. I think the Power Five will raid the Group of Five, and then the Group of Five is going to come after us when we've got good players.
"We'll have to look at Division II kids looking to move up, and I think that's going to be the nature of it. The scary part to me is that you'll have to do more recruiting on your own campus than you ever had to do before. The NCAA doesn't have enough folks to monitor that, and it will get out of control."
Wright may sound like he's leading a crusade for the sport's little guys, but there are SEC coaches who have spoken out about the same concern this one-time transfer waiver may present.
"I see why some would justify it when you see coaches changing all the time, especially after signing day, but that's part of what you've got to deal with," Auburn's Gus Malzahn told ESPN. "I don't agree with it, but that's where we are. We will have to re-recruit our own players. There will be a lot of challenges, and coaches will have to rethink how they manage their roster."
Said South Carolina's Will Muschamp: "I've been in this league for 20 years. Tampering will be a nice word for what'll happen."
The one-time transfer waiver will give football, basketball, baseball and women's basketball players the opportunity to do what other student-athletes can do, not to mention those in other endeavors. After all, if a trombone player in the Alabama band transfers to Tennessee, he or she doesn't have to sit out a year.
There are no longer restrictions for players who have graduated with eligibility remaining to find another destination, and the same now will apply for those who receive a transfer release from their previous school, leave their previous school academically eligible, maintain their academic progress at the new school and leave their former school under no disciplinary suspension.
Clemson's Dabo Swinney understands the hypocrisy of coaches leaving on a whim and players not having had that opportunity, but he doesn't believe the one-time transfer is the answer.
"Guys should be able to go wherever they want to go," Swinney said last month in a news conference. "If you're a graduate, you should be able to go wherever you want to go, which is the case now. I also think that if your head coach leaves or is fired, you should be able to transfer if you want. I believe that, but other than that, I think if you transfer, you sit. Simple as that.
"If you graduate, then you can get that year back if you want, so you really don't lose anything, but at least that would slow down what's going to happen."
Swinney doesn't believe "coaches get to leave without penalty" should be the driving motivation behind this waiver. He cites the frequency in which many coaches move - Willie Taggart coached South Florida in 2016, Oregon in 2017, Florida State in 2018 and most of last season, and he's now at Florida Atlantic - and asks if that's what we want for players.
"The intent is really good, and there needs to be some common sense change to address the issue, but I don't like what's on the table right now," Swinney said.
Wright doesn't believe it will be tough keeping Mocs players from fleeing to the FBS likes of Buffalo, Kent State or others in distant destinations, but he recognizes that locales such as Charlotte or Florida Atlantic could be another matter. He added that college football will remain "tiered in everything we do," with the FCS playing third fiddle behind Power Five programs and Group of Five programs.
Healy and Wright have talked a lot about the impending change, and the two are in agreement on multiple fronts.
"The trickle-down effect has always happened," Healy said. "If a guy is a great player at Chattanooga and graduates and has a chance to play at Tennessee, he's probably going to go do it. If a guy is not playing at Georgia and graduates and wants to come to Charlotte or to Chattanooga, that's probably going to happen. The guys who are getting to play right away like Justin Fields - it's already happening anyway.
"Policing it may be the only part that really changes."
Contact David Paschall at dpaschall@timesfreepress.com or 423-757-6524. Follow him on Twitter @DavidSPaschall.