EPB largely completed one of the biggest power restoration programs in its 81-year history Tuesday, nine days after tornadoes cut power to more than a third of its customers.
The city-owned utility expected by Tuesday night to reconnect electricity service to nearly all of the remaining 60,000 home and businesses that lost power when a series of seven tornadoes ripped through parts of Chattanooga on Easter night. About 450 homes are too damaged for restoration until home repair or reconstruction takes place, but nearly all of the other inhabited structures regained power by Tuesday night after EPB and mutual aid utilities deployed an army of more than 1,400 linemen and other repair crews to repair and rebuild much of EPB's electric grid.
The work crews hired from utility and repair companies in seven Southeastern states have been deployed each morning from the parking lot of the shuttered Hamilton Place Mall.
Photo Gallery
Hamilton Place becomes storm repair staging area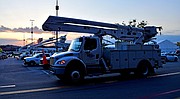 "There was a massive amount of damage our there," EPB President David Wade said in the midst of the repairs. "The tornadoes took out poles, wires, fiber and everything in its path. There are miles of our lines that were just gone."
But while EPB power has been restored, the utility's highly praised fiber optic network has yet to be fully rebuilt and in service. EPB was the first Internet Service Provider in the North America to offer gigabit-per-second broadband service to all of its customers in Chattanooga a decade ago, but EPB still had several thousand people with limited or no service this week.
Brian Daily, an East Brainerd resident who relies upon EPB Fiber Optics for both his phone and internet service, said he lost his job but is struggling to file for unemployment benefits without reliable phone or online connections.
"I know we got hit hard, but why can't we get service nine days after the storm when everyone talks about how great "Gig City" is for our internet service," Daily asked Tuesday. "It's more like "giggles" city to me, except it's not very funny."
Bill Woosely, a Realtor with Re-Max Properties who lives at Shallowford Road apartments, said he has to travel down to the local Walmart to get internet service and rely upon others with landline phones "and no one at EPB seems to be able to tell us when we will have our internet connections back."
Wade said Tuesday that EPB expects to restore fiber optic services to most customers by Friday, but restoration efforts will likely extend through the weekend.
Currently, EPB has more than 400 fiber installers dedicated to the effort of repairing internet and other fiber optic services as quickly as possible.
"Unfortunately, Chattanooga's fiber network also sustained severe damage," Wade said. "We're working hard to re-splice the main feeder fiber cables. Doing this will restore fiber optic services to thousands of customers over the next few days and allow us to move to repairing the smaller distribution fiber lines to bring our remaining customers back on-line."
Wade said the utility couldn't begin fiber optic repairs until the poles had been replaced and the electric service had been restored, "but we've had fiber crews coming in as soon as electric crews finished their work."
The fiber optic lines strung on EPB's utility poles were downed along with power lines and restoring the telecommunication services along the EPB Fiber Optic lines generally comes after EPB has restrung its power lines.
"Restoring service is somewhat of a layering process," said Wade, who began his career at EPB as a line helper in 1983 and later served as a senior manager and later vice president of the Electric Power system before being named EPB's CEO in 2016. "If a whole section of wire is down, we have to start out by putting the poles back up; then we put the electric wires that go to the top of the post, and then we have to go back and put the fiber on after that."
Wade said EPB and its support crews were mobilized "to try to impact the most people in the shortest period of time" so some isolated outages may have taken longer to repair and restore service.
Wade said hundreds of new utility poles were installed, 56 miles of new power line were re-strung and 15 miles of new power lines were installed after winds of up to 145 miles an hour destroyed EPB transformers, poles and lines across much of the utility's 600-square-mile service territory. The outage was the biggest since tornadoes struck a similar area of EPB's service region in March 2011.
Contact Dave Flessner at dflessner@timesfreepress.com or at 423-757-6340.
Photo Gallery
Bearden vs. Mount Ida