Transforming a high school research lab into a COVID-19 testing facility capable of processing hundreds of tests a day with 24-hour turnaround times was a huge undertaking.
But that monumental accomplishment turned out to be just the beginning. Months later, as they continue to spend long days running hundreds of tests with no end to the demand in sight, Elizabeth Forrester and Dawn Richards are working to fill a need that just keeps growing.
"We're concerned," says Forrester, who has a Ph.D. in cancer biology from Vanderbilt University and joined the faculty of Baylor School in 2016. "How do we scale up? Given this path that we're on, how do we continue to help?"
The idea to convert the Baylor School lab to a community testing facility came together quickly as Forrester and Richards heard news of long wait times for COVID-19 lab test results.
Photo Gallery
Baylor Esoteric and Molecular Laboratory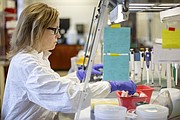 They had the equipment and the knowledge to do the work, and once they started the process, people came forward to help them clear big hurdles, from getting CDC authorization to expanding the supply of equipment and chemicals they needed to run hundreds of tests.
"This is the direction we always wanted to go with Baylor research - we just got catapulted," says Richards, who has a Ph.D. in microbial ecology from the University of Delaware and joined the Baylor faculty in 2004.
By late March, just weeks after the effort to stand up a testing facility began, the Baylor lab was running tests for Hamilton County and had sped turnaround times from a week or more to a day.
The county ended their contract with Baylor in June, but the school is still running tests for Hamilton County EMS, CHI Memorial, Galen Medical, One to One Healthcare, Clinica Medicos, University of the South-Sewanee, Phoenix Air Medical Group, Nephrology Associates and Kindred Hospital.
"We can result 300 to 400 tests the same day," Forrester says. "That's the plan. We are dedicated to 24-hour turnaround."
On a Friday afternoon in July, a tray of 94 COVID-19 tests turned up 16 positive results.
"The need is still there," Forrester says. "We want to support our community."
Baylor Esoteric and Molecular Laboratory
* About: Baylor School is a private school founded in 1893 that serves 1,040 students in grades 6 through 12.* Extraordinary Service: The lab processes 300-400 COVID-19 tests a day, with a typical turnaround time of 24 hours for results.* By the Numbers: The lab processed more than 25,000 tests between late March and late July.
The people who have supported the work run the gamut, from Clint Smith and Alyssa Summers, faculty members in the Department of Biology at the University of the South-Sewanee, to Grace McKenney, a 2018 graduate of Baylor who has been an integral part of the intake, tracking and processing of tests. Getting federal certification came through the help of Rick Carroll, who directs the program for Tennessee.
"We had many partners who helped us along the way, who just said, call me if you need something, just call," Richards says.
The lab's success has been the result of people across the community determined to find a solution to an urgent problem, Forrester says.
"It was like one roadblock, another roadblock, and any time there was a roadblock, it seemed like there was someone there helping us cross that hurdle."
READ MORE
* Meet the 2020 Champions of Health Care
* Bond receives Champions of Health Care lifetime achievement award
* Pope receives Champions of Health Care administrative excellence award
* McGuire receives Champions of Health Care physician/community award
* Chase receives Champions of Health Care non-physician practitioner award
* Pesnell receives Champions of Health Care volunteer award
* Haynes receives Champions of Health Care physician/academic award
* Headrick receives Champions of Health Care innovation by an individual award
* Blood Assurance receives Champions of Health Care community outreach award
* Chattanooga's COVID-19 response: Joining forces to serve the most vulnerable
* Chattanooga's COVID-19 response: Meet the Scenic City's go-to medical experts leading our community through the pandemic