Photo Gallery
2020 Dodge Charger SRT Hellcat Widebody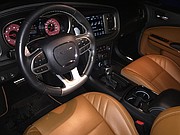 When a buddy spotted me in the 2020 Dodge Charger SRT Hellcat in a parking lot on Signal Mountain recently, he immediately began walking briskly in my direction.
"Did you break down and buy this?" he asked, eyes wide, arms spread.
"I wish," I said. "No, it's a tester."
"Well, if you had convinced your wife to let you buy this, I was going to borrow your script," he said.
Alas, for many men of my generation, the 2020 Dodge Charger SRT Hellcat Widebody is an unattainable object of affection - not unlike those posters of Farrah Fawcett that used to decorate our dorm rooms in the 1970s. At $76,615, though, our tester is clearly a toy for the affluent.
The 707-horsepower Dodge Charger Hellcat has been enchanting auto enthusiasts, old and young, since debuting in 2015. And here's the glory part: Because it has four doors, you can plausibly call it a "family sedan." OK, maybe only if your family's name is Allison, Elliott or Petty.
However, if your family needs to go 0-60 mph in 3.6 seconds or venture out to Hamilton Place mall at a top speed of 196 miles per hour, this is definitely the car for you.
FAST FACTS
* Model: 2020 Dodge Charger SRT Hellcat Widebody * Exterior color: TorRed * Interior color: Black/caramel * Engine: 6.2-liter supercharged V-8 * Horsepower: 707 * Transmission: 8-speed automatic * Fuel economy: NA * Local Dealer: Crown Chrysler Dodge Jeep Ram FIAT in Chattanooga and Mountain View Chrysler Dodge Jeep Ram in Ringgold, Ga. * Price (as tested): $76,615
The news surrounding the 2020 Dodge Charger SRT Hellcat is that it is now available with the "Widebody" package which includes: wider fender flares, special wheels, a race-tuned suspension, upgraded brakes and electronically assisted steering, among other features.
Dodge automobiles are available locally at Crown Dodge in Chattanooga and Mountain View Dodge in Ringgold, Georgia.
WHAT IS IT?
The 2020 Dodge Charger SRT Hellcat is a five-passenger sedan with a massive 6.2-liter, 707-horsepower supercharged V-8 engine.
HOW MUCH DOES IT COST?
Our tester has a base price of $69,645 but also comes with a host of options, such as special three-season tires ($695), carbon fiber and suede interior ($1,595), red brake calipers ($595), Harmon Kardon audio ($1,595) and navigation ($995).
WHAT WE LIKE?
Hellcat, how do we love thee? Let us count the ways. Well, let's start with that deep-throated, rumbling V-8, which is the beating heart of this beast. We liked that alot. The widebody kit, with it's fender extentions takes a car that's already menacing and makes it look maniacal.
ROOM FOR IMPROVEMENT
In a perfect world, the Dodge Charger SRT Hellcat Widebody would come with a lifetime supply of tires. On a 700-horsepower car, tires have a way of evaporating.
DRIVING IMPRESSIONS
The Charger SRT Hellcat Widebody is actually comfortable in around-town diving. It's not one of those cars that's hard to hold under the speed limit. But when you're ready to roar - whoa, baby!
BOTTOM LINE
Nobody needs a Hellcat. But plenty of people - like me - want one. The last time I looked the Powerball jackpot tonight was just under $300 million. I can't think of a better reason to run out and buy a lottery ticket than the possibility of owning a Charger SRT Charger Hellcat Widebody.
In the market for a new vehicle? To access hundreds of Mark Kennedy's Chattanooga Test Drive columns visit www.timesfreepress.com/testdrive.
Contact Mark Kennedy at mkennedy@timesfreepress.com or 423-757-6645. Follow him on Twitter @TFPCOLUMNIST. Subscribe to his Facebook updates at www.facebook.com/mkennedycolumnist.
Looking for a used or new car?