EDITOR'S NOTE: This is the 11th story in a series on the 15 most memorable SEC football games beat writer David Paschall has covered since joining the newspaper in 1990. The games are being presented in chronological order.
The further everyone gets from the 2010 Iron Bowl, the tougher it becomes to prove to the youngest generation of football fans that it actually transpired.
Alabama coach Nick Saban has racked up six Southeastern Conference championships, five national titles and 33 first-round draft selections during his amazing run in Tuscaloosa. He also has a 28-27 home loss to his chief nemesis in a game the Crimson Tide once led 24-0.
Auburn entered Bryant-Denny Stadium on Nov. 26, 2010, with Heisman Trophy favorite Cam Newton at quarterback and with an 11-0 record, but Gene Chizik's No. 2 Tigers were underdogs to the 9-2 and No. 9 Crimson Tide. Alabama was loaded with veteran talent, beginning with senior quarterback Greg McElroy and including the junior trio of running back Mark Ingram, receiver Julio Jones and defensive tackle Marcell Dareus.
Somehow Alabama built a 24-0 lead by the midway mark of the second quarter, when the Tide had 295 total yards and the Tigers had 2. Somehow Auburn rallied for the biggest comeback in program history and rivalry lore, as Newton punched his Heisman ticket with three touchdown passes and a rushing score.
"That was a game that will certainly go down in history," Chizik said afterward. "It was a great win for Auburn football, and it was a great win for Auburn University."
Said Saban: "When you play good teams, you've got to play for 60 minutes. Those kind of teams don't go away."
The 6-foot-6, 250-pound Newton celebrated with the Auburn faithful who were outnumbered inside the packed house of 101,821. He was not, however, made available to the media because of an NCAA investigation into allegations that his father, Cecil Newton, had a $180,000 asking price several months earlier for his son to sign with Mississippi State.
When Newton and his teammates entered the field in their warmup suits more than an hour before kickoff, Steve Miller's "Take the Money and Run" was played over the loudspeakers. That was followed by Dusty Springfield's "Son of a Preacher Man."
Things worsened for Newton once the game started, as he didn't complete a pass in the first quarter and was sacked twice.
"We were just really anxious," Auburn running back Michael Dyer said. "We were just too anxious and caught up in all the hype in the first half, and in the second half we just got into our rhythm and played ball."
Alabama's 24-0 lead would have been larger had Auburn defensive tackle Antoine Carter not caught up with Ingram 40 yards down the field and poked the ball out and through the end zone for a touchback early in the second quarter.
Auburn got on the board with 5:08 left in the half on a 36-yard touchdown pass from Newton to Emory Blake, and the Tigers pulled within 24-14 two plays into the third quarter on Newton's 70-yard strike to Terrell Zachery. Alabama safety Mark Barron was in position to deflect the ball before it arrived to Zachery but said he injured his pectoral muscle late in the first half and couldn't get his arm up to make the play.
"That kind of really sums up the year," Barron said. "We had a lot of defensive inconsistencies this season. We just didn't come out and finish the way we were supposed to."
The Tigers trailed 24-21 early in the fourth quarter when they converted on fourth-and-3 from Alabama's 47-yard line with a 9-yard pass from Newton to Darvin Adams. The Tigers took their first lead on a 7-yard toss from Newton to tight end Philip Lutzenkirchen with 11:55 remaining, which wound up capping Newton's aerial day at 216 yards.
Auburn entered the Iron Bowl with comeback wins from double-digit deficits against Clemson, South Carolina and Georgia, and the Tigers would ascend to a No. 1 ranking after truly turning the Tide. The Tigers shredded South Carolina 56-17 in the SEC championship game before topping Oregon 22-19 in a surprisingly low-scoring BCS national title contest.
In the memorable season filled with memorable victories, nothing topped what would be known as "The Camback" in Tuscaloosa.
"This is probably the best win in Auburn history," Tigers linebacker Josh Bynes said, perhaps speaking three years too soon.
Contact David Paschall at dpaschall@timesfreepress.com or 423-757-6524. Follow him on Twitter @DavidSPaschall.
Photo Gallery
Nov. 26, 2010: No. 2 Auburn 28, No. 9 Alabama 27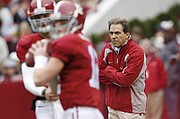 READ MORE STORIES IN THE SERIES
Thirty years of SEC memories began with dominance of Pat Dye, Johnny Majors
Florida 48, Auburn 7 (1990): Spurrier's Gators arrived while ushering out Dye's Tigers
Alabama 28, Florida 21 (1992): Steve Spurrier on SEC title game: 'I didn't even know it was legal'
Auburn 38, Florida 35 (1993): The year college football's 'best team on radio' went 11-0
Alabama 29, Georgia 28 (1994): The night Jay Barker had to outlast Eric Zeier
Tennessee 28, Arkansas 24 (1998): Billy Ratliff's play arguably the most memorable in Vols history
Georgia 26, Tennessee 24 (2001): When a 'hobnail boot' described an instant classic
Georgia 24, Auburn 21 (2002): The fourth-and-15 play that turned a Florida-Auburn SEC title matchup into Georgia-Arkansas
LSU 17, Georgia 10 (2003): Nick Saban gets LSU back among the national elite
Florida 31, Alabama 20 (2008): Turning the SEC title game into a national semifinal
Alabama 12, Tennessee 10 (2009): The day 'Mount Cody' spoiled Tennessee's upset bid
Alabama 32, Georgia 28 (2012): Time runs out on Georgia in the most thrilling SEC title game played to date
Georgia 44, LSU 41 (2013): Aaron Murray and Zach Mettenberger meet again to provide a classic
Auburn 34, Alabama 28 (2013): Navigating thousands to interview 'Kick Six' components quite the task
Alabama 26, Georgia 23, OT (2017 season): Crimson Tide win walk-off national title over Bulldogs