CLEVELAND, Tenn. - To understand Cleveland senior point guard JaCobi Wood's ascension to Class AAA Mr. Basketball, one would have to understand his older brother, Jay Mee.
Wood was a 7-year-old kid going to the Northeast Recreation Center with Mee, who at the time was about 15 or 16, to work out. Mee continually put his younger sibling through dribbling drills, trying to get Wood to realize just how hard things would be once he got to high school.
Remember: Wood was 7.
"We had two balls," Wood recalled recently of his brother, who was about 6-foot-2 and 175 pounds. "He doesn't look like it, but Jay is so strong. He's just hitting me - hitting my wrist, hitting my shoulder and pushing me, hitting my biceps. I mean, I'm down here falling, dribbling the ball. I was like, 'Bro, just give me a break. I'm 7 years old.'
Photo Gallery
JaCobi Wood and his family find solace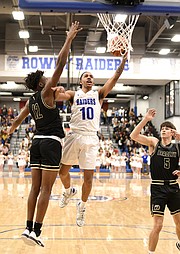 "I'm crying while he's pushing me on the ground. He's like, 'You have to get tough. It's only going to help you get to the next level.' I didn't understand it then, but I see it now. I understand what that meant."
Almost as if he's not thinking about it, Wood sometimes speaks of his brother in the present tense. Maybe it's not being able fully to come to terms with what happened on May 27 of last year, when Mee slipped and fell into the Ocoee River, where his body was found the next day. He was 25 at the time.
Wood's father Greg was at work when his wife Tiffany got a call about the incident. The three headed to the Ocoee to help with the search.
"It was like a dream," Greg said. "It was unreal; this can't be happening."
Rescuers - the Woods estimated there were about 100 of them - all set out to search for Mee. They looked in every area imaginable for him, except for one.
"JaCobi asked the rescuers, 'Have you looked over there?'" Greg said. "And he pointed in one direction, not necessarily that spot, and said, 'Have you looked over there?' And they said they had checked everywhere.
"And the next day, that's the area where they found him. JaCobi was like, 'I told him to look there, Dad. I told him.' But it was unreal, like a dream, a nightmare that you're going to wake up from.
"It was a rough day."
There was no simply moving on from what had happened. How could there be? The family leaned on each other, but there were hard times. There was a memorial for Mee - who was described by former Cleveland coach Jason McCowan, Mee's coach, as "always smiling" - at the same recreation center where he used to punish his brother. Hundreds showed up.
There were pictures. The family smiled in those pictures. But behind the pictures was pain.
The first month after Mee's passing, JaCobi would go take a shower and cry, his tears mixed in with the water pouring off his head. Going to sleep normally yielded the same result. That first week, Wood wouldn't eat or get out of bed.
People would try to reach out to the family, sometimes to no avail.
But to know Wood is to like him. He has the ability to transcend both rivalries and race, no small task in a town like Cleveland. So it wasn't just black people who were reaching out to the family; it wasn't just Cleveland fans. People of all races, from all schools, reached out.
"He had some good people in his corner, some good guys in his corner," Tiffany said
Added Greg: "He was a lot stronger than I expected him to be. Not that he didn't feel it, but the way he handled it."
JaCobi said he and his parents leaned on his grandmother, Martha Tibbs, who is a pastor at Christian Fellowship Center and Outreach Ministries.
"She knew where Jay was at. We all knew where Jay was at, but it was hard being without him physically but knowing he was up there spiritually," Wood said.
Basketball became a therapeutic escape. Wood and Mee had taken a trip to Belmont University for a game last season, and both came away with the same thought: If the Bruins offer a scholarship, Wood was accepting.
"It didn't matter if I was getting a bigger offer," Wood said. "I could play at the high levels and all that, but that (Belmont) just felt like home. Something about it felt like home for him and for me, so you can't go wrong with that."
Wood had offers also from Jacksonville State, James Madison, the University of Tennessee at Chattanooga, Canisius, Lafayette, Furman, Lipscomb and Wofford. He had heavy interest from Missouri, Central Florida, Virginia Tech, Michigan, Penn State, Vanderbilt and Temple, but 10 days after Belmont offered on June 12, Wood committed to the Bruins.
With a college home locked in, Wood turned his focus to a trio of goals he had set for himself in his final season: average 25 points per game, win Mr. Basketball and lead the Blue Raiders to a state championship.
- Check. He averaged 27.9 points per game, along with 5.7 rebounds, five assists and 2.7 steals this season.
- Check. He became Cleveland's second Mr. Basketball winner, joining Vincent Yarbrough from 1998.
- Almost check. Wood and Cleveland have compiled a 33-1 season and qualified for the Class AAA state tournament, which has been postponed due to concerns over the coronavirus. On Tuesday the TSSAA approved a plan to continue waiting for several more weeks to determine whether the state tournaments can be played or if the season will have to be canceled.
Cleveland has won 53 of the last 54 games he's played in, the exception being a loss to eventual runner-up Memphis East in last season's state tournament. He missed this season's lone loss - a 62-60 defeat at the hands of rival Bradley Central in the District 5-AAA championship game - with a sprained ankle.
In his first game back from injury, Wood scored 42 points in two and a half quarters, making 11 3-pointers in a win over Cookeville. He also set a school record with 53 points against the Cavaliers in a game this season and topped 50 points on one other occasion.
"He's been talented since day one," Cleveland coach Reggie Tucker said. "What you're seeing out here on the basketball court, I don't think people realize what he brings to the table.
"With (losing his brother) in mind, he's playing with that, and he has a chip on his shoulder because he feels like people still overlook him, and it's crazy that people are overlooking what this kid is doing with the basketball."
Wood honored Mee this offseason with a couple of tattoos on his left arm: the words "My Brother's Keeper" with Mee's birthday in Roman numerals and a lion with the words "Jay Mee" underneath and the dates "6-19-93 – 5-28-19" written above. Every time he makes a shot, it's a pump to the chest and a finger in the air. That's the new norm: a small tip of the cap to the person who used to push him to the floor to make him tougher.
"It's good for him, because he says he learned everything he knows from Jay," Tiffany said. "From watching Jay, from being little and we had him on Jay's AAU trips when he was just a small boy. He was tough on JaCobi, and he needed it. I told him that Jay equipped you with everything you needed to know from then on. We didn't know that it was going to be cut off at 25 - of course I wanted to have my kid until he was 90 and I was 200 - but Jay equipped him with everything that he needs."
Added Jacobi: "There are moments when you have to cry. Sometimes it's sad moments, but we're all uplifting and we don't just isolate ourselves anymore. The first few months we just all used each other as a vessel because Jay lives in all of us - all three of us: my mom, my dad and me. We've bonded with each other and rubbed off on each other, and iron sharpens iron, really.
"In the end, you just have to put God first."
Contact Gene Henley at ghenley@timesfreepress.com. Follow him on Twitter @genehenley3 or at Facebook.com/VolsUpdate.