BOWLING GREEN, Ky. - If Saturday's performance was any indication of what lies ahead in the spring, University of Tennessee at Chattanooga football coach Rusty Wright is in the process of building a solid program at his alma mater.
The final score - Western Kentucky 13, UTC 10 - left the Football Championship Subdivision's Mocs salty. It was a game they believed they should have won, and they were probably right. The Mocs were the better team on the field for most of the game on both sides of the ball in what will be their only game in 2020, with the Southern Conference schedule and the FCS playoffs postponed to the 2021 spring semester because of the COVID-19 pandemic.
Still, UTC offense's largely struggled, finishing with just 225 yards. The Mocs leaned on their rushing attack, but only 31 of their 135 yards on the ground came in the second half. When they needed to make a play through the air, senior quarterback Drayton Arnold - making his first start since high school - struggled, finishing 9-of-23 passing for 90 yards.
UTC's defense did its part, holding the Hilltoppers (2-4) of the Football Bowl Subdivision and Conference USA to their second-worst passing performance of the season with 132 yards (only 129 against Louisville was worse) and third-fewest total yards with 254, with only the University of Alabama at Birmingham (250) and Louisville (248) producing better defensive efforts against Western Kentucky.
Photo Gallery
UTC at Western Kentucky football on Oct. 24, 2020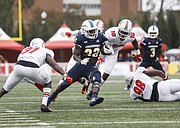 At one point, the Hilltoppers called for a reverse pass from the UTC 9-yard line late in the first half. The play was stuffed for an 8-yard loss by former Ooltewah standout Rashun Freeman, and on the next play, former Bradley Central standout Jay Person sacked Kevaris Thomas and forced a fumble that was recovered by former Soddy-Daisy standout Ty Boeck.
"I thought they were desperate," said Boeck, who finished with six tackles from his linebacker spot. "They couldn't move the ball, couldn't get a touchdown. I thought stopping them was huge for us and a big blow to them."
Then came a bunch of things that Wright, in his second season, and the Mocs didn't agree with. On the Hilltoppers' final drive, there was a roughing-the-passer penalty called on Person that negated Tyrrell Pigrome's incomplete pass in the red zone and gave the Hilltoppers first-and-goal. Four plays later, Pigrome found Craig Burt Jr. for a 4-yard touchdown pass as the Hilltoppers went ahead 13-10 with just 1:21 to play.
Then came the ensuing kickoff. Wright said afterward he had told the players in the huddle that they were returning the kickoff, regardless of where it landed. So it didn't surprise anyone in UTC's all-blue uniforms when Bryce Nunnelly grabbed the ball a yard deep into the end zone, weaved through a couple of holes and returned it for a touchdown that put the Mocs up 16-13.
Or so it seemed.
Instead, the line judge waved off the return, saying that UTC's Tyrin Summers had called for a fair catch prior to the return, giving the Mocs the ball at their 25-yard line with just 81 seconds to play.
Four plays later, UTC turned the ball over on downs, allowing the home team to take a knee to seal the win.
"This group just rallied and played," Wright said. "There's no way we should have been on the field with that group, playing our first game. No way - there's too much talent over there. They didn't deserve to win that game; our guys did.
"Our guys just battled. Nobody ever quit, nobody ever got worried. We didn't get panicked. We just kept lining up, playing and making them play, and eventually we got a little wore down, but we're OK. If that's the case, we're going to be OK."
The next time the Mocs take the field again, the calendar will have turned to 2021 and the opponent will be SoCon foe Virginia Military Institute in the first of eight league games. However, on Saturday showed UTC it is capable of competing against a team in a higher division.
"I liked that we kept fighting despite all the controversy going on," said sophomore running back Ailym Ford, who finished with 92 yards on the ground in his first game back after tearing his ACL late last season. "I feel like we can build on that and be good as a team.
"We have a lot of things to fix, and we're going to work on that during the offseason."
Kam Jones finished with nine tackles, including one for loss. Freeman had eight, including a team-high three for loss. Person was credited with a sack and three tackles for loss as well as a pass breakup.
Contact Gene Henley at ghenley@timesfreepress.com. Follow him on Twitter @genehenley3.