Free plants, the possibility of free food and introductions to a 21st-century astronaut and a 19th-century blacksmith are among upcoming events.
* Astronaut chat: The Tennessee Aquarium will offer a Facebook Live meet-up at 7:30 p.m. April 7 with retired NASA astronaut Cmdr. John B. Herrington, a trailblazer featured in the new Imax film "Into America's Wild 3D."
An enrolled member of the Chickasaw Nation, Herrington became the first American Indian to walk in space in 2002 as part of mission STS-113 aboard space shuttle Endeavour. Since retiring from NASA in 2005, he has made it his mission to inspire young people toward a love of the outdoors and science-related career paths.
The free event will be hosted on the Tennessee Aquarium's Facebook page. There will be a comment feature to submit questions.
* Symphony performances: Tickets are available for the Chattanooga Symphony & Opera's performances of English composer Edward Elgar's String Serenade at 7 p.m. April 8-9 at First Cumberland Presbyterian Church, 1505 N. Moore Road.
In addition to the String Serenade, one of Elgar's most popular works, the concert will feature d'Indy's "Chanson et Danses (Songs and Dances)," a septet for winds; modern composer Brett Dietz's "Street Fight," a percussion duo; and a special piece from Chattanooga composer Jonathan McNair.
CSO Music Director Kayoko Dan describes McNair's "These Three," as "a beautiful work for strings." It was written in memory of Chattanooga urban design Christian Rushing
Tickets are $25. They will not be sold at the door. To purchase, call 423-267-8583 or go online to chattanoogasymphony.org. The box office, 736 Georgia Ave., Suite 101, is open limited hours, 10 a.m.-2 p.m. Tuesday-Thursday for purchases. Patrons also have the option of streaming a recording of the performance, starting April 13, for $10 per household.
* Free food: Tupelo Honey launches a new spring menu April 8 with a chance to win a free tasting for four people. Register by April 11 for a chance to sample the buttermilk waffle creations, including one made with mac and cheese. The Chattanooga location is at 1110 Market St. Find the contest link at www.tupelohoneycafe.com.
* Praise Breakfast: April 8 is the reservation deadline for the Scenic City Women's Network's Praise Breakfast, featuring a keynote address by "Inside Edition" national correspondent Megan Alexander. The event is scheduled 7-9 a.m. April 15 at the Chattanooga Convention Center, 1 Carter Plaza (doors open at 6:30 p.m.).
Alexander is the author of two best-selling books: "Faith in the Spotlight: Thriving in Your Career While Staying True to Your Beliefs" and "One More Hug," a children's picture book. The Olivet Baptist Praise Choir will share their musical ministry during the breakfast. Jan Silvious, a national radio and television speaker, will be presented the Lydia Award.
Individual tickets are $30, or host a table for $240. Make reservations at scwn.org (click on Events, then Praise Breakfast). For more information, call 423-698-6262 or email admin@scwn.org.
Photo Gallery
Upcoming events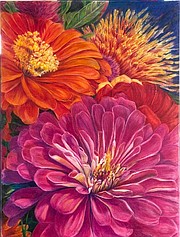 * Outdoor concerts: An Americana artist and a bluegrass band are featured this weekend at The Caverns, 555 Charlie Roberts Road in Pelham, Tennessee. Robert Earl Keen plays April 9, The Steeldrivers on April 10. Both shows start at 7 p.m. CDT in the above-ground amphitheater. Tickets, priced at $60-$80 per person, are sold in pods for two, four or six people. Find out more at www.thecaverns.com/shows.
* Film series: The Bobby Stone Film Series returns this weekend with five screenings of four films over three days inside the Tivoli Theatre, 709 Broad St. The schedule: April 9, "A Star Is Born" (2018), 7 p.m.; April 10, "Reservoir Dogs," 3 p.m., and "Pulp Fiction," 7 p.m.; April 11, "Coming to America," 2 and 6 p.m. Tickets are $12 for adults, $10 for children and seniors. Purchase at tivolichattanooga.com.
* Plant giveaway: Daisy United Methodist Church, 9508 Dayton Pike in Soddy-Daisy, will hold its 10th annual Plant Giveaway on April 10. The event will start when the first plants are put out at 8:30 a.m. and last until supplies are gone.
Each person in attendance can choose two free plants, with the option of buying up to 10 more plants for $2 each, potentially taking home 12 plants for $20.
Organizer Bill Haley says there will be a good selection of flowers, herbs and a few vegetables, including wild geranium, eastern columbine, pink bergamot, sundrop, strawberry, aromatic aster, orange coneflower, cutleaf coneflower, short-tooth mountain mint, bearded iris, Siberian iris, ajuga, tiger lilies, daylilies and spearmint.
All proceeds will benefit the church. For more information, email Haley at indul8rbill@yahoo.com.
* Spring Fling: This spring crafters market is scheduled 10 a.m.-3 p.m. April 10 at Trojan Hall, 10838 Dayton Pike in Soddy-Daisy. Most vendors will be inside the venue, so the festival will take place rain or shine.
Offerings include pulled pork by the pound or plate, baked goods, jewelry, candles, wreaths, home decor, portraits, fashions, CBD products, beard products and plants. Door prizes will be awarded.
Learn more on Trojan Hall's Facebook page.
* History program: Chickamauga and Chattanooga National Military Park will present a virtual program on the life and legacy of Bill Lewis, a 19th-century African-American blacksmith, at 2 p.m. April 10. The program will be accessible in video and audio formats on the park's Facebook Page (www.facebook.com/chickamauganps) and YouTube channel (www.youtube.com/chchnps).
According to his obituary in the Chattanooga Daily Times, published on Sept. 3, 1896, William T. Lewis "came to Chattanooga when it was known as Ross's Landing, in 1837." He plied his trade as a blacksmith so diligently that he purchased his own freedom and that of his mother, brother and sister by 1851, according to park officials. By 1862, as the Civil War crept closer to the area, Lewis' blacksmith shop forged the shackles for James Andrews and his famed raiders, who were temporarily jailed in Chattanooga.
For more information, call the Chickamauga Battlefield Visitor Center at 706-866-9241, the Lookout Mountain Battlefield Visitor Center at 423-821-7786 or visit the park website at www.nps.gov/chch.
* Parking Lot Divas: This pandemic-friendly version of what was once Divas & Drinks takes place at 3 p.m. April 10 in the parking lot of Northside Presbyterian Church, 923 Mississippi Ave. Opera Tennessee singers, accompanied by pianist Ethan McGrath, will perform. Bring your own snacks, plus a lawn chair for a socially distanced gathering in the parking lot. Or stay in your car and listen on a radio frequency. The concert will be posted to Facebook afterward. Questions? Email operatennessee@gmail.com.
* "Spring Awakening": The artists of In-Town Gallery, 26A Frazier Ave., are celebrating the new season with a "Spring Awakening" theme for April. The featured works are gilded botanicals, sculpted in bas relief by Judy Jones. Practiced since ancient times, bas relief sculpture features figures that project from a flat background, such as wood or plaster, through carving or casting. Hours are noon-5 p.m. Thursday through Sunday. Call 423-267-9214 for more information.
* "Spring Showcase": Northside Gallery has opened a three-month "Spring Showcase" of works by 20 artists from the Chattanooga area. They include the gallery's founders, Vera Susan Chamlee, Joyce Jones and Ellyn Biven, who are members of Northside Presbyterian Church, 923 Mississippi Ave., where the gallery is housed. The exhibition continues through June 22 in the gallery and through June 30 on the gallery's Facebook page. Hours are 9 a.m.-3 p.m. weekdays. Enter on the left end of the building from the parking lot. For more information, call 423-266-1766 or email info@northsidepresbyterian.org.
Contact Lisa Denton at ldenton@timesfreepress.com or 423-757-6281.