Chattanooga area farmers markets have adapted to various restrictions throughout the COVID-19 pandemic to sustain growing interest in local food and businesses. The first week of August marks National Farmers Market Week, and many in-person markets remain open for the summer and fall seasons.
"Farmers markets offer a variety of fresh, healthy, and delicious products," said Agriculture Commissioner Charlie Hatcher, D.V.M., in a released statement. "Supporting local growers benefits the local economy, the grower and producer, as well as the consumer since produce travels a shorter distance to reach the buyer."
Photo Gallery
National Farmers Market Week celebrated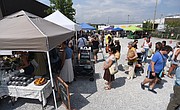 To designate the week, the Tennessee Department of Agriculture encourages Tennesseans to use its Pick Tennessee Products program, which connects residents to local farmers markets. There are currently 156 farmers markets listed on the Pick Tennessee Products website and mobile app, according to a news release. Markets can also apply for a free listing at www.pickTNproducts.org.
Several Chattanooga area market venders offer live music, flower arrangements and food trucks in addition to the traditional seasonal produce. Some markets will allow SNAP and EBT benefits on certain days. Check with your local market for information on food assistance programs.
Listed below are Chattanooga farmers markets currently open:
BRAINERD FARMERS MARKET - Grace Episcopal Church, corner of Belvoir Avenue and Brainerd Road. 10 a.m.-noon Saturdays to October. (423) 243-3250
CHATTANOOGA MARKET - First Tennessee Pavilion, 1826 Carter St. 11 a.m.-4 p.m. Sundays through November. 423-648-2496. www.publicmarkets.us/chattanooga.
CHATTANOOGA RIVER MARKET - Tennessee Aquarium plaza, 1 Broad St. 10 a.m.-5 p.m. Saturdays. www.publicmarkets.us/chattanooga
COLLEGEDALE MARKET - Collegedale Commons, 4950 Swinyar Drive. Sundays: 10:00 AM - 2:00 PM 423-648-2496.
DAYTON FARMERS MARKET - Washington Street behind Dayton Chamber of Commerce building. 8 a.m.-5 p.m. Monday-Friday. 423-775-1817.
EAST BRAINERD - Christ United Methodist Church, 8645 East Brainerd Road. 3 p.m. - 6 p.m. Tuesdays through October. 423-838-9804. (Part of the Lookout Farmers Market - See below)
LOOKOUT FARMERS MARKET - Tuesdays- East Brainerd United Methodist, 8645 E. Brainerd Rd. 3 p.m. - 6 p.m. and Wednesdays - Red Bank United Methodist, 3800 Dayton Blvd 3 p.m. - 6 p.m.
MAIN STREET MARKET - Corner of Main and Chestnut streets. 4-6 p.m. Wednesdays through November. During December and February, market is open from 4 to 5 p.m. mainstfarmersmarket.com
MARION COUNTY FARMERS MARKET - 255 Turner St., Jasper, Tennessee. Friday: 7:00 AM - 12:00 PM Saturday: 7:00 AM - 12:00 PM Sunday: 7:00 AM - 12:00 PM (all times Central). 423-942-2656.
MARKET AT THE MILL - Old Woolen Mill, 445 Church St., Cleveland, Tennessee, 3-6 p.m. Thursdays. www.mainstreetcleveland.com
OOLTEWAH FARMERS MARKET - Ooltewah Nursery & Landscape Co., 5829 Main St. in Ooltewah. No wholesalers or resellers allowed. 3-6 p.m. Thursdays through October; 3-5 p.m. November to May. 423-238-9775.
RABBIT VALLEY FARMERS MARKET - 96 Depot St. Ringgold, GA 30736 Saturday: 9:00 AM - 1:00 PM contact: Samantha Martin 423-903-1378
SODDY-DAISY FARMERS MARKET - Poe's Tavern Historical Park by Soddy-Daisy City Hall, 9817 Dayton Pike. 8 a.m.-noon Saturdays. 423-332-5323.
ST. ALBANS HIXSON MARKET - St. Alban's Church, 7514 Hixson Pike. 9:30 AM - 12:30 PM Saturdays through October. 423-842-1342.
WALKER COUNTY FARMERS MARKET - Rock Spring, GA Wednesday: 2:00 PM - 5:00 PM, Saturday: 8:00 AM - 12:00 PM (706) 397-9958
-- Compiled by Kiara Green