Vikki and Jake Ledbetter bought a brick, split-level home in a neighborhood off East Brainerd Road for $174,000 in 2016, two years after they married. They had baby daughter Allie in 2018, and hadn't considered moving any time soon.
"We had been thinking we might start looking around maybe next year, spring of 2022," Vikki says.
But in March, their sister-in-law called and asked them what they would do if she could get them $299,000 for the house.
"I told her we would pack our bags tonight," Vikki says.
It wasn't quite that fast, but the Ledbetters got their $299,000 and moved a month later, making way for buyers scrambling in a hyper-competitive market to find a split-level floor plan for a multi-generational family.
Laura Ledbetter, the owner of Led to Home with Keller Williams, says the buyers who ended up with her in-laws' house were local, and had lost two other houses they wanted that went for $50,000 over asking price to buyers offering cash.
"Of course the seller's going to take that," she says.
Fierce competition for homes means agents have to get creative, buyers have to be fast, and sellers are calling most of the shots, Laura says. How you view this frantic market depends on where you're coming from, she adds.
"Our local buyers are like, 'What is going on?' and then we've been working with some investors from California, and they're like 'This is fantastic,'" Laura says.
Pandemic Pressures
Kelly Cooper, the owner of Kelly Cooper Homes with Keller Williams Realty downtown, has had a long career in Chattanooga, but has also worked in bigger markets, including Atlanta.
"I have never seen a market like this, especially in Chattanooga," Cooper says. "Even in 2004 and 2005, when real estate was so hot and it was very easy to get a mortgage, when anybody could buy a home, we still weren't seeing what we're seeing now in Chattanooga."
Doug Fisher, executive officer of the Homebuilders Association of Greater Chattanooga, says the pandemic has driven fresh demand for housing as people relocate from other cities and locals upgrade to make working from home more feasible. Historically low interest rates and tight inventory have also intensified demand for houses, but the market was undersupplied long before these forces collided, he adds.
"People want new, different houses with home office space, but before any of this happened, this marketplace already had a shortage of housing," Fisher says.
Photo Gallery
Whisper listings in the Chattanooga area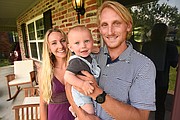 At the end of May, houses in the local market were spending an average of just 22 days for sale - about half the time they spent in 2020 and one-third the time they typically spent on the market in 2016. There were just 934 homes for sale in the area at the end of May, and median sale price was $260,000. In 2019, there were 2,349 homes for sale at year's end, and the median price was $203,085.
Gabe Thomas, founder of RP Homes, says the fierce demand is the last thing he anticipated when the pandemic hit in the spring of 2020.
"It's weird because I laid on my couch for two weeks last year thinking the world was coming to an end and I might go bankrupt," Thomas says. "But if we had 500 homes built this year, we would sell them. I've never seen anything like it."
Thomas has five neighborhoods in development in areas from Mountain Creek to Highway 58. At Baldwin Park in Hixson, about 40% of the homes are complete, but all 77 lots in the first phase of the development are sold, and there's a waiting list for the next phase.
"I feel like I could build for a decade and not catch up with what we need, especially in the Southeast because of people moving here," Thomas says.
Cooper, who works for home builder G.T. Issa, says, "We can't build them fast enough." Chattanooga has long had a shortage of new homes and an undervalued market, and those pressures are all coming to a head, she says.
Even at $260,000, the median home price in the Chattanooga area is still 20% below the national median home price of $329,100, according to the National Association of Realtors.
"Chattanooga is still affordable - we've been due for a price increase for a while," Cooper says. "This is not a bubble."
On the Hunt
In late 2020, Jessi and Andrew O'Neill had been looking for months for their first house, and they were running out of time. Jessi was eight months pregnant, and she wanted to bring their new baby home to their own place.
"I was definitely worried, thinking we don't stand a chance, it's not going to happen," Jessi says. "I'm thinking, we're going to have to stay in this rental house that doesn't have central air and heat and we're having a baby."
As the market heated up, the O'Neills, who are both teachers, just couldn't compete.
Chattanooga home sales
The number of single-family homes sold by Chattanooga Realtors rose nearly 8.4% in 2020 to a record high, nearly double the sales of a decade earlier.Year / Homes sold / Average days on market* 2020 / 11,680 / 43* 2019 / 10,776 / 48* 2018 / 10,042 / 50* 2017 / 9,827 / 59* 2016 / 9,672 / 65* 2015 / 8,717 / 80* 2014 / 7,827 / 129* 2013 / 7,634 / 124* 2012 / 7,038 / 129* 2011 / 5,996 / 137* 2010 / 5,778 / 126Source: Greater Chattanooga Realtors association multiple listing service
"We put in offers, and immediately people would make cash offers that were $30,000 over asking price," Jessi says. "We'd write letters, and we had such a good agent working for us, we had a good team, but you're competing with these cash offers that are just insane."
Then their agent heard about a house in the Belvoir area of Brainerd that wasn't listed, but was for sale. The owners wanted to make sure the buyers would be great neighbors and appreciate their community, their agent told them. The O'Neills toured the house and immediately knew they wanted it.
"I was three weeks away from my due date," Jessi says. "We just got so lucky."
They bought the brick house for $221,000 in the last days of October. Their son, Notley, was born two weeks later.
David and Natalie Martin had paid $139,900 for the house in 2015. They loved the neighborhood, but their plans to expand the home didn't work out, so they decided to sell - but only to buyers who would love the place as much as they had.
Ultimately, it was more important to them to know they were leaving their house in good hands than it was to capitalize on the market, Natalie says.
"That was the beginning of the market getting really crazy, and at that point you feel for people," Natalie says. "If we had been in that position trying to buy our first house, I don't know what we would have done."
The O'Neills know plenty of people who haven't been as lucky as they got in their house hunt, Jessi says.
"We've had a lot of other friends looking because they are in the same stage of life we are, and they are getting beat out by cash offers," she says.
Now What?
Once they decided to sell their house in Belvoir, the Martins had their own house-hunting struggles. They bid on a house in Red Bank, "but didn't even come close," David says. Then they nabbed a North Chattanooga home they had to walk away from after the inspection went badly.
Meanwhile, there was also a house on Missionary Ridge they loved, but it was way out of their price range. When the North Chattanooga house fell through, figuring it couldn't hurt to try, they made an offer of $490,000 - $70,000 below the asking price - and sealed a deal.
"It had been on the market for months without an offer," David says. "We just crossed our fingers."
That was in early autumn 2020, and she is sure even a few weeks later would have been too late, Natalie says.
"If we hadn't gotten our house exactly when we did, we would have been out of luck," she says.
The Ledbetters also had to find a place to land after their unexpected sale, and lived temporarily in a rental property Laura and her husband, Josh Ledbetter, own in East Brainerd. They soon heard about a new home in Ooltewah still under construction, drove over to see it at night and made an offer for the asking price on the spot.
"Jake's brother called and said, 'I'm standing in the yard and y'all need to come over here and see this house,'" Vikki says. "Any time you hear there's something to look at, you go."
That house, like the house they sold, never hit the market.
"I knew if we wanted a house, we had to make an offer yesterday," Vikki says.
At $419,000, the house was more than the Ledbetters ever imagined they'd spend, but with the unexpected equity they pulled from their first home, they were able to swing it with room to spare.
"It's 400 square feet bigger, it's nicer, it's newer," Vikki says of the home they hope to move into in September. "It's perfect for Allie and our stage of life."
READ MORE
* High end: The view from the top of the market is breathtaking, as million-dollar home sales rise in the Chattanooga area
* Through the roof: Skyrocketing lumber costs and a tight labor market challenge Chattanooga area builders and buyers
* Taxing process: Residential property values rise a record amount in Hamilton County, and commercial reappraisals are up, too