For more BlueCross Bowl coverage from the Times Free Press, read more here.
Alcoa senior Major Newman took off with the TSSAA Class 3A BlueCross Bowl state championship trophy above his head Friday afternoon to show off the Tornadoes' seventh straight gold ball.
During the game, he showed off his skills to help make it happen.
Newman, a 6-foot-3, 190-pound safety, played a key role in Alcoa's 45-14 triumph over East Nashville in perfect 73-degree weather at Finley Stadium. He had eight tackles, broke up two passes and also delivered one of his team's 11 tackles for loss and a punt block on the same defensive series to set the tone in the first half.
Gary Rankin's 17th state championship as a head coach and 13th at Alcoa was the finishing touch on another dominant season for the Tornadoes.
"The final minutes were special getting to talk to these guys and soak this moment in," Rankin said. "We work our guys extremely hard. We practice Monday mornings at 6 o'clock to try to get them used to getting up in the morning and get them going. We don't cheat our kids out of any work.
"I am proud of them. They came through big and continue to make us the team we have always been."
Alcoa (13-1) made East Nashville (10-4) pay for costly mistakes in the first half, which included two blocked punts and a fumble lost on a kickoff return.
Senior quarterback Caden Buckles upped his touchdown total to 31 for the season as the back-to-back BlueCross Bowl game MVP totaled 169 yards and four touchdowns (three rushing, one passing). Buckles delivered the game's first score with a 47-yard bomb to Isaiah Bryant with 1:26 left in the first quarter.
(READ MORE: Live coverage of Friday's BlueCross Bowl state championship games in Chattanooga)
Photo Gallery
Class 3A BlueCross Bowl: Alcoa vs. East Nashville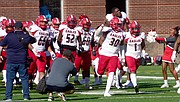 "There is a lot of pressure on our backs," Buckles said. "Every year we go into the season pinned as the winner, and to fill those shoes is tough. But we come in and do the work. We put in more work than any other program in the state. We come in and are confident and know what we are doing. Bringing back seven straight is huge."
Joe McCord had three tackles for loss for the Tornadoes, whose defense had six shutouts this season to carry on what has become an unbreakable tradition.
East Nashville senior running back Amarion Ford finished with 1,974 rushing yards this season and was sharp Friday, notching big gains at times against a stout defense. Ford rushed for 102 yards on 29 carries, while teammate Frank Gordon IV made a highlight reel-worthy 12-yard touchdown catch early in the third quarter.
Contact Patrick MacCoon at pmaccoon@timesfreepress.com. Follow him on Twitter @PMacCoon.