To help jump start the growing electric car market, America's biggest public utility is teaming up with Tennessee state and local governments and private businesses in a new initiative to build a network of fast-charging stations every 50 miles along Tennessee's interstates and major highways.
Tennessee is using a portion of the penalties Volkswagen paid to the state for its previous diesel emission violations while the Tennessee Valley Authority, Chattanooga's EPB and other local power companies are pledging to also aid in a $20 million initiative to build 50 fast-charging stations across the state over the next three to five years. That will more than double the current number of such fast-charging stations in Tennessee that quickly recharge battery-operated vehicles for travelers needing such recharges during their travel.
David Salyers, the commissioner for the Tennessee Department of Environment and Conservation, said the new initiative will help finance the building of rapid recharging stations in rural areas of the state to ensure that any electric vehicle driver is within 50 miles of a recharging station when they are traveling on the state's busiest highways. Most urban areas already have both public and rapid charging stations, but TVA and state officials said the new program is designed to allay motorists' "range anxiety" about where to get quick battery recharges while on the road with electric vehicles.
"This investment in electric vehicle charging infrastructure is a monumental step forward, and I'm proud that Tennessee is leading in this important effort," Tennessee Gov. Bill Lee said in an announcement of the new program Wednesday.
Photo Gallery
Tennessee gets charged up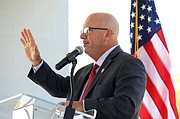 The new charging stations will support the effort by Drive Electric Tennessee to have at least 200,000 light-duty electric vehicles in Tennessee by 2028. At the end of last year, there were only 11,034 light-duty EVs registered in Tennessee, but that number is projected to jump with new electric vehicles soon to be produced in the state by General Motors and Volkswagen along with Nissan's ongoing production of the all-electric Leaf.
GM is spending $2 billion to begin making the Cadillac Lyriq, a small electric SUV, at the Spring Hill factory, while VW is investing $800 million to add a battery-powered small SUV to its lineup of cars made at its Chattanooga assembly plant. Nissan in Smyrna has been making electric vehicles for the past decade.
Combined, the Tennessee auto plants will soon make the Volunteer State the biggest state in the Southeast - and the No. 3 state in the nation - for EV production.
TVA, the nation's largest public power provider, projects that more electric vehicles on the road will spur jobs and economic investment in the region, reduce the region's largest source of carbon emissions and save drivers money.
"Innovative partnerships with state agencies like TDEC and our local power companies are essential in developing one of the nation's most comprehensive EV fast-charging networks, starting in Tennessee," TVA President Jeff Lyash said. "Through this partnership, TVA is positioned to be a national leader in electric transportation by making it easier for local power companies to install fast-charging stations, which make electric vehicles an easy choice for consumers to make."
Gas-powered cars and trucks are now the biggest source of carbon emissions, surpassing industry and power plants two years ago, so the switch to cleaner electric-powered vehicles will continue the state's reduction in carbon and other air pollution, Salyers said.
The Tennessee Department of Environment and Conservation has committed 15%, the maximum allowed, of the state's Volkswagen Diesel Settlement Environmental Mitigation allocation to provide $5 million to fund light- duty EV charging infrastructure. The remainder of the project will be funded by TVA, other program partners and participant cost share.
Fast-charging stations in Tennessee
› Currently — 24, including eight in Chattanooga› Planned additions — 50Source: Tennessee Valley Authority
TVA directors already authorized new electric rates last November to help limit the energy costs for electric vehicle recharging stations.
Dr. Joe Hoagland, vice president of enterprise relations and innovation at TVA, said the federal utility plans to work with local power companies, private industry and other government agencies across its seven- state region to help promote electric vehicles. TVA was a pioneer in researching EV applications by building the first vehicle test track for EVs in Chattanooga in the 1970s, but the utility later scaled back much of its research on electric vehicles.
Hoagland said about 80% of the recharging of electric vehicles is expected to be done at home by EV owners and much of that will come during what are otherwise lower demand periods for power consumption. That should help TVA level its energy load and better utilize its generation.
But to convince more people to buy electric vehicles, more and quicker rechargers are needed for many travelers to allay so-called "range anxiety" by motorists fearful that they won't be able to recharge their electric vehicles on the road for longer trips.
In Tennessee, there are currently 24 high-voltage recharging stations standardized for all-electric vehicles, although there are other high-voltage stations for particular models such as the Tesla electric car and there are hundreds of low-voltage recharging stations that take longer to re-energize vehicle batteries.
Chattanooga currently has one third of the rapid charging stations due to early investments by EPB, CARTA and Tesla in the city.
Chattanooga was an early leader in testing out battery-powered vehicles at the electric vehicle test facility the TVA built in the late 1970s and Chattanooga pioneered one of the first electric- powered downtown shuttle systems in the 1980s built in Chattanooga by Advanced Vehicle Systems (AVS). Chattanooga was once home to the Electric Transit Vehicle Institute, later renamed the Advanced Transportation Technology Institute, and the Chattanooga Area Regional Transportation Authority (CARTA) started one of the state's first electric vehicle ride share programs in 2016 to allow drivers to rent battery-powered Nissan Leafs by the hour.
Public charging stations in major Tennessee cities
› Chattanooga — 101› Knoxville — 107› Memphis — 113› Nashville — 325Source: Chargehub. Major charging networks in Chattanooga are ChargePoint, Blink and Tesla. In Chattanooga, 88% of the ports are Level 2 charging ports and 77% of the ports offer free charges for electric cars.
But AVS later filed for bankruptcy, the TVA test track was idled and transferred to UTC, the research institutes shut down and CARTA suspended its electric car rental program due to limited usage.
But Lyash said he believes the time is now ripe for electric vehicles to take off. Last week, GM announced it will phase out the production of all gas-powered vehicles by 2035.
While TVA doesn't plan on getting into the business of making or operating electric vehicles or recharging stations, it is working to help facilitate the growth of others in the field within its seven-state service region.
"Electric vehicles offer a significant opportunity for utilities, and TVA is uniquely suited and uniquely positioned to bring together the stakeholders in the Valley to really drive electrification in the transportation sector unlike any other place in the country," Hoagland told the TVA board last November.
According to the Environmental Protection Agency, traditional forms of transportation are a leading source of carbon emissions while a single electric vehicle can reduce carbon emissions by 8,600 pounds per year. Having 200,000 EVs on the road would save 4 million metric tons of carbon dioxide in five years, according to TVA estimates.
Lyash said the 200,000 electric vehicles expected in Tennessee within seven years should spur $120 million of EV recharging infrastructure investments and save motorists an estimated $200 million in fuel expenses. The average cost of recharging a typical EV battery is equivalent to about $1 per gallon of gas, Lyash said, and TVA projects it will keep its electric rates stable for at least the next decade.
"Actively supporting the electrification of transportation multiplies our own carbon reduction efforts and moves the entire region toward greater sustainability and economic opportunity in the future," Lyash said.
Contact Dave Flessner at dflessner@timesfreepress.com or 423-757-6340.