Gabe Thomas has 53 lots to sell in the new housing development he's building in Hixson, and 73 people on a waiting list to buy them. But there's a hitch in that plan.
"We're not even really letting people take lots because we don't know what the cost is going to be," says Thomas, the founder of RP Homes. "We are not pricing anything until we know we can hit that price."
Dramatic increases in the costs of building materials - including a run-up this spring that had framing lumber selling at nearly four times its normal price - have builders across the country puzzling over how to estimate expenses and price their new homes.
Jennifer Dorsey, the president of Pratt Home Builders, has been with the company for 18 years, and has never seen anything like this, she says.
"I was in the industry during the market crash in '08 and survived that, and that was the biggest event that had happened in my career until 2021," Dorsey says. "My background is estimating, and it's definitely the most challenging year I've ever been a part of."
Photo Gallery
Through the roof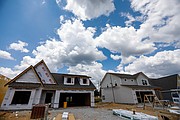 Supply and Demand
A combination of factors has contributed to the problem, including manufacturing shutdowns during the pandemic, a shortage of drivers to haul materials, and increased demand for building materials - just as supplies were getting tighter.
Last fall, Junior Boehm started seeing the lumber shortages looming on the horizon, and he bought as much as he could get his hands on.
"When everybody was locked in at their homes, everybody in the world it seems like had to have a new deck," says Boehm, who has owned Junior's Building Materials in Ringgold since 1991. "You couldn't find treated lumber, and they couldn't treat it fast enough."
According to the National Association of Home Builders, home construction was up 12% last year, and remodeling grew 7%, but sawmill production rose just 3.3%.
As the summer building season heats up, 62% of builders say they are frequently raising home prices to offset increased costs, and 45% have updated their contracts to include price escalation clauses, according to data from the association.
In June, Bill and Dona Burke moved from south Georgia into a new home in the Vineyard neighborhood off Graysville Road in Ringgold. They had made the deal in January, before the house was built, and just before prices really shot up. They came in just under the wire, Dona says.
"The Realtor told us we could close [Friday] and sell it Saturday for substantially more," Dona says. "But I don't want to look for a house again."
That builder was in the process of building three other houses in the same neighborhood, Dona adds. "After we signed, we found out the cost of appliances and lumber went up," she says. "He raised the prices on the other ones, but we had locked in on our price."
Framing lumber, normally about $400 per 1,000 board feet, was up to $1,600 per 1,000 board feet in May, says Doug Fisher, executive officer of the Homebuilders Association of Greater Chattanooga. By mid-July, it had come down to $775. "There are some signs of it coming back in line," he says.
That cost increase typically adds an additional $24,000 per home, he says. Things will eventually settle down, but they won't ever be the way they were, Fisher adds.
"The [National Association of Home Builders] says it will take 18 months to get back to normal," he says. "I believe in Chattanooga we'll see a decline in the price of houses - slightly. We've always been behind in prices nationally."
Going Up
Lumber prices have been the big headline, but costs are climbing across the board, Dorsey says.
"Things you've had very stable pricing on for years are all of the sudden completely out of control," Dorsey says. "Some will go down, but there's such limited supply, many manufacturers are not accepting new business, so you can't really go out and negotiate better pricing."
Thomas has also seen increased prices for everything from electrical supplies and windows to plumbing fixtures. "It's all gone up," he says.
A labor shortage is also hitting manufacturers of essential building materials, Dorsey adds.
"It's not even necessarily the labor pool building the houses, but the labor on the manufacturing side with things like windows and interior trim," she says. "Windows went from a four-week lead time to an eight-week lead time overnight and then jumped to 20 to 22 weeks."
The shortages have hit materials that have always been abundant and steadily priced, she adds.
"It's things you don't think about, like drywall mud, flooring glue - things no one had ever had a shortage of," she says. "These shortages are throughout the country, and you can't move forward."
Pratt Home Builders hasn't stopped any construction, she says, in part because it has so many obligations to homeowners who bought pre-built homes in late 2020. In some cases, though, Pratt offered to let people out of their contracts when prices rose and shortages delayed construction.
"We've tried to work with buyers directly and give them a couple of different options," she says. "We keep everyone informed there will be delays in the construction process, and for some people that doesn't work and they may choose to do something different."
A few customers have opted to walk away, but most have wanted to stick it out, she says. Now builders are in the strange position of limiting sales during what is normally the height of building season, Dorsey says.
"It's very counter-intuitive to cap sales, but what we are realizing is that we have to, that there's only so many homes we can build," she says.
Affordability Crisis
In November, Thomas updated his contracts to allow prospective buyers to walk away after RP Homes re-estimates costs before they begin construction.
"Six weeks before we start, we'll let you know the price and you don't have to do it," he says. "We wanted to be fair."
Thomas founded RP Homes in 2018 with an eye toward building affordable homes for working families, he says. But as costs have gone up, people are still buying.
"Last year, our average [sale price] was $285,000," he says. "That same house now is $335,000 and people aren't even blinking an eye at that."
A few years ago, he was selling 10% to 20% of his homes to out-of-town buyers, Thomas says. Now about half the homes go to buyers who are new to Chattanooga.
"It's good for our city that there are a lot of people moving here," says Thomas, who expects to close about 100 homes sales this year. "But I'm trying to figure out how to crack the affordability crisis because it's coming."
Materials cost increases mean about a 20% to 25% jump in the price of a home, which can be a deal-breaker for families, Dorsey says.
"I'm very concerned prospective buyers will be ultimately priced out of the market," she says.
Pratt builds about 200 homes a year, and this is the time she'd normally be planning the 2022 builds, Dorsey says. But planning is a tough game right now, she adds.
"We're at the end of our start year for houses that could close this year," she says. "I'm looking at next year's plan, and there seems to be a lot of question marks in the supply chain."
READ MORE
* Whisper listings: Homes in the Chattanooga area sell quickly and for a premium
* High end: The view from the top of the market is breathtaking, as million-dollar home sales rise in the Chattanooga area
* Taxing process: Residential property values rise a record amount in Hamilton County, and commercial reappraisals are up, too