A return to the river launched downtown Chattanooga's renaissance more than 30 years ago. Today, Chattanoogans are going back to the Tennessee River again as they take another run at making a splash on the waterfront.
Detailed plans crafted to bring billions of dollars in new investment to the riverfront are emerging with calls for an array of new housing, more retail, office space, manufacturing and, most of all, people.
The ONE Riverfront plan, aimed at the area from Ross's Landing to Fourth Street, and the re-imagining of the nearby former Alstom manufacturing site within walking distance to the heart of the waterfront are seen as bringing new waves of interest in living, working and playing on the Tennessee River.
ONE Riverfront planning started in late 2019 to re-energize downtown's waterfront area and spur more activity after energy shifted over the past couple of decades to other parts of the central city.
Jim Williamson, vice president of planning and development for the nonprofit downtown redevelopment group River City Co., says the pandemic gave planners more time to gather input from the community, though much occurred in a socially distanced manner.
For the plan, some 2,200 people expressed feedback about the area that's roughly bordered by the river, Fourth Street, Cameron Hill and the Bluff View Art District, according to River City.
Photo Gallery
Returning to the Chattanooga riverfront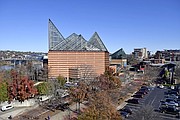 "We wanted to get more participation than usual," Williamson says, adding that it turned out "a little more messy than we anticipated. It was refreshing to hear new voices."
Dawn Hjelseth, the group's vice president of marketing and communication, says people want a place they can appreciate all year long and not just for special events.
"People enjoy our public space and enjoy events," she says. "The riverfront is great for large-scale events. It hasn't been seen as a place for a Tuesday afternoon. They want a place for 365 days a year."
Williamson says River City officials see more diversity in the riverfront in the future, particularly when it comes to housing.
"It's going to take a lot of work," he says. "It doesn't happen overnight. There's got to be follow-up, not just checking the box. We've shown we don't do plans and put them on a shelf. That's the beginning of the hard work."
Hjelseth says there will be a focus on more programming to activate the riverfront area.
"That's the first thing people will see," she says, with a focus on offering different types of music and family activities, for example.
Williamson says that when it comes to possible uses for AT&T Field, officials are glad the Chattanooga Lookouts play minor league baseball downtown. But if the team needs to move to another site to play, such as the South Broad District as has been suggested, that also creates opportunity. He notes that River City owns the land where the current ballfield is located.
"We get 10 acres," Williamson says, adding that River City likely would go through another planning process for that site if it were to become available.
Concerning Ross's Landing, there's a desire to make it more useful to people, putting in added seating and shade. Williamson says the plan also foresees more storefronts closer to the Ross's Landing.
"It's having amenities and keeping people down there more," he says.
Hjelseth says that's what helps make Coolidge Park on the North Shore attractive is people can easily eat and shop. There could be an opportunity for the opening of more small retail spaces nearer Ross's Landing, she says.
The amount of car traffic on Broad Street, a major artery in the riverfront district, may warrant just one lane in each direction, Williamson says.
"We want to make it better for all transportation," he says. "We know Broad is over-emphasized for vehicles." Williamson says Broad could be re-envisioned all the way to M.L. King Boulevard.
Riverfront development milestones
1989: The first segment of the Tennessee Riverwalk opens.1992: The Tennessee Aquarium opens.1993: The Walnut Street Bridge, constructed in 1890 and closed since 1978, reopens to foot traffic.1999: Coolidge Park opens, capping a development process that began with a petition in 1984.2005: Completion of the 21st Century Waterfront plan, which redeveloped 129 acres along the river.
The Bend
Meanwhile, as planners craft a roadmap to re-energize the riverfront district, the owners of the former Alstom property foresee the biggest scope of waterfront development since the Tennessee Aquarium created ripples downtown when it opened in 1992.
Jimmy White, president of the Chattanooga real estate company Urban Story Ventures LLC, says the more than 100-acre tract along Riverfront Parkway, now called The Bend, is positioned to gain new housing, manufacturing and offices.
The redevelopment of the property, which he and business partner Hiren Desai purchased for $30 million in 2018, could bring $2 billion to $3 billion in investments, White says. Also, The Bend could add over $11 million in tax revenue annually for Chattanooga and Hamilton County and spur more than 5,000 jobs, he says.
White says the pandemic generated new interest in Chattanooga and cities similar to it as people want to leave large cities.
"COVID has changed the way people are looking at space," White says. "In Chattanooga, I see an increase in demand."
He says there are talks with a developer who wants to put 130 new residential units on the riverfront site, with young people and retirees among targeted potential residents.
Multiple negotiations are underway concerning the huge turbomachinery factory that could bring hundreds of jobs, White says. Manufacturing on the parcel goes back more than 100 years.
A $50 million, eight-story office tower is in the works near Main Street, and another 20-story building is envisioned.
Work is expected to start soon on putting in a new street grid for the sprawling tract, White says.
A Chattanooga development group currently is building new medical offices at The Bend, which alone are to bring about 70 jobs to the site this year.
Other uses at The Bend could include workforce housing, a 10,000-square-foot food hall and music venue, a canal, brewpub, child care center and more, White says.
READ MORE
* Water power: TVA dams, riverfront development pay off for Scenic city, spurring business, recreation and tourism * Drawn to the water: Properties on the river and lakes go for a premium, and they're increasingly scarce * 'If there's an oceanfront view in Chattanooga, this is it' * A natural attraction: The Tennessee River draws a steady stream of visitors to the Scenic City