A logjam of postponed water-related events from 2020 is starting to clear, and the back half of 2021 is bringing a return to the river that will have big downstream effects, says Barry White, CEO of the Chattanooga Tourism Company.
"When I look at this list, I'm like 'Wow, we're entering the fifth month of the year, and we still have all these events ahead of us, which is fantastic," says White, ticking in late April through a list of 10 big draws on tap from May through November. "It's a tremendously positive outlook for the community, for the buzz in the community and for the residents."
Those events run the gamut from the return of grueling Ironman competitions in May and September to the 31-mile ChattaJack kayak and paddleboard race through the Tennessee River Gorge in October. The Head of the Hooch is back, as well, bringing thousands of rowers to Ross's Landing in November, and newcomers from the Outboard Drag Boat Association will visit Chester Frost Park in October for their world championships.
Big events and major attractions aren't the only game in town, however, when it comes to bringing people to the river. Sunshine Loveless has been offering guided and equipped paddleboard tours of the Tennessee River since 2018.
"Paddleboarding is a newer water sport a lot of people have not tried, and they're curious about it," says Loveless, who also works a day job for the city at Outdoor Chattanooga. "I figured this is a good way to introduce people to both a new sport and the beauty of our scenic waterways."
Photo Gallery
Tennessee River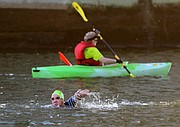 Loveless spends most of her touring time on the Tennessee River these days, but her love for local waterways started on the Ocoee River in Polk County, which she discovered when she moved here from Kansas in 2000, she says.
"Way back in my college days, when I first moved to Tennessee, I took a rafting trip on the Ocoee and fell in love," she says. "I asked the guide if he actually got paid to do this, and he said yes. I didn't know something that fun and exciting could be a job."
After college, she put her degree to work as a social worker for the state for nine years, but she never stopped missing the thrill of the exploring the world from the water. In 2016, after successfully battling lung cancer in her 30s, Loveless took the plunge.
"I decided to flip my life upside down," she says. Loveless found a job with Outdoor Chattanooga, and quickly realized demand was steep for local water guides.
"I was fielding phone calls all day long in the summer. 'Where can I rent a kayak, a paddleboard, can you give me directions?'"
Chattanooga's natural attractions have always been the city's not-so-secret weapon in enticing travelers, but the river is the silver thread that runs through it all, White says.
Take me to the river
* May 23, 2021: Sunbelt Bakery IRONMAN 70.3 Chattanooga / $6,743,190.86* June 5-6, 2021: Southern Zone Open Water Swimming Championship / $257,449.38* June 6, 2021: The 2021 Rat Race / $130,948.88* June 27, 2021: Waterfront Triathlon / $995,996.00* September 26, 2021: 2021 Little Debbie IRONMAN Chattanooga / $10,674,146.85* October 1-3, 2021: ODBA World Championships / $934,289.77* October 9, 2021: 2021 Swim the Suck / $158,012.50* October 17, 2021: 7 Bridges Marathon / $827,690.71* October 23, 2021: ChattaJack 31 / $1,404,842.23* November 6-7, 2021: Head of the Hooch / $9,114,255.71Anticipated total economic impact: $31,240,822.89
"It's the water, it's the mountains, it's everything put together, but the river is the focal point and the core and base for all of that," White says.
Local tourism generates more than $1 billion in spending each year. In 2020, Chattanooga's tourism scene was off about 11%, but that dent was a far gentler decline than statewide losses of about 16%, or the national drop of 42%.
A big part of the reason Chattanooga still drew visitors in 2020, despite the near total lack of major events, is the nature of the city's outdoor landscape, White says. It also doesn't hurt that the city has an iconic comeback story centered on its return to the river after years of industrial pollution and the reputation to match, White adds.
"This city picked itself up by its bootstraps and said 'We're going to change that,'" White says. "They did that with the focus on the river and central core downtown, which really led to where we are today."
Splashy happenings
The 70.3 Ironman competition returned to Chattanooga in May, and the full course will also be back in September. The two events will bring thousands of competitors and spectators — and more than $17 million in spending — to the Scenic City.The 70.3 event features top professional and age-group triathletes competing over a course featuring a 1.2-mile swim, 53-mile bike and 13.1-mile run. The full Ironman event in September doubles up those distances, for a 2.4-mile swim, 116-mile bicycle ride and 26.2-mile run. Ironman first rolled into Chattanooga in September 2014, then added the May event in 2017.The Head of the Hooch, one of the largest rowing regattas in the world, landed in Chattanooga following the 2005 opening of the revamped downtown waterfront and Ross's Landing. The area was reimagined and reinvented through the $120 million 21st Century Waterfront project. Previously, the race had been billed the Head of the Chattahoochee, beginning with 105 boats racing in Roswell, Georgia, for its first year in 1982.The Head of the Hooch generates more than $9 million in local spending. It's known as "The Last of the Great Fall Regattas," as the rowing season comes to a close following the event. The two-day event has close to 9,000 rowers plus coaches, families and spectators.The event usually sees an estimated crowd between 15,000 or 20,000 people and can get up to 25,000 during a busy year when the weather is nice. The 2,200 boats are only roughly 100 or 200 less than the largest regatta in the country, the Head of the Charles in Boston.
One byproduct of Chattanooga' comeback tale is the attention of other cities that send visitors here to learn what Chattanooga leaders did and how they did it, White says. But some of the magic of Chattanooga just can't be replicated, he adds.
"Those other communities, they don't have the same natural assets we have," he says.
Loveless knows firsthand the potential of the river to bring people together. She started small with Sunshine's Adventures, borrowing equipment and booking a few trips, but the business grew quickly.
"I started borrowing boards, then I was able to purchase some, then I had a fleet of boards and started to oversell trips," she says. "I see the need, the desire, the want from people who travel here, people who live here, who say 'I want someone to take me out there and show me something.'"
Loveless typically runs tours from May through September, working nights and weekends, and stays her busiest from June to August. Trips to the Nickajack Bat Cave are among her most popular, though she plies the waters all along the river.
"Nature has that ability to reset and rejuvenate people," Loveless says. "I think some people do value it, they see it for what it's worth and what is contributes to the community both economically and environmentally, but I think there are a lot of people who are disconnected from it or don't know how to access it. That's where guided tours, outfitters, that's where we fit in.
"My favorite part is when people buy a paddleboard and send me a picture and say 'I loved it so much because of you.'"
READ MORE
* Return to the riverfront: Millions in new development and more activation planned for Chattanooga sites along the Tennessee River * Water power: TVA dams, riverfront development pay off for Scenic city, spurring business, recreation and tourism * Drawn to the water: Properties on the river and lakes go for a premium, and they're increasingly scarce * 'If there's an oceanfront view in Chattanooga, this is it'