It's hard to imagine now, but there was a time when technical training programs at Chattanooga State Community College struggled to recruit students, recalls Jim Barrott, executive vice president of the school's College of Applied Technology.
"I was the dean of engineering technology for 15 years at Chattanooga State, and we had viable programs that the community needed, but we had a difficult time attracting students into the program," says Barrott, who has been at the school for 35 years. "In 2008, when VW announced they were coming to Chattanooga, the moment they announced, the phone started ringing off the hook: 'What programs do I take at Chattanooga State to get a job at VW?'"
The college added programs in industrial maintenance and mechatronics, and launched a collaboration that placed Volkswagen Academy on the VW campus at Enterprise South. Over the past 10 years, 130 students completed apprenticeships at Volkswagen Academy and were offered jobs at the manufacturer's facility.
Burkhard Ulrich, the senior vice president of human resources for Volkswagen Chattanooga, says the company's success depends on a constant flow of qualified workers.
"It cannot be done in a couple months and you stop again," he says. "You have to do it constantly and have good partners like Chattanooga State and be involved in the community."
Jobs add up
There are officially 5,539 auto sector jobs in the Chattanooga metro region, according to JobsEQ, a labor market data provider. But that doesn't include companies supporting the sector that are slightly removed from the supply chain, or contract workers such as those who work for staffing company Aerotech inside the VW plant, says Charles Wood, vice president of economic development for the Chattanooga Area Chamber of Commerce.
"The actual job number is likely much higher," he says.
The Volkswagen plant at Enterprise South employs 3,800 people including contractors, says Amanda Plecas, a spokesperson for the company. A recent economic impact statement from Volkswagen shows about 7,800 local jobs supported both directly and indirectly by the manufacturing facility.
And that doesn't count jobs that are on the way. In February, Sese Industrial Services, a company that will assemble electric vehicle axle components for Volkswagen's Chattanooga production plant, announced it will invest $42 million into a new facility that will employ 240 people.
In addition, Chattanooga State's new Industrial Electricity and Industrial Maintenance labs are now open in Dayton, Tennessee, adjacent to the $360 million Nokian Tyres plant. Nokian announced in January it will grow its workforce as it rolls out a new tire for the North American market. The plant employs 150 people, and expects to grow to about 400 by 2023.
"VW kind of created this foundation in a critical mass for the metro area and the region to draw a lot more into the market around the automotive sector," Wood says. "That initial announcement played a huge role and put us on the map in the Southeast as an automotive center."
With Mercedes in Tuscaloosa, Alabama; BMW in Greenville, South Carolina; and VW in Chattanooga, the Scenic City is one corner of a powerhouse triangle for the U.S. automotive industry, Wood says. And the new Nippon Paint facility going up in East Chattanooga - bringing 150 jobs - will service Toyota and Mazda in Huntsville, Alabama, he adds.
Photo Gallery
Greek Food Fest 2012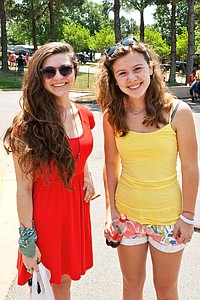 The Greek Food Festival on May 19, 2012. The annual festival took place at the Annunciation Greek Orthodox Church in Little Rock.
"Companies can only continue to grow if they can attract great talent, and the question is will the community and region be able to support that," Wood says.
Over the past decade, the constellation of local training programs geared to the automotive industry has expanded to encompass high school and college-level apprenticeships at suppliers such as Gestamp, and high school programs including automotive-focused Future Ready Institutes.
"We started to develop better pipelines of students coming from the high school to our technical programs," Barrott says.
The next big challenge for the local automotive workforce comes as Volkswagen introduces its electric SUV, the ID.4, which will begin production in Germany this year, and start rolling off the line in Chattanooga in 2022. Electric vehicle production will usher in a new body shop, new battery assembly plant, and high-voltage battery technology.
"It's a very exciting time to be in the automotive industry," Ulrich says. "We are seeing a revolution, basically, in terms of the automotive industry."
Steffi Wegener, the technical training supervisor for Volkswagen Academy, says the program had nearly 200 applicants for 16 spots this past year. "We're excited to see people see and recognize the potential of our program," she says.
VW has also launched an onsite high school recruiting rising juniors and seniors. Mechatronics Akademie is a two-year program open to Hamilton County Schools students. The program combines high school and college courses for students who want to pursue a career in mechatronics, which combines mechanics, electronics, information and computing to generate manufacturing designs.
"We're always going to be looking at new technology and new development, so we need people who are willing to go with that," Wegener says.
Driving demand
The boom in auto manufacturing has also helped fuel interest in automotive training programs that were around long before Volkswagen set up shop in Chattanooga.
Southern Adventist University in Collegedale first offered a one-year auto tech certification in 1992 to just a handful of students, expanded to a two-year degree in 1998, and now also offers a four-year automotive business bachelor's degree.
"Our record enrollment was last semester with 21 majors," says Dale Walters, associate professor in Applied Technology and the automotive program director for university.
The automotive program at Southern falls under the umbrella of the business school, which means the university can offer blended automotive and business degrees, Walters says. Most students opt for the two-year automotive business degree, while some go on to pursue the bachelor's, he says.
"It's geared to the repair business, and there has been a desperate shortage for 20 year of technicians that are qualified," he says.
The program is about 30% classroom time and 70% hands-on training, with a variety of auto classes as well as welding training, and graduates about five students a year, Walters says.
"I can place everybody I can graduate, and I have people calling quite frequently looking for them," he says. "I have people say, 'I'll take all the students you've got.'"
One reason graduates of the program are in demand is that they gain experience running the school's shop, which is a working auto business, Walters says.
"One thing we do that's very different is we do a lot of live work," he says. "We work on a car that someone owns and drives, or we have a car that we're going to finish and sell - it's the real world."
And as that world begins to encompass more electric vehicles, the nearly 30-year-old program is expanding to include those lessons, as well, he says.
A growing industry
In the Chattanooga metro area, employment in the automotive sector has grown from 1,387 jobs in 2010 to 5,539 jobs in 2019.Over the past 10 years, automotive sector employment has grown 16% annually in the area. In the U.S., it has grown 2.9% annually.The sector accounts for about 2% of area employment, while it accounts for .6% of employment in the U.S.About 72% of area automotive jobs are in production.Auto industry wages in the region have grown about 2.5% a year in the last decade, while they've grown about 1% a year nationally.Area average wages per worker in the sector are $60,252, compared to $64,059 in the U.S.Source: Jobs EQ and the Chattanooga Area Chamber of Commerce
"We're teaching some hybrid (vehicle) stuff mixed in our other classes, but obviously at some point we'll need to add that as a separate class," he says. "I keep telling them that's the future, and the troubleshooting skills in the electrical side are the most important because of all the computerization."
Jimmy Jones, master instructor for Chattanooga State's repair and service programs, says manufacturing technology is important, but having a strong grip on basic mechanics is still critical, too.
"If you don't understand the challenges of a bearing on an axle, all the technology is not going to help you," says Jones, whose programs encompass motorcycle, marine and diesel service as well as automotive. "The technology has changed, there is no doubt, but those fundamental, grounded basics have to be there."
His one-year auto technician program graduates about 20-25 people a year, and they go into a range of jobs, Jones says.
"You've got students that get in and they are fine with going to be an oil change technician, and we've got those that want more," he says. "Your success in this industry depends on your desire to grow and develop."
One of the biggest changes in the 25 years he's been at this work is the growth in demand for mechanical skills, Jones adds.
"The manufacturers are approaching us and asking how can we partner with you and get your students? They realize we have more people exiting the industry than entering the industry," he says.
READ MORE
* Charging ahead: The road to VW's electric future runs through Chattanooga
* Driven online: How local auto dealerships are adapting to e-commerce with web-based shopping options
* Show on the Road: After a year off track, Chattanooga Motorcar Festival refuels for 2021