'This year was bad, but it could have been worse' may not sound like a rousing theme for a local tourism summit, but 2020 battered expectations in nearly every economic category, with travel and hospitality taking body blows.
"In a normal year, saying we were down 11% and being proud of that would be surprising," Chattanooga Tourism Co. CEO Barry White said in his annual report Tuesday. "But when the nation is down 42% and Tennessee is down 16%, it's something we should all be proud of."
In 2019, tourism had an economic impact of $1.2 billion in Hamilton County. Last year delivered the worst results in the three decades her organization has been tracking lodging trends, said Jennifer Foster of STR, an international travel research company.
Foster's comments came during a presentation to about 175 attendees of the Chattanooga Tourism Co.'s annual summit, which was a virtual event this year.
"The pandemic is worse than the previous downturns combined," Foster told attendees Tuesday. "Without corporate business travelers and corporate meeting demand, the U.S. hotel industry has had a very tough year."
Photo Gallery
Chattanooga tourism industry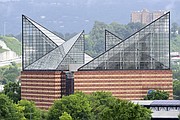 But while room occupancy was down nearly 20% in Chattanooga in 2020, it was down more than 33% nationally, she said. Chattanooga's appeal as a drive-in destination with lots of outdoor attractions worked in the community's favor, White said. And there are clear signs of a thaw as vaccines roll out and temperatures rise.
"Activity is picking up," White said. "People are eager to plan, eager to host, and fall is the decided time."
Consumer research indicates 81% of people plan to travel in the next six months - the highest level since the beginning of the pandemic last March, White added.
In looking at the event calendar for the rest of the year, Mike Shuford, executive director of the Chattanooga Convention Center, said there are clear signs of a shift.
"We had a great weekend last weekend," Shuford said. "We had three events, all well-attended, and they went great."
The events happened with a Hamilton County mask mandate still in place and social distancing protocols in effect, but people have adjusted to those precautions and are ready to get out, Shuford said.
"The calendar looks good - it's hard to find a date for this fall," he said.
(Read more: 2,000-person conference set for Chattanooga this year as FreightWaves hosts logistics meeting.)
It will be a while, though, before the heady numbers of 2019 come back, he cautioned.
"We were averaging 40 to 45 events a month, and we've got probably four or five events this week and nothing this weekend," Shuford said. "We're still not close to what we were prior to COVID."
More Info
The Chattanooga Tourism Co. was projected to either host or partner on over 275 events in 2020. Once the pandemic hit the U.S. in mid-March, the cancellations began. Ultimately, about 190 events were canceled, creating a loss of about $145 million in expected economic impact.Source: 2020 Chattanooga Tourism Report
He has been able to bring back some staff on a part-time basis, Shuford added. At one time, Shuford had a skeleton crew of 10 people working and another 75 laid off.
At the peak of shutdowns due to the pandemic, 10,000 Hamilton County residents lost their job in tourism, but about 85% of those jobs have returned, White said.
At the Tennessee Aquarium, Chief Marketing Officer Thom Benson said 50% capacity and timed tickets will remain in place, but the Aquarium will experiment with extended hours over the first week of April, when spring break visitors are likely to be heavy.
"We're keeping it where we're at, but trying to increase it by expanding hours during spring break and see how that goes," he said. "The only way we can expand capacity is by expanding our hours."
The prospect of a recovery is exciting, but this is not the time to relax, he said.
"We absolutely want to put safety first," he said. "The trade-off is we're not going to be as successful as a result."
The signature attraction on the downtown waterfront laid off 22 full-time employees in October. In March, Aquarium leaders took a pay cut, all non-essential spending, marketing and travel stopped, debt was restructured, and 112 part-time employees were laid off.
Though they've recently been able to fill some part-time roles and hire some educators using grant money, it's too early to anticipate rehiring staff, Benson said.
"This is a recovery year, and it's still going to be a struggle for us as a nonprofit," Benson said.
On Lookout Mountain, Rock City had a busy year in 2020, in large part because it's an outdoor attraction, said Susan Harris, the CEO of See Rock City Inc.
"We had a really strong fourth quarter, actually," she said. October visitation was above 2019 levels, and November and December were about 90% of 2019, she said.
"We know there is demand, we know people want to travel," Harris said.
The attraction will keep safety protocols in place, including timed tickets, mask use and social distancing, she added.
"We've managed capacity by spreading capacity throughout the day," she said.
Contact Mary Fortune at mfortune@timesfreepress.com. Follow her on Twitter at @maryfortune.