True to its name, the Gaining Ground Grocery that began selling fresh produce and other grocery items in Highland Park last year is intended to be more than just a food outlet.
The grocery is the first project of the Chattanooga Sustainable Food Center, a nonprofit organization with a mission to increase access to local food, provide nutrition education and engage people in the process of food production in an area of town there where are few options to purchase fresh food.
The founder and executive director of the center, Holly Martin, is a nutritionist who worked at a hospital and a food bank, and who previously managed the Main Street Farmers Market. She sees founding the center as part of the natural trajectory of her career.
"I know there is a lot of what I see as really positive energy for our local food scene, but I wanted there to be something that was kind of a center, a network, a voice, a collective where all that enthusiasm could kind of be organized and facilitated through," she said, as to why she feels the center is needed in Chattanooga right now. "I really wanted to be able to offer that resource center, which is what I see our organization becoming."
Launched in December 2019, the organization acquired nonprofit status in May 2020.
Photo Gallery
Gaining Ground Grocery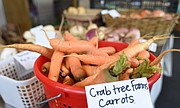 Its first project is the grocery, which opened in late August.
Lacking funding to put into a facility, the food center partnered with the St. Andrew's Center to convert a 500-square-foot space in its building that was not being used into a grocery store.
"Everyone that I talked to with that idea was very on board with it, and it just kind of very organically formed from there," she said. "It's been a lot of work to make it happen, but it's been well received."
The store works with 20 local producers and locally sources any in-season produce that's available, but it also carries produce that can't be found locally such as avocados or potatoes.
Gaining Ground also has a bulk foods section that's been very popular with customers, who like being able to bring their own refillable containers in to fill with grains, beans, spices and other dry goods, she said.
More information:
Gaining Ground Grocery is at 1918 Union Ave. Chattanooga Sustainable Food Center can be reached at 423-930-8860, or visit chattfoodcenter.org.
Store membership is available as a stakeholder program for people in the neighborhood who want to be supportive of the store and help to expand its operations, Martin said, but membership is not required to shop at the store.
Plans are to expand the store's inventory each week as well as the store's days and hours of operation, which now are limited to Thursdays through Saturdays from noon to 6 p.m. each day.
The Chattanooga Sustainable Food Center's next project is to open a teaching kitchen, which will be inside the St. Andrew's Center building, to provide nutrition education and offer classes on topics such as fermenting and cooking with in-season produce.
Contact Emily Crisman at 423-309-3071 or ecrisman@timesfreepress.com.