Whether it's furniture, appliances or construction materials, consumers with tax refunds and stimulus money to spend are finding they may not be able to get what they want - at least, not yet.
"When I have to special order, that's when we're getting what used to be a wait of eight to 10 weeks is now 16 to 20 weeks," said Michael Turner, the owner of Huck and Peck furniture store on West 31st Street in Chattanooga.
National and international supply chain challenges caused by the pandemic - from production interruptions to shutdowns - have run into weather disasters and increased demand for goods as families have hunkered down at home all year.
"It's getting worse, and it's going to get worse before it gets better," said Roger Pickett, the owner of MurMaid Mattress.
Tax refund season is always a busy time for his business, and he's advising customers to buy now before supply chain problems grow, Pickett said.
Earlier this year, the lead time for the coils MurMaid uses in their mattresses grew from a few days to eight weeks due to interrupted production and some of the materials going to make badly needed personal protection equipment, Pickett said.
Then foam products became hard to come by after frigid winter weather delivered a disaster to petroleum suppliers in Texas in February.
"Chemical companies can't keep up because of demand and because of those storms," he said.
State sales tax receipts reflect the increased demand for goods. Even before the newest stimulus package of $1,400 a person, sales in Tennessee showed growth aided by the previous $600 relief checks under the earlier package.
Sales tax collections in the state in January jumped by nearly 15.7% from a year ago due to increases in both online sales tax collections due to new rules for taxing web sales, and due to the overall growth in the economy. The growth rate for February was 11.06%.
Last fall, with spending up and supplies getting scarce, Turner had a feeling furniture inventory was going to get tight.
"I was already starting to see some delays, and already reading about the problems with factories," he said.
Photo Gallery
Shopping for supplies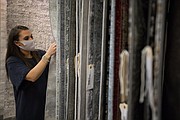 In October, Turner started ordering, laying in a showroom and warehouse full of furniture to carry Huck and Peck through the spring. And the inventory has helped - he will sell any piece of furniture right off the floor - but it hasn't been a magic bullet, particularly for those ordering custom furniture.
Waiting is frustrating, but most people keep it in perspective, he added.
"They've just waited 53 weeks to see if the coronavirus would pull back a little bit," Turner said. "If they can wear a mask for 50 weeks, they can wait 16 weeks for their perfect, unique, handmade sofa."
At Woodley Appliance in Ooltewah, Tim Brooks is delivering disappointing news every day, he said.
"It makes no difference what manufacturer we're talking about, no one's got anything," he said. "[Customers] will run over to Lowe's, Home Depot, Best Buy, whatever, and wind up right back here."
There was plenty of inventory when COVID hit, but then manufacturing plants started shutting down in the U.S. and overseas, reducing supply just as demand began to grow, he said.
"This is a nightmare, and we're all living it together," Brooks said.
James Dawson and his wife are about a month out from the completion of their new house in Brainerd, and were looking forward to picking out appliances, he said.
"My wife put together a washer, dryer, refrigerator wish list, and she was so excited and then so quickly discouraged," Dawson said. "Out of however many hundreds they had listed on the Home Depot site, they had like 20 in stock and lead times to order them were like three months."
They decided to work with what was in stock, and turned their attention to building a fence, only to find another unpleasant surprise.
"Lumber costs are ridiculous," Dawson said. "We might as well build a fence out of bronze."
Bill Smith and his family went looking for a new recliner in February, found just what they wanted, and paid for it on the spot. Then they started waiting. And waiting.
"They said, 'Look, this is back-ordered, everything is back-ordered, and it will be the end of April at the earliest before you get it,'" said Smith, who lives in Cleveland, Tennessee, and bought the recliner at Denver Mattress in Chattanooga. "We knew going into it, but it's still kind of frustrating."
Smith was also recently startled to find that a fencing project would cost him about $250 more than he anticipated, as the price of building materials has jumped significantly.
"I have done more home repair projects this year, and I can't believe the cost of that stuff, lumber especially," Smith said.
At MurMaid, Pickett stocked up early on materials to make mattresses, but expects to run low in the coming months, he said. The business manufacturers its own line of mattresses in addition to selling other lines.
"A month from now, when we've used up that supply, we're only promised 35% of that amount," he said.
Costs have gone up as supplies have dwindled, he added.
"We will be paying double for foam," he said. "I'm telling people we've brought in enough that you can buy at a lower price, but bedding is as cheap now as it's going to be in the next year."
Wait times are also growing, he said, but all he can do is try to anticipate the challenges and deal with them as they come, Pickett said.
"Demand is up and supplies are down," he said. "We're going to have to figure out how to sell and ask people to wait on it."
Contact Mary Fortune at mfortune@timesfreepress.com. Follow her on Twitter at @maryfortune.