The average lifespan after being diagnosed with multiple myeloma, a cancer of plasma cells, is five years.
Mary Beth Sutton has absolutely beaten those odds.
Sutton is the executive director and founder of WaterWays - formerly known as CaribbeanSEA and TenneSEA Kids for Clean Water - a nonprofit dedicated to clean water initiatives in the Tennessee Valley.
Six years ago, on July 1, 2015, she was diagnosed with multiple myeloma. While the cancer is incurable, it is treatable. After undergoing radiation, chemotherapy and stem cell therapy, Sutton went into remission. And recently, she celebrated five years cancer-free in a unique way: solo hiking the Colorado Trail, a roughly 500-mile backcountry footpath from Denver to Durango.
And yes, in case you're wondering, the number does have a significance.
"Five years, 500 miles," Sutton explains. It was a milestone for her - and one that she says she couldn't have made without the help of her staff at WaterWays.
"I couldn't have done this without the blessing of my board of directors, who knew I needed a breakand the staff that kept things going," she says.
The cancer remission wasn't the only thing making her long for the mountains and trails, though. "Part of this was unpacking [stress]," she says. Between having cancer, running a business, the pandemic and other stressors, Sutton says that her long hike was a way to "hit the reset button," and remind herself of the good in the world.
And the people that she met along the trail did just that.
"People laugh about trail family, but you become a family. Everybody takes care of each other. Some of the folks that I met on this trail, I will be friends with forever."
That said, even with friends, the hike isn't easy. Throughout the six weeks she was on the trail, there were several times that Sutton found herself battling the elements.
Once, she remembers, while attempting to make it over a pass, she was pelted with graupel, which are essentially tiny snowball pellets. She ended up having to spend almost 16 hours in her tent that day. Patience was key.
"You also need to read the weather," she says. "Some people had these Garmin inReach devices, which gave them a weather forecast. We laughed at it because one time the Garmin inReach forecast said, '10% chance of rain, clear all day,' and we were getting pummelled with rain. So you had to be able to look at the clouds, watch them coming over a ridge, be able to see which way the wind was blowing. We became weather forecasters, too."
But Sutton is no stranger to overcoming harsh situations.
Photo Gallery
A Survivor's Triumph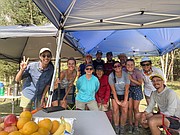 "I had to suffer through the rain and sleet and hail to get to see the wildflowers, and sometimes, you just have to go through the hard stuffto get to where you're going."
Here, in her own words, Sutton discusses what led her to the Colorado Trail and her experiences along the way.
* I've done lots of backpacking throughout my life. My daughter did the Appalachian Trail, and I did the Georgia section with her. That was actually where I first heard about the Colorado Trail. We met a lady from Salida, Colorado, who was training for the Colorado Trail by doing the steep Georgia sections of the Appalachian Trail. We kept in touch, and she really piqued my curiosity because I had never heard of the Colorado Trail. I love mountains, and I needed something different. Not many people from Chattanooga do the Colorado Trail, so it's fun to surprise folks. I started looking at photos and researching. It was too beautiful to pass up!
* I started right outside Denver at Waterton Canyon and hiked to Durango. You can take the east route or the west route - [the] Collegiate Peaks are in the middle. I took the west route. The Collegiate West section had more miles above tree line and [more] elevation gain, which wasn't always good - especially when it was wet and nasty. But [overall] it was just spectacular.
* Going over Hope Pass [near Buena Vista, Colorado] was just about one of the hardest hikes I've ever done. It washuge elevation gain and really steep.
* The most surprising thing is all the dead trees in Colorado. Climate change has allowed the pine beetle and spruce budworm to live unchecked. [We also had] many very smoky days [from the California wildfires].
* Coming out of the Weimenuche Wilderness, the trail [takes] a deep dive [into Elk Creek Canyon]. You can see all of the switchbacks going down this canyon. It was the most spectacular place ever.
* Trail angels [are people who] just do nice stuff for hikers, like give them rides or other kinds of "trail magic" like food or water. [One man, Bruce,] I got food from him three times. And he supported his wife Tiffany across the state.
* It really is a small world. [I ran into] Chattanooga friends on the trailtwo friends from Chattanooga, or formerly from Chattanooga, a youth group from East Brainerd Church of Christ and then at least four or five others with whom I had mutual friends.
* I feel like I walked from spring into summer and then into fall. The colors were already starting to change - not the trees yet but the understory layer was starting to change.
* Porcupine Lake was one of my favorite camping spots, probably because a whole crew of us just got together and had a great time. We had been camping, leapfrogging each other, and it was a bunch of us - over 50 - and we just all connected at this one place.
* [The hike] was very emotional, I'll have to say. It [made] me feel like I'm strong enough to do whatever I want to do.
* I will not say it was an easy hike, but was it worth it? Absolutely.