Remember that prep football road trip we talked about a few months ago?
In our special section previewing the 2021 season, we talked about having a full tank of gas, the car pointed toward the open highway and how memories made along the way would outweigh any potential bumps in the road.
Well, the passenger load has been lightened after 10 Tennessee teams from the Chattanooga area ended their season last week without qualifying for the postseason. And more will be told their road trip has ended over the coming weeks as they aren't able to keep up with the accelerated pace of playoff travel.
So buckle up for what promises to be a wild ride for the 26 area teams that qualified, as well as 204 others around the state, who have earned the green light to merge into the playoff lane beginning Friday.
Regardless of how winding the path may be, for the teams that manage to stay on course over the next four weeks - avoiding distractions and potential hazards along the way - all roads lead to Chattanooga, and the hope that they will not exit before reaching Finley Stadium.
Photo Gallery
TSSAA football playoffs start road to Chattanooga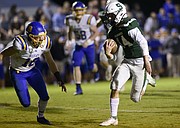 When the TSSAA awarded Chattanooga the rights to host the three-day state championship extravaganza known as the BlueCross Bowl for this season and the next - nine classifications will decide their titles on the Finley Stadium turf on Dec. 2-4 - every prep football team in a mapdot town from the Bluff City to Bristol planned for the Scenic City to be its final destination.
"Just having the chance to possibly play so close to home is an exciting thought for our kids," said Meigs County coach Jason Fitzgerald, whose program has played for a state title the past two seasons and is 9-0 and ranked No. 1 in Class 2A going into this year's postseason. "We have a huge turnout for all our home games, and with the championship being a closer drive, it would allow for a lot more of them to make it to the game.
"But we have a lot, and I mean a lot of work to do before we can even think about that type stuff."
So as the prep playoffs kick off Friday night, here are a few points to know and highlights to watch for along the way.
* The Chattanooga area has had at least one team play for a state championship in eight consecutive seasons and 11 of the past 12. After going seven years without a championship in any class, the area has had a state champion each of the past three seasons.
* Seven of the nine area teams that made head coaching changes during the offseason have reached the playoffs.
* Of the 230 teams that qualified for the playoffs, 45 of them did so despite having a losing overall record, including 10 of the 32 teams in the Class 1A bracket and nine in the 3A bracket.
* Alcoa has won six straight 3A state titles and seven of the past eight since Gary Rankin - who leads the state in career wins with an overall record of 453-77 - took over. This season, the top-ranked Tornadoes' only loss was to 6A's second-ranked Maryville, by three points, and they have allowed an average of just seven points in their other games.
* All three schools in Marion County - Marion, South Pittsburg and Whitwell - have played for a state championship at some point in the past five years, with at least one team from the county appearing in a title game in nine of the past 12 seasons. All three of those teams are once again in the playoffs, with each hosting a first-round game.
Whitwell is hosting a playoff game for the first time since its state championship run in 2018. The Tigers were a combined 4-18 the past two seasons, but Whitwell first-year head coach Rocky Stephenson has his young team playing well as it has outscored its past five opponents by an average of 52-16.
While South Pittsburg has as much skill-position talent as any team in 1A - Mr. Football semifinalist De'Andre Kelly has averaged 9.5 yards per carry this season, quarterback Richard Hunter has averaged 140 passing yards per game (with much of that going to twin brother Reginald, who has averaged 19.1 yards per reception) and sophomore speedster Racash Kelly has averaged 20 yards per touch - it is the linemen who will need to step up for the Pirates to reach at least the semifinals for the fifth time in a six-year stretch.
The Pirates open against Red Boiling Springs - which is in the playoffs for only the second time in program history - but would likely face Clay County and Gordonsville in back-to-back fashion the next two rounds, and the strength of those mid-state squads is up front, where their lines have controlled opponents to allow an average of just nine points per game each.
* Also in 1A, Sale Creek averaged 53 points in winning three of its past four games, setting a program record with five wins while making the playoffs for the fourth straight year. Copper Basin has never beaten first-round foe Gordonsville in six previous playoff meetings.
* Either Marion County, Meigs County or Tyner has reached the 2A state title game the past seven seasons. Top-ranked Meigs - the Tigers have compiled a remarkable 71-7 overall record over the past six seasons, including five straight region titles - have more big-game pedigree than any area team, regardless of classification, other than two-time reigning state champion McCallie of Division II-AAA. Meigs has played in back-to-back state title games plus a total of 14 playoff games over the previous three seasons.
Tyner's Rams open at perennial power Trousdale County, but the Yellow Jackets only outscored the four teams on their schedule with a winning record by an average of six points and lost their starting quarterback to a season-ending knee injury.
* No area public school has gotten past the semifinal round in any classification above 2A since Red Bank won the 5A title in 2000. Since then, the Lions (when they competed in 3A), Ooltewah (6A) and Rhea County (5A) have all reached the semifinals but could not advance further.
Area small schools have enjoyed much greater success as five teams - Marion (2014-16), Signal Mountain (2010), South Pittsburg (2007, 2009, 2010, 2011, 2013, 2020), Tyner (2017) and Whitwell (2018) - have played for championships in 1A or 2A.
* In 3A, Signal Mountain will be looking to advance past the first round for the first time since 2014. The Eagles' first-round opponent, Cannon County, was held to 14 points or less five times, including seven or less four times.
* In 4A, Central is looking for its first playoff win since 2017, while Red Bank has rebounded from a 1-3 season start to post five straight wins.
* Only two of the other seven teams in Rhea County's bracket of potential opponents for the first three rounds have more than six wins. Rhea could be poised for its deepest postseason run since reaching the semifinals in 2015, particularly if sophomore running back Ethan Davis - who has accounted for 734 total yards and 10 touchdown over the past two games - continues his torrid pace.
* If either Cleveland or Bradley Central advances, both would likely have to eventually face powerhouse Maryville, which owns 50 consecutive wins over Chattanooga-area opponents - including 25 in the playoffs by an average score of 42-12. Cleveland would travel to Maryville in the second round if both teams advance, while Bradley would visit the Rebels in the quarterfinals if both reach that round.
* In Division II-AA, Boyd Buchanan travels to face a program that is arguably among the top five in the state, regardless of classification. Christ Presbyterian Academy has won two of the past three state titles in its class, and its only losses this season were to top-ranked Lipscomb Academy and 6A's top-ranked Murfreesboro Oakland.
Chattanooga Christian, which has won a first-round playoff game each of the past two years, has averaged 36 points in winning four of its past five games since switching to the I-formation. First-round foe Battle Ground Academy has allowed 52-plus points in each of its past three losses.
Silverdale Baptist Academy hasn't won a playoff game since moving into D-II in 2016. Its most recent postseason win came during a 2013 run to the state quarterfinals, but the Seahawks will face North Point Christian - which is located just west of Memphis in Southaven, Mississippi - which has not won a playoff game since finishing runner-up in 2015.
* Baylor, which features eight sets of brothers on this year's roster, already owns a 52-28 win over Ensworth in week two of this season. That was at home, and the Red Raiders, who have lost two straight and three of their past four matchups with DII-AAA competition, will now travel to the Tigers, who have won six of eight games since that earlier meeting and are led by quarterback Levi Moore, who has accounted for 27 touchdowns and more than 2,400 yards in 2021.
The Red Raiders, who have beaten Ensworth in their past three meetings, have also already faced two of the four remaining teams on their side of the playoff bracket this season. That includes Montgomery Bell Academy, which has a first-round bye and will host the winner between Baylor and Ensworth. MBA won beat Baylor by 10 points two weeks ago.
* McCallie, which completed its first unbeaten regular season since 2001, could become the fourth program in the 24-year history of the TSSAA's private division to win three consecutive championships. The Blue Tornado earned a first-round bye and will enter the quarterfinals next week by hosting the winner of Friday's matchup between Father Ryan and Memphis University School.
Contact Stephen Hargis at shargis@timesfreepress.com or 423-757-6293. Follow him on Twitter @StephenHargis.
Photo Gallery
It's prep football playoff time in Tennessee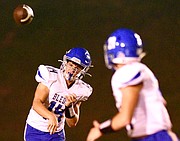 TSSAA FOOTBALL PLAYOFFS
All game times listed as EasternFirst RoundFriday, Nov. 5, 2021Class 1ARed Boiling Springs (3-6) at South Pittsburg (6-2), 8Sale Creek (5-5) at Clay County (9-1), 8Jo Byrns (5-5) at Whitwell (4-3), 8Copper Basin (2-6) at Gordonsville (9-1), 8Class 2AEast Robertson (5-5) at Meigs County (9-0), 7Tyner (7-3) at Trousdale County (8-1), 8Westmoreland (3-7) at Marion County (8-1), 8Bledsoe County (5-3) at Watertown (7-3), 8Class 3AGrundy County (2-6) at Loudon (9-1), 7Signal Mountain (6-4) at Cannon County (5-4), 8Sequatchie County (4-6) at Kingston (7-3), 7Class 4AStone Memorial (6-4) at Red Bank (7-3), 7Central (6-2) at Macon County (7-3), 8DeKalb County (6-4) at East Hamilton (7-2), 7Soddy-Daisy (4-6) at Upperman (9-1), 8Class 5AOoltewah (2-7) at Powell (8-2), 7Oak Ridge (3-7) at McMinn County (7-3), 7Walker Valley (5-5) at Karns (6-4), 7Campbell County (6-4) at Rhea County (8-2), 7Class 6AJefferson County (6-4) at Bradley Central (8-2), 7Cleveland (6-4) at West Ridge (8-2), 7Division II-AAChattanooga Christian (5-4) at BGA (5-5), 8Boyd Buchanan (4-5) at CPA (8-2), 8Silverdale Baptist (8-2) at Northpoint Christian (4-5), 8Division II-AAABaylor (6-4) at Ensworth (7-3), 8