Every time Red Bank High School junior Jaden Baccus steps on the football field, it's one more opportunity to make Nana proud.
Last year, he made his beloved grandmother proud - and endeavored to keep her safe - when he made a personal sacrifice by staying off the football field.
As the COVID-19 pandemic surged in 2020, Baccus remained home even though it meant missing a season in which he seemed set to take off as a potential two-way starter for the Lions, who reached the state semifinals. This fall, his patience has been rewarded and his prayers have been answered as he has helped the Lions (9-3) advance to the TSSAA Class 4A quarterfinals and a home game Friday night against Upperman (11-1).
"Last year I didn't get to play and was doing virtual learning from home to protect my grandmother from COVID," Baccus said. "I didn't want anything to happen to her. I wanted to keep her safe. I am very close to my Nana. She has always been a huge influence to me."
A one-year layoff from the game he loves most could not prevent Baccus from contributing for the Lions. Neither could a concussion, although it did keep the 5-foot-11, 175-pound receiver and defensive back out five games early this season. Baccus is part of a big-play defense that has created 12 turnovers - the Lions have returned four of those for scores - through the first three rounds of the playoffs.
Getting the chance to watch her grandson play on Tom Weathers Field for a spot in the state semifinals means the world to Denise Clark.
"Getting to see him shine means everything to me because he has always loved football," said Clark, who kept Jaden and five other grandchildren last fall while they learned virtually. "I know it meant everything for him to go back. Football is an outlet for him to go out as a young boy to play ball. He loves his coach and his teammates so much, and he talked about them all the time when he was away from them."
Photo Gallery
Red Bank football standout Jaden Baccus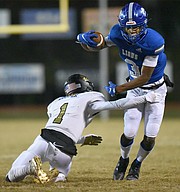 Baccus and his grandmother said God's greater plan has allowed him to be in the right place to make an impact during Red Bank's surge at the end of the regular season and into the playoffs.
In six games this season, he has 32 tackles, four pass breakups, three interceptions and an 88-yard fumble return for a touchdown in a first-round win against Stone Memorial. He also has 16 catches for 233 yards and four scores, and he has helped spark Red Bank during its seven-game winning streak.
"To see Jaden step in and do what he has done is so powerful," Red Bank coach Chris Brown said. "He loves to play football and is very gifted at this sport. He made a family decision last year that all of our coaches and players 100% supported. Now you can see his appreciation for being able to play here at practice every day, and that rolls right over to the games on Friday night."
The Lions have outscored their opponents 296-52 during their winning streak, and now they hope to cause chaos for the Bees in all phases of the game.
"We have played great in the playoffs," Baccus said. "We have grown as a team and really become a family. We are all bought in and love each other. When we step out there tomorrow night, we are going to lock in and will be ready to go make plays."
While his grandmother is still careful about COVID-19 - she has lupus, an autoimmune disease - she plans to be at Friday's game and cheering as loud as she can for her favorite No. 3 for Red Bank.
"I really mean it when I say I am so proud of Jaden," Clark said. "I know sitting out last year was hard for him, but he just maintained and did his work. He never complained. Him being back out there with his teammates means the world to him. Jaden has a drive in him. I don't think it can be stopped."
Contact Patrick MacCoon at pmaccoon@timesfreepress.com. Follow him on Twitter @PMacCoon.
CHATTANOOGA-AREA FOOTBALL SCHEDULE
Friday, Nov. 19, 2021TSSAA playoffsAll games 7 p.m. local timeClass 1A quarterfinalGordonsville (11-1) at South Pittsburg (8-2)Class 4A quarterfinalUpperman (11-1) at Red Bank (9-3)Class 5A quarterfinalRhea County (10-2) at Powell (10-2)Division II-AAA semifinalPope John Paul II (8-4) at McCallie (11-0)GHSA playoffs, second roundAll games 7:30 p.m.Class A publicTrion (10-1) at Wilcox County (8-3)Class AAARinggold (10-1) at Thomson (10-0)Class AAAANorthwest Whitfield (8-3) at Bainbridge (8-3)Class AAAAACalhoun (9-2) at Ware County (9-1)