SOUTH PITTSBURG, Tenn. - For much of the season, after its head coach abruptly left after the opener, South Pittsburg's football team searched for an identity and battled inconsistency.
Consider the identity crisis over: The Pirates have returned to their old-school formula of physically battering opponents on both sides of the ball. That simple blueprint has led to a dominating run through the TSSAA Class 1A playoffs and a return to the semifinals for the fifth time in six seasons.
The Pirates punished visiting Gordonsville in Friday's quarterfinal, scoring on seven of their first nine possessions - four of those scores covered 50-plus yards - and allowing just 4 rushing yards on the way to a 44-14 win.
This is the fourth straight year the Pirates (9-2) have eliminated the Tigers (11-2), and South Pittsburg will travel to Cloudland (12-1) in next week's semifinals.
"Us seniors stayed together, even after our coach left us, and kept fighting regardless of what happened along the way," said Pirates senior running back De'Andre Kelly, a Tennessee Titans Mr. Football semifinalist who ran for 170 yards and three touchdowns.
(READ MORE: Final scores and photos from Friday night's Chattanooga-area high school playoffs)
Photo Gallery
South Pittsburg vs. Gordonsville on Nov. 19, 2021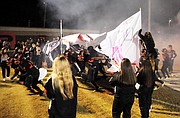 On South Pittsburg's second snap, Richard Hunter hit Keshaun Hill on a slant, and the speedster outran the Gordonsville pursuit for a 70-yard touchdown. The big-play theme continued on the Pirates' next possession as they covered 91 yards in seven plays, highlighted by a 69-yard pass from Hunter to Racash Kelly that set up a short run to the end zone.
After Gordonsville rallied to pull even midway through the second quarter, the Pirates reclaimed momentum with a 63-yard scoring sprint by De'Andre Kelly, followed by a gutsy decision to onside kick that paid off. One play after recovering the kick, Reginald Hunter made a one-handed catch before racing past the secondary for a 51-yard touchdown that gave his team a 14-point halftime lead.
"That was huge," Pirates co-head coach Wes Stone said. "It was a good time to catch them by surprise, and our kids executed it. We just felt like we needed to do something to really put them on their heels before halftime."
South Pittsburg wasted no time putting the game away early in the second half as Kelly scored on a 69-yard run on his first carry of the third quarter. The Pirates outgained Gordonsville 409-102 in total offense and dropped Tigers runners for 51 yards in losses, led by Gio Davis' two tackles for loss and three sacks, the last of which went for a safety.
Gordonsville's only previous loss this year was to 2A power Trousdale County, 28-24, but no other opponent had scored more than 15 points against the Tigers. South Pittsburg, which has outscored its past four foes by an average of 47-7, averaged 9.5 yards per play Friday.
"Our defense set the tone from the start, and our offense just did what we do," said Richard Hunter, who was 6-of-9 passing for 203 yards and two touchdowns and also ran for a score. "We've been through a lot this season, but it says a lot about our character that we never gave up."
Contact Stephen Hargis at shargis@timesfreepress.com or 423-757-6293. Follow him on Twitter @StephenHargis.