CLEVELAND, Tenn. - With less than two minutes left until halftime Bradley Central's suffocating defense, led by senior Karsee Weber, had helped build a 20-point lead over visiting McMinn Central.
Hannah Jones scored a career-high 32 points, as the junior star forward made 13 field goals, in a 69-45 rout of the Chargerettes for Bradley's 30th straight home win inside Jim Smiddy Arena.
"We played really well defensively and Hannah had a career night again. They didn't really have a matchup for her," Bradley Central coach Jason Reuter said. "Everyone thinks you have to score, but we ask our girls to first and foremost play really hard on defense."
Stellar defense has played a pivotal role in not only the current home win streak, but also in the Bearettes' 11 straight district championships and state title run in 2019. Over the last seven seasons they are 99-3 at home.
The Bearettes (3-0) won big Monday despite turning the ball over 26 times against the Chargerettes, who came in with impressive wins over Knoxville Catholic and Alcoa to begin the season.
Photo Gallery
Bearettes vs. McMinn Central on Nov. 22, 2021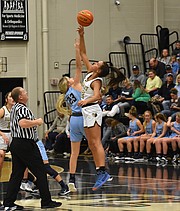 However, McMinn Central (2-1) - whose coach Johnny Morgan stands at 989 career wins - shot just 11-of-49 from the field. Sophomore Molly Massingale was the Chargerettes lone bright spot offensively finishing with 17 points and hitting all 10 of her free throws.
"No disrespect to McMinn Central, but we should have been up by 25 at the break," Reuter said. "The amount of turnovers we had was unacceptable and they heard about it at halftime. We have to correct those mistakes. Luckily they were not turnovers that led to a lot of points for them."
Bradley Central shot 65 percent from the field.
Weber finished with 10 points while freshman Harmonie Ware scored seven straight points to end the third quarter, which was highlighted by a crafty spin move for a layup along with a fading jumper.
Even with clumsy ball-handling, the Bearattes continued their dominance at home. Reuter's squad has not lost at home since a 76-68 defeat to Ensworth on Dec. 7, 2019.
Girls' basketball results
Walker Valley 47, Silverdale Baptist 42: Drew Lyness' Lady Mustangs improved to 4-0 as they outscored Silverdale 28-17 in the second half. Silverdale's Madison Bischof scored all nine of her points after halftime while Elissa Earls had 11.
Sequatchie County 62, Sale Creek 51: Addy Edgmon led the Lady Indians with 28 points. Keilyn Morgan finished with 18 points and 12 rebounds for Sale Creek.
Lakeview-F.O. 58, Soddy-Daisy 20: The Lady Warriors (1-0) got 19 points from Angel Simmons, 15 from Christine Collins and 10 from Christen Collins.
Ringgold 48, Dade County 19: The Lady Tigers (2-0) won at the Ridgeland Thanksgiving Tournament as Baileigh Pitts had 12 points, 10 rebounds and four steals, with Rachel Lopez adding 10 points and four steals.
Boys' basketball results
East Hamilton 60, Knoxville Christian 58: Ashton Munson scored 11 of his team-high 20 points in the third quarter while Cade Pendleton helped close the victory and finished with 19 points for the Hurricanes (3-0).
Bradley Central 58, McMinn Central 44: Brandon Shumbera scored 11 points and hit a pair of 3-pointers while Aiden McClary had 11 points and seven rebounds for the Bears. Darius Carden finished with 20 points, nine rebounds and six steals for the Chargers.
Lakeview-F.O. 89, Collegedale Academy 56: Jamichael Davis had 31 points and nine rebounds and Brent Bowman had 30 points and six boards for LFO.
North Murray 52, Flowery Branch 47: At the Turkey Jam at North Murray, the Mountaineers won their season opener as Gavin Pittman had a game-high 20 points and Isaiah Morrison added 13.
Coahulla Creek 53, Heritage 39: At the Ridgeland Thanksgiving Tournament, Mario Edwards and Will Locke tied for scoring honors with 13 each for the Colts (2-0). Ty Loveless led Heritage with 12 points.
Ringgold 55, East Ridge 48: O'Reilly Matthews had a game-high 18 points and Jayden Williams had seven of his eight points as Ringgold outscored the Pioneers 17-11 in the fourth quarter. Tyree Smith topped East Ridge (0-2) with 11 points.
Contact Patrick MacCoon at pmaccoon@timesfreepress.com. Follow him on Twitter @PMacCoon.