Volkswagen plans to open a North American regional headquarters in Chattanooga for operations such as engineering, manufacturing, purchasing and quality, an official says.
Johan de Nysschen, chief operating officer at Volkswagen Group's North American Region, said about 40 people will be stationed in Chattanooga, including himself.
He said that Herndon, Virginia, will continue to serve as the overall corporate headquarters location for the region, with sales, marketing and dealer development located there.
But de Nysschen said he expects the new office in Chattanooga to be staffed up around the first quarter of next year.
He told journalists in Chattanooga on Monday and Tuesday that he is moving to the city, and he said he has bought a house about 10 minutes away from Volkswagen's Chattanooga assembly plant at Enterprise South industrial park.
(READ MORE: Volkswagen Chattanooga on track to hire 1,000 more workers, build electric SUV, official says)
"Chattanooga is our heart," de Nysschen said to the group of journalists in the city to test drive Volkswagen's ID.4 electric SUV and tour the plant's expanded body shop and new battery assembly facility.
Photo Gallery
VW to add regional headquarters in Chattanooga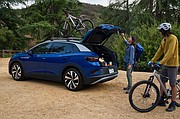 Next year, the 3.4-million-square-foot factory will start production of the ID.4, a vehicle that VW officials have said is the opening salvo in an SUV EV offensive in America. While now produced in Germany, ID.4 assembly in Chattanooga is expected to lead to another hiring surge at the factory that employs about 4,000 workers now.
VW is spending $800 million to expand the Chattanooga plant, which now builds the Atlas and Atlas Cross Sport SUVs and Passat sedan. But VW officials have said that Volkswagen Chattanooga will cease assembly of the Passat sedan this winter as it readies for EV production in 2022.
VW already has said the plant is its base for its North American EV operations, and de Nysschen cited a battery center of excellence in Chattanooga.
"I anticipate Chattanooga playing a more prominent role in engineering, especially concerning electric vehicles," he said. "The ID.4 is just the tip of the spear."
Dustin Krause, Volkswagen of America's director of e-mobility, said the ID.4 already is the best-selling EV in the automaker's group and is No. 2 behind Tesla overall.
He said that 68% of ID.4 customers are new to VW, while 89% are buying their first EV.
Jeffrey Lear, a VW product manager, said the ID.4 all-wheel drive version of the SUV is faster than the brand's GTI.
He said the all-wheel drive ID.4, costing $43,675 before federal or state incentives, also has about 249 miles of range.
Contact Mike Pare at mpare@timesfreepress.com or 423-757-6318.