In the biggest gift ever to the Urban League of Greater Chattanooga, the 40-year-old civil rights group has received a $2.4 million grant from philanthropist MacKenzie Scott to help pay for the Urban League's new three-story building at 401 MLK Blvd.
The award was announced Thursday during the 40th Equal Opportunity Day (EOD) Breakfast, which attracted several hundred persons to the Chattanooga Convention Center in the local Urban League's biggest fundraising event of the year.
"It's great to see that the work that we are doing is getting noticed and that people like MacKenzie Scott want to help us to continue to move the needle for people of color and disadvantaged residents in the Chattanooga area," Candy Johnson, president and CEO of the Urban League of Chattanooga, said in an interview after the fundraising breakfast. "We've never previously had even anyone give us close to $1 million so to get this $2.4 million gift is really a godsend."
The Chattanooga chapter of the Urban League bought the 12,000-square-foot building at 301 MLK earlier this year for $3.8 million and Johnson said there is now less than $1 million of remaining debt.
"Now we will owe $900,000 on our building," she said during Thursdy's breakfast event. "That $900,000 will be paid off in a year. So next year when we come back to the EOD, we'll have a mortgage burning ceremony!"
Scott, the former wife of billionaire and Amazon founder Jeff Bezos, has donated almost $2 billion to more than 300 organizations in the past seven months. Since her divorce from Bezos in 2019, Forbes estimates Scott has given away $14.4 billion to more than 1,500 organizations.
Photo Gallery
Urban League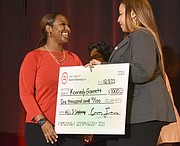 The grant was announced during a 40th anniversary celebration for the Urbsn League of Greater Chattanooga. The event promoted "Moments in the Movement," revisiting historic minority milestones since 1916, when the "Central Community Betterment League" was first formed in Chattanooga.
The Urban League also recognized two local businesses and a civic leader with awards during the Equal Opportunity Day event.
• The Inclusion by Design Award was presented to Unum, for embracing inclusion through business practices and community engagement;
• EPB received the Community Impact Award for contributions in elevating the standard of living and overall quality of life;
• Greg Funderberg was the recipient of the Whitney M. Young Jr. Award, in recognition for his commitment to working for social justice, social consciousness and civic involvement.
Contact Jennifer McNally at jmcnally@timesfreepress.com