Caleb Milen's basketball skills allow him to make the game look easy sometimes.
As a result, the Polk County point guard is standing out even in one of the area's toughest districts.
Whether the 6-foot-1, 175-pound senior is going up and under the basket for a tough layup or threading the needle on a difficult pass, making big plays seems to come naturally for the Wildcats' versatile on-court leader.
"I just love playing this sport," Milen said. "When I am playing basketball, I am happy as could be. When I go out on the court, all that matters to me is helping my team win. I am not a big numbers dude or in it for (personal) recognition. I just want to have fun with my teammates and help us win as many games as we can."
He has done that as an integral part of the best four-year stretch of Polk County boys' basketball.
In a breakout sophomore campaign, he had several 30-point games while helping the Wildcats to 20 wins and the first regular-season district championship in program history. In his first district start, he buried three consecutive 3-pointers late to bury Sequoyah.
Photo Gallery
Polk County point guard Caleb Milen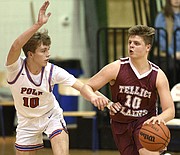 While joining a new District 4-2A that includes Chattanooga programs such as Arts & Sciences, Brainerd and Tyner - along with Marion County - has not been easy this season, Milen's progress has continued and he's well on the way to helping Jon Tucker's program to a fourth straight winning record.
Polk County opened 5-0 and improved to 10-4 with Tuesday's 56-49 overtime victory against Tyner, and the Wildcats' losses have come by a combined 14 points. Against Tyner, Milen scored 24 points while hitting a key 3-pointer late in regulation and making all four of his free throws in the extra period.
He started the season in impressive fashion, too, compiling a triple-double with 29 points, 10 assists and 10 rebounds against Georgia's Murray County.
"Caleb is a complete player," Coach Tucker said of the star point guard, whose father Dusty Milen was an all-state football star for Polk County. "One of the special things about him is he never gets shook. Ever. He is so in control of the basketball and his team. He is a special player.
"Every time he plays, I am excited to look at the box score after because he does so many things well for this team. He definitely has proven himself as one of the top players in our classification."
Milen has averaged 22.5 points, seven rebounds, five assists and more than two steals per game this season, but his unselfish nature showed during a notable personal accomplishment. When he broke the 1,000 career points mark during a matchup with Arts & Sciences last month, he asked Tucker not to waste a timeout on recognizing the moment because the Wildcats were in a nip-and-tuck battle.
He will continue his basketball career just up the road, having committed to Tennessee Wesleyan University, the NAIA and Appalachian Athletic Conference program in Athens.
"I am very grateful and want to go as far as I can in basketball," Milen said. "I am thankful for Coach Tucker and all of my teammates who have pushed me. I couldn't have made it this far without them. I love my team. We all get along great off the court, and when we step on the court we always tie our shoelaces up and give it our all."
When the Wildcats went 2-1 at the Battle of the States in Hiawassee, Georgia, last week, Milen received all-tournament recognition after totaling 70 points, 19 rebounds and 15 assists, but his help this season has included Tucker Patterson, a junior who is an ace outside shooter and made nine 3-pointers in a win over South Carolina's Pendleton at that event.
In addition, Alex Armstrong and Noah Shaw have been forces in the paint, Jonah Adams has been a key leader and the Wildcats have benefited from a solid bench.
There's no doubt, however, that Milen will be especially missed when his time with the Wildcats is over.
"Everyone looks up to Caleb," Coach Tucker said. "He is a great teammate and just wants to win. He and everyone on this team are for each other. They would do anything to help one another succeed. It's a group I am blessed to have and will never forget."
Contact Patrick MacCoon at pmaccoon@timesfreepress.com. Follow him on Twitter @PMacCoon.