The Georgia Bulldogs woke up Tuesday morning as the national champions of the 2021 college football season.
Then they started fielding questions about 2022.
Georgia ascended to the top of the sport for the first time since the 1980 season with Monday night's dizzying 33-18 victory over Alabama that contained a back-and-forth second half and ended with the Bulldogs scoring 20 unanswered points. Bulldogs head coach Kirby Smart, quarterback Stetson Bennett and safety Lewis Cine held a final news conference Tuesday in Indianapolis, where they discussed Georgia's past, present and future.
Bennett is a fifth-year senior who arrived in Athens as a walk-on in 2017, but he could choose a sixth season and a run at consecutive national titles should he use the NCAA's extra year implemented after the coronavirus outbreak.
Photo Gallery
Georgia defeats Alabama in CFP national championship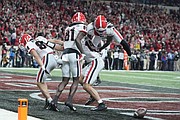 (READ MORE: Wiedmer: Move over, Herschel. Dawg Nation has a new hero in Stetson)
"We'll wait a second on that one for me," Bennett said. "I don't want to spill all my personal stuff out here on the table, so we'll keep that between me and Coach Smart."
Georgia's well-stocked quarterback room this season consisted of Bennett, five-star Southern California graduate transfer JT Daniels, Carson Beck and five-star freshman Brock Vandagriff, and it's hard to imagine that quartet returning intact. Ditto for the running back quintet of Zamir White, James Cook, Kenny McIntosh, Kendall Milton and Daijun Edwards, though each has eligibility remaining with the NCAA one-time rule.
Inside linebacker Nakobe Dean, cornerback Derion Kendrick and defensive linemen Jordan Davis and Travon Walker still have remaining eligibility as well but are expected to move toward the 2022 NFL draft, so Smart has a busy few weeks ahead and is well aware of that.
"We'll probably have a few kids go into the portal who we've had discussions with who held that off out of respect for the team," Smart said. "We'll have that, and everybody will think that's a terrible thing, but in some cases it's actually a good opportunity for kids. We've got 16 or 17 midyears who have enrolled, and we've got to finish off this class.
"We don't know how many spots we have, because we don't know what some guys are doing, like Lewis and other guys, but there's a lot of work to be done."
That work will be done as the national champion and after conquering Alabama, which had won the seven previous series meetings. The embrace that Smart and Crimson Tide counterpart Nick Saban shared following Monday's outcome certainly reflected the respect the two have for one another.
Smart served as Saban's defensive coordinator during the 2008-15 seasons, with Alabama winning national championships in four of those eight years.
"They've been the measuring stick, and I was a part of it," Smart said. "I mean, he doesn't lose many national championship games when he has that time to prepare. To beat them is special, but also I have a tremendous amount of respect for him and the way he runs his program. Really, this is probably one of the best jobs he's ever done with his team, because they were really young at some positions.
"I think they've got the best player in college football in Bryce Young, and I saw that firsthand on the field in the SEC championship, but I told him after the game, 'I really believe that this was probably the best job you've ever done.'"
Alabama lost the nation's top quarterback, running back, receiver, left tackle and center off its 2020 team that roared to a 13-0 record and to Saban's sixth national title in Tuscaloosa. This season's Crimson Tide stumbled at Texas A&M and nearly fell to Florida, LSU and Auburn before stunning Georgia 41-24 in last month's Southeastern Conference title game in Atlanta.
The Crimson Tide lost receiver John Metchie inside Mercedes-Benz Stadium and lost receiver Jameson Williams early in the second quarter Monday night, with those two combining on 175 receptions for 2,714 yards this season.
"I'm extremely proud of this group for what they were able to accomplish this year and the adversity that they overcame," Saban said after the game. "They're really a great bunch of winners. They won going away. They came from behind and won, and they won close games that all gave us the opportunity to play in this game."
Alabama also is assured of undergoing some roster overhaul, but the two best players in the program - Young and outside linebacker Will Anderson - were just sophomores this season, which is why the Crimson Tide likely will be the popular pick for preseason No. 1.
The Bulldogs won't be too far behind on that list, as Monday night may have been a taste of more to come under Smart.
"You take Alabama out of it, and I think we've had the best team in the country probably two or three times," Smart said, "but the best team in the country doesn't win the national championship every year. The team that plays the best does. One of our most talented teams outside of this one was probably the one that lost in the (2018) SEC championship, so there's a frustration that you deal with and say, 'Man, did we get the most out of them?'
"I also know how hard it is to have the breaks and get the breaks and be able to win one of these, and it takes some really good breaks. We got them this year, and we're certainly happy."
Coaching chain
Georgia's head coaches since 1964 still live in and around Athens, and each of them have impacted Smart, who gave plenty of thanks Tuesday.
"Coach (Vince) Dooley - seeing him after the game was very emotional for me," Smart said. "It was Coach (Ray) Goff who signed me, Coach (Jim) Donnan who coached me and Coach (Mark) Richt who I worked for and have such a tremendous amount of respect for. He got so close so many times.
"There are a lot of people that this means a lot to, and I am happy for them and that so many of them are also happy for me."
Dawg bites
Georgia became the first 3 seed to win the College Football Playoff. After leading Alabama or being tied for 71% of the previous four meetings and losing all four, the Bulldogs led or were tied for just 34.6% of Monday's game. Georgia has now joined college football's modern era 14-win club that includes Alabama, Auburn, Boise State, BYU, Clemson, Florida State, LSU and Ohio State. Smart when he saw the celebrating in downtown Athens: "The first thing I thought of was Widespread Panic in '94 or whenever it was. I was like, 'There are people on signs. There are people on poles.' You couldn't see the street. I didn't even know where it was. I was pretty blown away." Georgia will hold a national championship celebration inside Sanford Stadium on Saturday at 2 p.m.
Tide tidbits
Alabama's 52-24 rout of Ohio State in last season's championship is the only title game of the CFP era in which the winner led wire-to-wire. Young on being sacked four times after not getting sacked in Atlanta: "They switched some stuff up and had different tendencies, and I have to process that faster." Junior linebacker Christian Harris on Monday racked up seven tackles, four tackles for loss, three sacks and one forced fumble.
Contact David Paschall at dpaschall@timesfreepress.com or 423-757-6524.