The scene on Brainerd High School's basketball court Monday night was one not many expected earlier this season.
After an instant classic 74-71 overtime victory against Gatlinburg-Pittman in the Class AA sectional, the Panthers home court was flooded with fans to celebrate the program's 18th trip to the TSSAA state tournament and first since 2019.
Coach Levar Brown was overcome with emotions as he hugged his son Amari Brown, took an ice bath from his players and soon after danced in the bleachers as Brainerd accomplished a feat that at one point seemed nearly unfathomable.
"We went through a stretch this season for two weeks where we only had six players," Brown said. "We fought through injuries. Our senior guard Keon Wheeler got in a car accident and we thought he wouldn't ever be able to walk again and tonight he's playing in the substate game.
"It's been a heck of a season. To see them in this position now is by far one of the most accomplishing feelings. I am fortunate to probably be the only (active) coach in the city that has a ball - gold or silver - but this year's group is definitely high up there with the all-time memories. I won't ever forget this win."
Photo Gallery
Brainerd vs. Gatlinburg-Pittman on March 7, 2022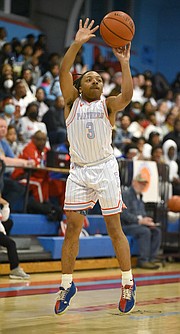 Tyner was the only other local team to advance to the state tournament as the Rams also claimed an overtime thriller, 54-52, at Alcoa.
The Panthers (16-11) sent the game into overtime on a heroic shot in the final seconds when Naquan Lay took a pass from Dennis Lewis Jr. in the right corner and connected on a 3-pointer to tie the game at 61. Lay continually stepped up late as he made three 3-pointers over the final quarter and overtime.
"This is a blessing," said Lay, whose three in overtime provided a 69-66 lead. "I am thankful for everything we have been through to get to this moment. We believed we could do it and we did. All the pieces have come together and we have made a really loud statement. We aren't done yet."
Lewis Jr. put on a show in the first half, scoring 18 of his team-high 23 points and made five 3-pointers. His teammates had his back after he fouled out in overtime.
Senior Jakyse Locklin scored five of his 12 points in overtime and made three huge free throws. He also hauled in double-digit rebounds for a second game in a row. The Panthers made 10-of-16 from the line over the fourth quarter and overtime while Gatlinburg-Pittman made just 5-of-12.
Brainerd's Donivon Thomas was tough down low with 15 points and had a crowd-energizing old-fashioned three-point play in overtime to take the lead.
"To be honest, at first this season was a struggle," Locklin said. "But at some point you have to fight through adversity and we did. I just go out there and give it 100,000 percent. Nothing more, nothing less. I have been going hard all season and we aren't going to stop now."
The Highlanders (24-8) were led by Carlos Orr who had 25 points while Jackson Desear had 21 points. Gatlinburg-Pittman took a 47-40 lead near the end of the third quarter, but were outscored 32-24 over the final 12 minutes.
"The difference was we were unselfish in overtime," Brown said. "We didn't care who took the last shot. These guys trusted one another.
"This was definitely the most fun win I've had with this program. We have never been in an overtime game at this stage since I have coached here. This is an unforgettable win. We are going to keep fighting. It doesn't get any easier from here."
TSSAA boys' sectional results
Class 1A
Clay County 75, Chattanooga Prep 38
East Robertson 70, Van Buren County 48
Class 2A
Tyner 54, Alcoa 52 (OT): The Rams rallied late to force the extra period then held on for the road win that advanced them to the state tournament for the first time since 2018. Tyner had lost close decisions in the sectional round each of the past two seasons.
Latavion Conyers led all scorers with 27 points for the Rams, while Rodney Henderson and Nehemiah Bloodsaw finished with nine each.
Class 4A
Cane Ridge 68, Walker Valley 38