Saturday afternoon, Rod Underwood coached his first official match as the leader of the Chattanooga Football Club.
Behind him sat some of the players from the Chattanooga FC Academy, with a number of those kids Black or Hispanic.
Why does that matter? Because CFC is nestled right inside of Finley Stadium, which is conveniently located a matter of minutes away from some of the more urban areas of the city, there is a chance for growth.
Soccer is the world's game, and it's becoming more and more reflective in the coaching hires being made by clubs - purposely or not. That's no different in Chattanooga, where minorities lead the city's two professional clubs.
When he was hired in the offseason, Underwood became the first Black head coach in the history of CFC, which was founded in 2009 as an amateur club and made the jump to the professional ranks and the National Independent Soccer Association two years ago. The Chattanooga Red Wolves, who compete in USL League One, are preparing for their fourth season overall and third being coached by Jimmy Obleda, who is Latino.
Having those connections is huge for the city, which hasn't always been able to make tangible inroads with the Black community and the sport.
Photo Gallery
Chattanooga FC vs. Maryland Bobcats on March 26, 2022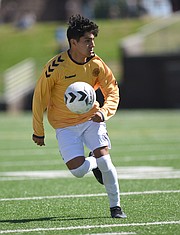 Underwood has nearly 30 years of coaching experience, including more than a decade as a head coach, so he obviously has some perspective.
"I'm old, right?" Underwood said earlier in the week. "I've been doing this a long time, and it has to be about providing an example - we all know that. If people can look out and see people that look like them, doing things that they think they have a chance (to do) - but if they can't look out and see people, it might still make a change, but that chance is less.
"Sometimes when you think about minorities, minorities are underrepresented in business, finances, all of them underrepresented. But there are also non-minorities that are underrepresented, too, that they need the same sort of help, but sometimes we forget. People are people and minorities in our country in general are less represented, and you see less education, you see less work, you see less financial stability, all of those things are true. So we need to make sure that people that have the opportunity to provide hope, they need to provide hope, and if you can provide hope, can you provide connection? You can provide connection, you can provide your time, and if you can provide your time, can you provide your resources? I think all of that is important."
Underwood's CFC debut got off to a solid start, with the home team Saturday at Finley Stadium building a one-goal lead on an Ian Cerro penalty kick against the Maryland Bobcats but having to settle for a 1-all draw. CFC was able to create some scoring opportunities in both halves, with no miss more devastating than a Brett Jones attempt from the right side that glanced off the crossbar.
But as Underwood attempts to get this team locked in on his tactical style, he is sure to have a solid crowd behind him - whether those in the stands are white, Black or Hispanic. And as CFC leans on its community outreach, that's huge.
"I think it can be really impactful," CFC defender Richard Dixon said of Underwood's presence. "The club has done a good job over the years impacting the community with the different foundations and stuff like that. I think having a Black coach and a Black leader is very important because it gives that next generation somebody to look up to and somebody that can be able to impact the community and the kids especially.
"Obviously your priorities are winning games. Showing up on the weekends and winning games, but that's only 90 minutes on the weeks, so what we do off the field is very important as well, because we are representing the city of Chattanooga. So we go out there and play games, and then off the field, it's important that we're out there connecting with them, whether it's kids or different people in the community to let them know that we're here."
CFC's next match is April 3 at AC Syracuse. The next home date is April 7 against Memphis 901 FC.
Contact Gene Henley at ghenley@timesfreepress.com. Follow him on Twitter @genehenley3.