A left baseline jumper by A.J. McGinnis with just under a minute left to play gave Lipscomb University a late lead it would not relinquish Wednesday as the visitors claimed a 72-66 win over the University of Tennessee at Chattanooga.
After attempting just one shot in the first half, a made 3-pointer at the top of the arc on the game's first shot attempt, Jake Stephens was a focal point after the break for Chattanooga. The 7-foot standout scored 15 points in the second half and also finished with a double-double with 10 rebounds, but missed his final two shots in the last 1:20 of the game in crucial possessions.
Lipscomb was led off the bench by forward Jacob Ognacevic, who scored 16 of his game-high 21 points in the second half including a breakaway two-handed dunk for a 66-62 lead with 40 seconds left.
Ognacevic scored 23 in last year's matchup with UTC, which the Mocs won 85-64.
"In the second half we just allowed too many points in the paint," Mocs coach Dan Earl said after his team fell to 2-3 overall. "They pounded the ball down low and only took two 3-pointers in the second half. Ognacevic was really good and so was (Ahsan) Asadullah. That's unfortunate. Regardless of our shots falling, we have to play with more defensive intent."
Photo Gallery
UTC vs. Lipscomb on Nov. 23, 2022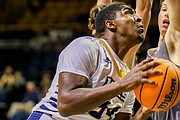 Chattanooga started the game by taking an 8-2 lead and dominated the glass as they held a 14-6 advantage in offensive rebounds and 42-30 overall for the game.
However, after making a program record 22 3-pointers in their last win against Covenant College, the Mocs were just 8-of-28 from 3-point range against Lipscomb. Three of those makes came in a row by Dalvin White from the corner as he helped bring UTC to a 33-all tie with less than 16 minutes left to play.
Stephens asserted himself in the low post, making 4-of-5 shots in a short stretch and also made four straight free throws to give UTC a 60-56 lead with 4:28 remaining.
Asadullah's left-handed floater bounced in, followed by a mid-range jumper by Ognacevic and a tough layup by Will Pruitt to fuel a 6-0 run for the Bisons to take a 62-60 lead with 2:45 left.
Stephens sunk two more free throws to tie the game, but the Mocs could not make the big plays down the stretch.
Demetrius Davis finished with 12 points for UTC while Jamaal Walker and Sam Alexis were strong off the bench combining to shoot 6-of-9 from the field with a dozen rebounds. Alexis also had five offensive rebounds and blocked two shots.
"Sam is going to be very good for us and he is already pretty good now," Earl said. "He plays the same position in our system as Jake Stephens, but we did play them together tonight and I think we are going to do some more of that going forward. I hope he can continue to step up and play even more minutes along with Jamaal."
The Mocs will look to regroup as they host Murray State (3-2), which is led by former Cleveland star Jacobi Wood, on Saturday at 7 p.m.