When Will Anderson steps behind the podium for one of his many news conferences throughout the course of a football season, the Alabama junior linebacker often displays a sizable smile.
Not on Monday.
Not after Saturday's 52-49 loss at Tennessee halted the Crimson Tide's series win streak at 15. Not after surrendering 567 yards to the Volunteers. Not after allowing the most points for the proudest of programs since a 54-4 home loss to Sewanee in 1907.
"There have been a lot of elite defenses here and a lot of great guys and a lot of tradition," Anderson said. "There is most definitely a lot of anger and frustration after we lost something that was so precious and really big to us. I think it's going to be a good week to take this challenge on, improve as a defense and get ready for Mississippi State.
"We've just got to go back home to mama. We've got to go back home to technique and go back home to doing the right things the right way and having our standard, whether that's tucking in your shirt or being on time for meetings -- doing everything the way that Alabama is supposed to be ran and done."
Anderson traveled to Knoxville as the reigning Bronko Nagurski winner and having tallied a whopping 44.5 tackles for loss in his previous 21 contests. Against the Vols, the menacing 6-foot-4, 243-pounder from the Atlanta suburb of Hampton had just three overall tackles, which included sharing a tackle for loss with safety Brian Branch.
As a team, Alabama only had two tackles for loss while yielding a staggering 8.1 yards per snap.
"It was very frustrating, especially given we have a lot of great guys up front," Anderson said. "When you have great athletes up front, teams are going to do anything to make sure the ball is out quick or change protections or things like that. They did a really good job with that."
Anderson couldn't get much going Saturday due to Vols senior right tackle Darnell Wright, whose 35th career start was his most impressive yet. The 6-6, 335-pounder from Huntington, West Virginia, played all 70 snaps without allowing a sack or a pressure on an offense that rushed for 182 yards.
Tennessee's 567-yard total came against a Tide defensive unit that was leading the league with a 250.8-yard clip.
"Darnell did a great job, starting with pass protection, and our offensive line as a whole did a really good job," Vols coach Josh Heupel said Monday. "He was solid all night long and won his one-on-ones, and he did a really nice job in man blocking in the run game. He played really solid football all night long."
Alabama coach Nick Saban preceded Anderson at the podium and provided a lengthy list of what went wrong during his first lost to the Vols since his 2007 Tuscaloosa arrival.
"This was kind of a collective loss by our team," Saban said. "We had 17 penalties for 130 yards in field position, and we probably lost 70 yards in field position on special teams, whether that was poor execution by a specialist or the mistake we made trying to pick the ball up when it wasn't a live ball.
"That's 200 yards in the game, which is probably like two touchdowns. We gave up explosive plays on defense, which is something we had done a good job of not doing to that point, and we didn't execute on the last five plays of the game. We dropped a pass, and we didn't run a route right."
Photo Gallery
Tennessee vs. Alabama football, Oct. 15, 2022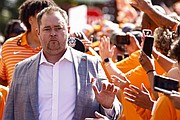 High-anxiety Tide
Although Alabama held the lengthy series winning streak and was more than a touchdown favorite entering Saturday's game, both Saban and Anderson admitted there were nerves and tightness before running out of the Neyland Stadium visiting tunnel.
"You want to have great energy, and you want to be loose," Saban said. "I thought we were tight, especially starting the game. Coming out of the locker room, our players always chant. They weren't chanting, and I said, 'Why aren't you guys chanting?' What's up with that?'"
Said Anderson: "We just had a lot of anxiety, and we didn't have the same intensity we had a couple of weeks ago. We most definitely needed that to carry over to this game. The intensity just wasn't where it needed to be."
From my angle on the field, the only way I could tell Bama had missed the 50-yard FG late was the crowd's reaction. A hush when it was in the air and then it got really really loud pic.twitter.com/dHxuCpaQ5M

— Stephen Hargis (@StephenHargis) October 16, 2022
Penalties, penalties
Alabama ranks 129th nationally in penalty yards with 79.9 per game, and Saban was asked Monday if there was a particular infraction causing the most harm.
"We've been harping on pass interference and keeping our hands off of people," he said. "I think in some cases we do a good job of guarding them. We've just got to do a better job of timing up the swat. We've had too many pre-snap penalties. I think we had three false starts in this game, and two of them were guys who were looking at the ball and were not even thinking about the clap or the snap count or whatever.
"We had a couple of jumping offsides on defense, and those are the kind that are undisciplined and not focused, but all these things put you behind the 8-ball."
Tide tidbits
Alabama holds an 86-17-3 series lead against Mississippi State and has won 14 straight meetings. ... The Crimson Tide have faced the Bulldogs more than any other opponent. ... Alabama is 30-0 in October home games in the Saban era.
Contact David Paschall at dpaschall@timesfreepress.com.
Snapped! What's left of one goal post pic.twitter.com/734C5YaSfY

— Stephen Hargis (@StephenHargis) October 16, 2022
Don't think that'll fit in the trunk of their car pic.twitter.com/ASrVrqYuLK

— Stephen Hargis (@StephenHargis) October 16, 2022