Bank deposits in Chattanooga grew nearly 10.2% over the past year, or more than twice the statewide growth rate for savings accounts at all Tennessee banks, according to a new report from the Federal Deposit Insurance Corp.
Despite a drop in the number of bank branches and the phase out of most of the pandemic relief programs that swelled bank accounts during 2020 and 2021, savings accounts in local banks still grew during the 12 months ended June 30 by more than $1.4 billion.
However, the pace of growth in deposits was down from the record growth of the previous two years when bank deposits in Chattanooga jumped by 19.7% in 2020 and by 13.7% in 2021 when spending slowed and government aid grew.
"We're still seeing strong population and economic growth in Tennessee, and I think that is helping a lot of markets like Chattanooga," Colin Barrett, president of the Tennessee Bankers Association, said in a telephone interview Tuesday.
But Barrett said many bankers are growing worried about keeping deposits as spending and inflation rises and competition from other banks and investment options continue to grow.
"We're definitely seeing a slowdown in deposit growth at many banks this year," he said.
In the spring quarter, some banks reported a drop in overall deposits, according to the FDIC.
Photo Gallery
Chattanooga bank deposits growing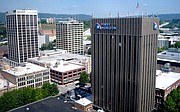 Regional banks are biggest
Three of the Southeast's major regional banks -- First Horizon, Truist and Regions -- collectively accounted for nearly half of all the local deposits in metropolitan Chattanooga as of June 30, 2022. In total, 28 banks operate in the six-county area sharing a total of nearly $15.3 billion in bank deposits.
First Horizon, which has struck a deal to be acquired by TD Bank, remains the biggest bank in both metro Chattanooga and Tennessee as a whole.
Truist Bank, which was created in 2019 with the merger of the former SunTrust and BB&T banks, grew the fastest in deposits in Chattanooga over the past year.
Jay Dale, market president for First Horizon, said Chattanooga's above-average growth in bank deposits is an indication of a strong Chattanooga economy. Dale said First Horizon's market leadership reflects "the trust we've built with customers over time.
"Our top priority is always to meet our customers where they are most comfortable in their banking," he said.
Pruning branches
For a growing number of customers, banking is more digital and remote and less in-person or requiring a trip to the local branch. As a result, banks continue to prune their branch networks even as they expand online banking opportunities.
From the 2009 peak of 179 bank offices, Chattanooga area banks have pruned their branches in the past 13 years by more than 21%, cutting the number of bank offices in the market by 38 branches even as overall bank deposits have nearly doubled, according to the latest FDIC figures.
Since the 2009 peak for the most number of Chattanooga bank offices, deposits in Chattanooga have jumped by more than $7 billion even with 38 fewer bank offices operating in the market.
"We continue to see bank consolidation and a move toward more online and electronic banking services," Barrett said.
Dale and other bankers said brick-and-mortar branches remain the No. 1 reason for why consumers initially pick a bank. But online banking has helped handle a growing number of services previously done only in the office, and the pandemic appears to have encouraged the move to more remote and digital banking.
JV Vaughn, market president for Truist Bank, said Truist grew its deposits by offering more services and industry specific programs across its diverse platform, which included the addition of McGriff Insurance through the 2019 merger of the former SunTrust and BB&T banks.
"We're able to offer clients more services and options, but even with our bigger size we're still operating as a community model to have the local community knowledge and relationships," Vaughn said in a phone interview. "We bring a different financial advisory approach to our clients because we have the resources and expertise to do that, but we also remain focused on the local communities where we operate."
Although Truist closed four branches in Chattanooga after the merger of SunTrust and BB&T, Truist is still tied with Regions Bank -- the third biggest bank in the Chattanooga market -- for the most bank offices in the market with 18 locations. First Horizon has 16 branches in Chattanooga.
"Branches still matter for many of our customers," Vaughn said.
Biggest banks in Chattanooga
Among the 28 commercial banks operating in metropolitan Chattanooga, the banks with the most deposits as of June 30, 2022, (and the increase from a year ago) were:
1. First Horizon, $3.24 billion in deposits, up 5.4% from a year earlier.
2. Truist Bank, $2.5 billion in deposits, up 26.1% from a year earlier.
3. Regions Bank, $1.79 billion in deposits, up 6% from a year earlier.
4. Pinnacle Bank, $1.57 billion in deposits, up 15.7% from a year earlier.
5. Bank of America, $1.08 billion in deposits, down 15.5% from a year earlier.
6. FirstBank, $862.7 million in deposits, up 9.9% from a year earlier.
7. Builtwell Bank (formerly First Volunteer), $693.6 million in deposits, up 12.5% from a year earlier.
8. Citizens Tri-County Bank, $551.4 million in deposits, up 10.8% from a year earlier.
9. Smartbank, $512.3 million in deposits, up 9.9% from a year earlier.
10. The Bank of LaFayette, $377.2 million, up 22.1% from a year earlier.
Source: Federal Deposit Insurance Corp.
Contact Dave Flessner at dflessner@timesfreepress.com. Follow him on Twitter at @Dflessner1.