History tour
The American Battlefield Trust has debuted a nearly two-hour online video tour of Shiloh National Military Park to mark the 161st anniversary of the Civil War engagement around Shiloh, Tennessee. Armed with GoPro cameras mounted on his vehicle, Timothy B. Smith, a professor of history at the University of Tennessee at Martin and a former National Park Service ranger at Shiloh, guides viewers through the park's twists and turns. Using the same route visitors would experience as if trekking the battlefield themselves, Smith familiarizes audiences with iconic spots like Pittsburg Landing, Grant's Last Line of Defense, Shiloh Church and the Hornet's Nest, along with a handful of lesser-known locations. The release is a much-anticipated follow-up to the trust's Gettsyburg video driving tour, which has amassed more than 800,000 views on YouTube. Learn more at battlefields.org.
ARTS
ART AUCTION — First-Centenary United Methodist Church, 419 McCallie Ave. Bidding on 110 watercolor works by late local artist John McLean, noon-2 p.m. April 30, 11 a.m.-2 p.m. May 1, 4-7 p.m. May 3, 11 a.m.-2 p.m. May 6, noon-2 p.m. May 7. Register attendance for chance to win one of the large paintings. firstcentenary.com/johnmcleanartshow
ATHENS ARTS CENTER — 320 N. White St., Athens, Tenn. "Color Is My Middle Name" by Paul Fontana, through May 1. athensartscouncil.org
AVA GALLERY — 30 Frazier Ave. "Transformation: Exploring the Art of Book-Making With Barry Moser" and Scenic City Clay Juried Member Showcase, through May 26. avarts.org
CLEARSTORY ARTS — 1673 S. Holtzclaw Ave. "In Frame: A Chattanooga Photography Expo," May 5-27; opening reception coincides with monthly first Friday open house featuring new works, open studios, mini market, live demonstrations, 6-8 p.m. May 5. clearstoryarts.com
CREATIVE DISCOVERY MUSEUM — 321 Chestnut St. "Doc McStuffins: The Exhibit," through May 7. cdmfun.org
EXUM GALLERY — St. Paul's Episcopal Church, 305 W. Seventh St. Morris Mitchell's "God in My Hand," through May 14. stpaulschatt.org
FRANKLIN COUNTY ARTS GUILD — The Artisan Depot, 204 E. Cumberland St., Cowan, Tenn. "Secrets of the Garden" member show, through April 30. "Being a Flower Is a Big Responsibility" community show, through May 28. franklincoarts.org
HUNTER MUSEUM OF AMERICAN ART — 10 Bluff View. huntermuseum.org
— Through May 1: "Really Free: The Radical Art of Nellie Mae Rowe" and "Beauford Delaney's Metamorphosis Into Freedom."
— May 4: Throwback Thursday, 4-8 p.m. Free admission to permanent collection, plus museum-related projects created by STEM School Chattanooga students, 6-7:30 p.m.
— Through May 27: "Tennessee Triennial for Contemporary Art "Re-pair" installation.
INCLINE ART CRAWL — 201 Old Mountain Road (near Incline Railway tracks), St. Elmo. Monthly market of artists, makers and curated collectors with pop-ups and clothesline shows, plus puppet theater, local musicians and authors, 4-7 p.m. May 5, 10 a.m.-5 p.m. May 6. Park at Incline or Food City. funkyjunction.co
IN-TOWN GALLERY — 26A Frazier Ave. Judy Jones' "Nature's Awesome Beauty," through April 30. "All-Member Show," May 1-31. Opening reception, 5-8 p.m. May 5. intowngallery.com
NORTHSIDE GALLERY — Northside Presbyterian Church, 923 Mississippi Ave. Works by 16 members of the Civic Arts League of Chattanooga, through April 30. New show by 14 area artists, including members of the Civic Arts League of Chattanooga, May 1-Aug. 31. Opening reception, 5-7 p.m. May 5. 423-266-1766
PHOTOGRAPHIC SOCIETY OF CHATTANOOGA — Gallery at Blackwell, 71 Eastgate Loop. Spring show, May 5-July 28. Opening reception, 6-8:30 p.m. May 12. chattanoogaphoto.org
RIVER GALLERY — 400 E. Second St. Works by Pat Magers and Sister Mary Grace Thul, through April 30. Works by Joe Hobbs, Lynn Whipple and Maralyn Wilson, May 1-June 30. river-gallery.com
SCENIC CITY CLAY ARTS — Third annual "The Joy of Clay" virtual auction with 50+ items created by local artisans, paired with gift cards and other merchandise from local businesses, through April 30. Proceeds help fund programming by the nonprofit pottery studio. scca.betterworld.org
SOUTHERN ADVENTIST UNIVERSITY — 4881 Taylor Circle, Collegedale. School of Visual Art and Design's End of Year Design Show, 7-9 p.m. May 4, Works by film and animation students in Ackerman Auditorium in Mabel Wood Hall; pieces by fine art and graphic design students in Brock Hall's John C. Williams Art Gallery (through Oct. 2). Free. southern.edu/artgallery
STOVE WORKS — 1250 E. 13th St. stoveworks.org
› Through May 12: "And I Shall Still Be Lonely," works by Chattanooga artists inspired by artist/activist Lorraine Hansberry, part of the Tennessee Triennial for Contemporary Art "Re-Pair" installation (related exhibit at Hunter Museum).
› Through June 17: "Territorial: The Land and Us."
DANCE
BALLET IN THE PARK — Coolidge Park, 150 River St. Chattanooga Ballet celebration of dance with public ballet class, children's crafts and activities, food trucks and performances by the professional company, the School Ensemble and the Making Moves program, 3 p.m. May 6. Free. facebook.com/chattanoogaballet
MUSIC
BARKING LEGS THEATER — 1307 Dodds Ave. barkinglegs.org
— May 1: Tomberlin with Trace Mountains, 8 p.m. $16-$18.
— May 3: Jazz in the Lounge with the Alan Wyatt Quartet, 7 p.m. $5.
— May 4: Swing Into Spring dance party with the Triple L Trio (Lon Eldridge & Lou and Lynn Wamp), 7:30 p.m. $12-$15.
— May 5: The Floor Is Yours open mic for experimental art, with theme "Decolonized," 8 p.m. $10. Sign-ups close April 30.
— May 6: Dance party with The Beaters, 7:30 p.m. $15-$20.
BARRELHOUSE BALLROOM — 1501 Long St. barrelhouseballroom.com
— May 2: Buckcherry with Seven Year Witch and Sevenstones, 7 p.m. $28-$31.
— May 5: Mitch Rossell with Connor McCutcheon, 8 p.m. $20-$23.
— May 6: An Evening With Erick Baker, with Emily Wyrick, 7 p.m. $25.
BOXCAR PINION MEMORIAL BLUEGRASS FESTIVAL — Mountain Cove Farms, 994 Dougherty Gap Road, Chickamauga, Ga. Sixteen bands in concerts and jam sessions, 6-9 p.m. May 4, 1-10 p.m. May 5 (with The Grascals headlining) and noon-10 p.m. May 6 (with Russell Moore & IIIrd Tyme Out headlining). $15 Thursday, $25 Friday, $30 Saturday, $72 weekend pass (prices higher at gate). foreverbluegrass.com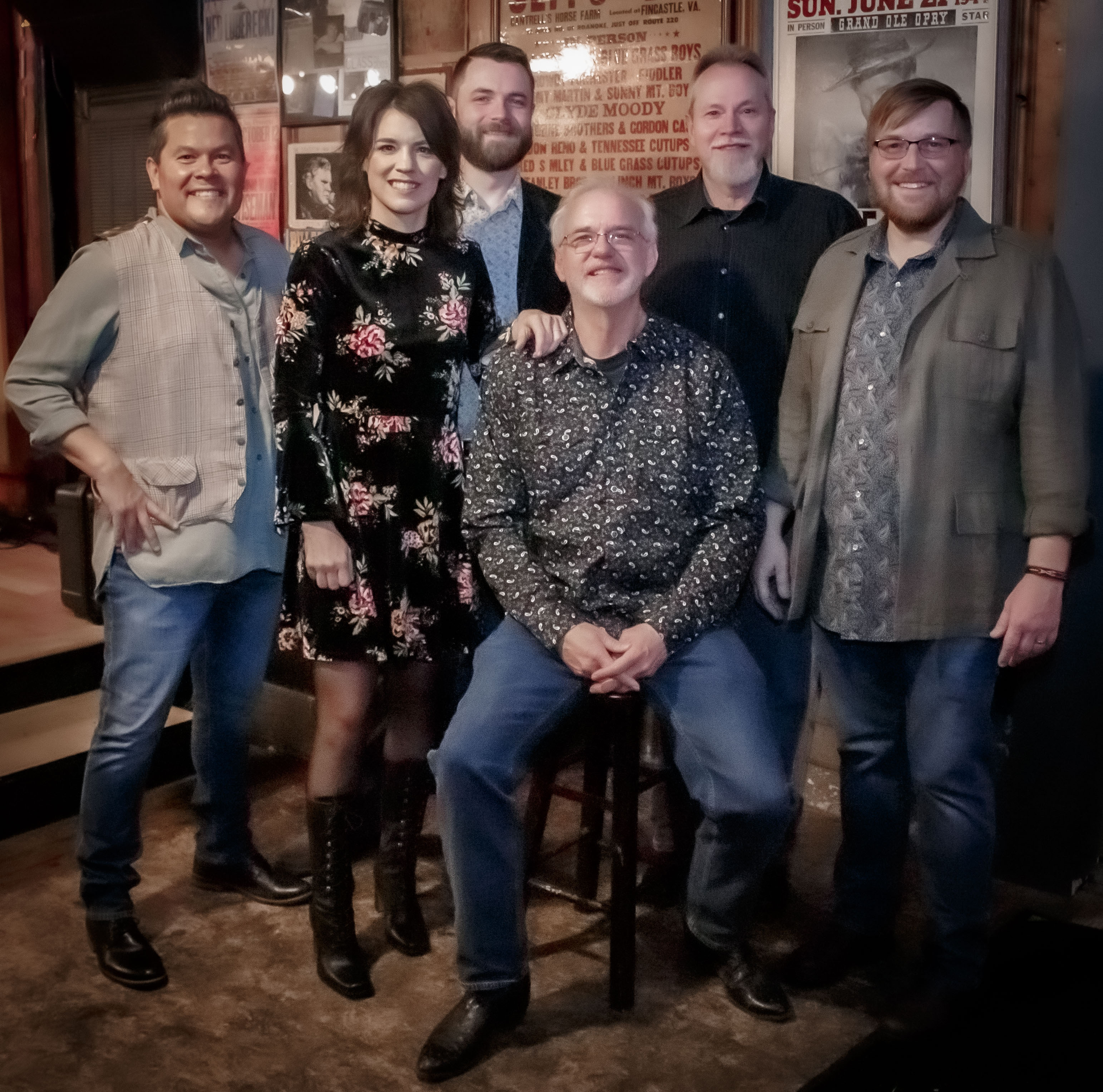 Photo by LuAnn Smith / The Grascals will headline Friday night of the Boxcar Pinion Memorial Bluegrass Festival, scheduled May 4-6 at Mountain Cove Farms in Chickamauga, Ga.

CAMPFIRE CONCERT SERIES — Reflection Riding, 400 Garden Road. Biweekly series continues with Brother and The Hayes, 6:30-10 p.m. May 6. $30-$35, includes two drink tickets for Hutton & Smith beer, s'mores and entertainment; add $15 for dinner from Tremont Tavern; add overnight field camping for $5 per person; free for children 10 and younger; higher prices on event date. reflectionriding.org
THE CAVERNS — 555 Charlie Roberts Road, Pelham, Tenn. thecaverns.com
— April 30: Spoon, with Nicole Atkins, 8 p.m. CDT. $57.
— May 5: Paul Thorn, with Chicago Farmer, 8 p.m. $59-$407.
— May 6: John Butler, 8 p.m. Sold out.
— May 7: Pink Floyd Laser Spectacular, 7 p.m. Sold out.
CHATTANOOGA SYMPHONY & OPERA — chattanoogasymphony.org
— May 6: Pops concert, "Cirque de la Symphonie," season finale, 7:30 p.m. at Memorial Auditorium, 399 McCallie Ave. $10-$90.
— May 7: Family concert, "Peter and the Wolf," 3 p.m. at Mountain Arts Community Center, 809 Kentucky Ave., Signal Mountain. Sold out.
CHORAL ARTS OF CHATTANOOGA — Second Presbyterian Church, 700 Pine St. Choral ensemble presents Bach's Cantata BWV 147 and excerpts from Mendelssohn's oratorio "St. Paul," 7:30 p.m. May 4. $10-$15. choralartsofchattanooga.org
GEM THEATRE — 114 N. Wall St., Calhoun, Ga. Southern Raised in concert, 7:30 p.m. May 6. $30-$35. calhoungemtheatre.org
JERICHO BRASS — Founders Hall Pavilion, Collegedale Commons, 4750 Swinyar Drive. British-style brass band in "Battle of Jericho" concert, 4 p.m. May 7. Free. jerichobrassband.org
MACDOWELL MUSIC CLUB — First Cumberland Presbyterian Church, 1505 N. Moore Road. Monthly meeting includes performances by seven area pianists, 11 a.m. May 3. Free.
MID-SOUTH SYMPHONIC BAND — VW Conference Center, 8000 Volkswagen Drive. Concert by 75-member ensemble, 3-4 p.m. April 30. Free. midsouthsymphonicband.com
PREMIER JAZZ ORCHESTRA — The Granfalloon, 400 E. Main St. "Latin Fire" concert, 7 p.m May 4, with dancing, tacos and margaritas. $20. premierjazzorchestra.com
(READ MORE: Lineup for Nightfall's 36th season announced)
ROAD TO NIGHTFALL — The Granfalloon, 400 E. Main St. Five local musical acts that won series of preliminary competitions perform for chance to headline the Nightfall summer concert series, 7 p.m. May 6. $10. granfalloonchattanooga.com
SCENIC CITY CHORALE — Brainerd United Methodist Church, 4315 Brainerd Road. Spring concert by community choral ensemble, 3 p.m. May 7. Free. facebook.com/sceniccitychorale
THE SIGNAL — 21 Choo Choo Ave. thesignaltn.com
— May 2: Grand opening of new space on Chattanooga Choo Choo campus, with happy-hour tours at 7 p.m. and concert by Nick Lutsko & The 100K Band, 8 p.m. Free but RSVP.
— May 4: The Southern Hospitality Tour featuring CuhDeeJah, Sean2 Miles and Paschan, 8 p.m. $40-$150.
— May 6: Bad Bunny dance party, 8 p.m. $15-$35.
SONGBIRDS — 35 Station St. Two shows May 6: Ana Popovic, 7 p.m., $40; Sunny War & Buffalo Nichols, 9:45 p.m., $15-$20. songbirdsfoundation.org
WALKER THEATRE — 399 McCallie Ave. The Brook & The Bluff on spring tour, with Savannah Conley, 8 p.m. May 7. $20-$22. tivolichattanooga.com
OUT & ABOUT
(READ MORE: Champion pitmaster coming for Barbecue Day)
A DAY OF BARBECUE — Owl's Nest BBQ Supply, 9043 Lee Highway, Ooltewah. Seminars led by champion pitmaster David Bouska and his crew, with products for sale, 8 a.m.-4 p.m. May 6; free barbecue served 11 a.m.-noon. facebook.com/owlsnestbbq
AN AFTERNOON OF INSPIRATION — Chattanooga Convention Center, 1 Carter Plaza. Leigh Anne Tuohy, whose story inspired the Sandra Bullock movie "The Blind Side," speaks at luncheon for On Point, a teen development nonprofit, 11:30 a.m.-1 p.m. May 4; VIP meet and greet, 10:30-11:15 a.m. $150 general, $175 VIP; table sponsorships available. liveonpoint.org/events
ARMED FORCES DAY PARADE — Market Street, downtown Chattanooga. Chattanooga Area Veterans Council coordinating tribute to active-duty and reserve military personnel for 74th consecutive year, 10:30 a.m. May 5. This year's honors U.S. Air Force with theme "Aim High: Fly, Fight, Win." chattareaveterans.com
BIRCHWOOD FIBER FESTIVAL — Birchwood Community Center, 5623 Highway 60. Workshops, vendors and demonstrations exploring the evolution of traditional fiber art, plus food vendors, 9 a.m.-5 p.m. May 6, 9 a.m.-4 p.m. May 7. birchwoodfiberfestival.com
CHATTANOOGA BACON FESTIVAL — Camp Jordan, 323 Camp Jordan Parkway, East Ridge. More than 150 craft, commercial and food vendors, live entertainment, trackless train rides, inflatables, petting zoo, pony rides, 10 a.m.-5 p.m. May 6, 10 a.m.-4 p.m. May 7. Free admission. touchtheskyevents.com
CHATTANOOGA MARKET — First Horizon Pavilion, 1801 Reggie White Blvd. Open 11 a.m.-4 p.m. Sundays with farm produce, artisan foods, flowers, arts, crafts, live music and food trucks. Free admission. chattanoogamarket.com
— April 30: Final day of opening weekend celebration. Music by Sweet Georgia Sound, 12:30-3 p.m.
— May 7: Strawberry Festival. Music by nine Hamilton County middle and high school jazz ensembles.
CHATTANOOGA RIVER MARKET — Tennessee Aquarium plaza, 1 Broad St. Market of handmade arts, crafts and other products, plus artisan foods, food trucks and live music, 10 a.m.-5 p.m. Saturdays through October. Free admission. chattanoogamarket.com
(READ MORE: Chattanooga Seafood Bash coming in April)
CHATTANOOGA SEAFOOD BASH ON THE RIVER — Coolidge Park, 150 River St. Inaugural festival features seafood, music, arts and crafts, beer and wine garden, children's activities, 10 a.m.-4 p.m. April 30 (last day). Free admission. chattanooga-seafood-bash-on-the-river.com
CIVIL WAR HISTORY — Ross's Landing, 201 Riverfront Parkway. Chickamauga and Chattanooga National Military Park presents "Milledgeville's Elite: Movers and Shakers in the Scenic City," ranger-led talk about how money from the Georgia city helped spearhead Chattanooga's settlement and development, 2 p.m. May 6. Free. nps.gov/chch
THE COMEDY CATCH — 29 Station St. thecomedycatch.com
— April 30: Karen Mills special engagement, 7 p.m. $22-$27 (4:30 p.m. show is sold out).
— May 3: Open Mic Night, 7:30 p.m. $7.
— May 4: Nurse's Night Out starring Greg "G" Williams, a nurse turned comedian, $20-$25.
— May 5-6: Mike Paramore, 7:30 and 9:45 p.m. $19-$22.
DAY OUT WITH THOMAS — Tennessee Valley Railroad Museum, 4119 Cromwell Road. Station events based on Thomas the Tank Engine and interactive train ride, 9 a.m.-6 p.m. April 30 (last day). $24. tvrail.com
DERBY NOOGA — Coker Museum, 1309 Chestnut St. Kentucky Derby-themed scholarship fundraiser for Psi Lambda Educational Foundation with Alpha Phi Alpha, 5:30-9:30 p.m. May 6. Includes DJ music, casino games, food, prizes awarded for best dressed and women's best hat. $75; tables available. eventbrite.com
EVENING POP-UP SHOP — 5205 Tacoa Circle. Food, drink, music and merchandise vendors, 4-8 p.m. May 6. Free to browse, $45 vendor setup. juiiceu.com
HIXSON FARMERS MARKET — St. Alban's Episcopal Church, 7514 Hixson Pike. Seasonal grand opening of market featuring local farmers, gardeners and artists, 9:30 a.m.-12:30 p.m. May 6. Live music on first Fridays, free pancake breakfast on third Saturdays. stalbansmarket@gmail.com
MOTHER'S DAY GALA — Mountain Arts Community Center, 809 Kentucky Ave., Signal Mountain. Vendor market with flowers, chocolate, jewelry and specialty cocktail, 10 a.m.-4 p.m. May 6. shopthemarketat.com
NATIONAL CORNBREAD FESTIVAL — 221 S. Cedar Ave., South Pittsburg, Tenn. Features cornbread cook-off, Cornbread Alley samples, live music, arts and crafts, tours of the Lodge Cast Iron Foundry and historic downtown, cornbread eating contest, 9 a.m.-5 p.m. CDT April 30 (last day), rain or shine. $10 (free for preschoolers). nationalcornbread.com
NATIONAL DAY OF PRAYER SERVICE — The Crossing Church, 7501 Standifer Gap Road. Chattanooga House of Prayer partners with 25 local churches and ministries to pray for city, country and nation, 7-8:15 p.m. May 4. chatthop.org
PLANT SALE — Lookout Mountain Conservancy greenhouse, 1952 Old Wauhatchie Pike. Multiple varieties of organic herbs, flowers, fruits and vegetables, 9 a.m.-3 p.m. May 6. facebook.com/lookoutmountainconservancy
PROJECT APPLESEED RIFLE MARKSMANSHIP CLINIC — Creeks Edge Farm, 7841 Owl Hollow Trail, McDonald, Tenn. Participants will learn rifle shooting from multiple positions and safe gun handling from nonprofit that teaches marksmanship and Revolutionary War history, 8 a.m.-5 p.m. May 6-7. $75 adults, $30 youth under 18; $15 per day range fee. appleseedinfo.org
RED BANK JUBILEE — City Park, 3817 Redding Road. Community celebration marks 42nd year with music by local buskers and Mountain Cove Bluegrass Band, arts, crafts and food vendors, beer garden, pickleball tournament, children's activities, 11 a.m.-4 p.m. May 6; MoonPie Move Run at 8 a.m. Free admission. facebook.com/redbanktn
REFLECTION RIDING ARBORETUM & NATURE CENTER — 400 Garden Road. Registration required. reflectionriding.org/events
› May 5: Get Schooled: Native Animals, with chance to learn about the resident bobcat, raptors and red wolves, 1:30- 2:30 p.m. (plus other Fridays). By donation.
› May 5-6: Owl Flight Training with new animal ambassador Winnie the barn owl, 1-1:45 p.m. (plus other Fridays and Saturdays). Must be at least 13 to participate in flight training. $25-$30 (free for children 12 and younger).
— May 5-6: Nature After Dark, overnight campout to see the resident animals' nocturnal behavior, 8 p.m. Friday (with s'mores) through 8 a.m. Saturday (with breakfast). $50-$60.
› May 6: Get Schooled: Birds of Prey, 9-10 a.m. (plus other Saturdays). $5-$10.
— May 6: Hike with Civil War historian Jim Ogden, 9-11:30 a.m. (repeats 6:30-9 p.m. June 21). $15-$20.
SEERSUCKER SATURDAY — Read House, 107 W. M.L. King Blvd. Kentucky Derby watch party in Bar & Billiards Room, 3:30-7:30 p.m. May 6, with live entertainment, food and drink specials, best-dressed competition with gift baskets, overnight stay and Bridgeman's Chophouse gift card among prizes. thereadhousehotel.com/seersucker-saturday
SOUTHERN BLOOMS FESTIVAL — Rock City, 1400 Patten Road, Lookout Mountain, Ga. Showcase of the park's 400+ varieties of native plants and flowers on self-guided tours, with children's art projects, plants for sale, specialty foods, 8:30 a.m.-6 p.m. May 6-7, 13-14. $20-$30. Optional Mother's Day lunch on final day. seerockcity.com/southernblooms
RUNNING OF THE CHIHUAHUAS — First Horizon Pavilion, 1826 Reggie White Blvd. Fourteenth annual races, with Kids Zone, photo booth, food truck, appearances by Magic Lamp Entertainment characters and photos with Chattanooga Red Wolves players and mascot, May 6; gates open at noon, music by Olivia Lunny, Senses and DJ Mixx of "The Kidd Kraddick Morning Show" starting at 1 p.m. Free admission. hits96.com/rotc-xiv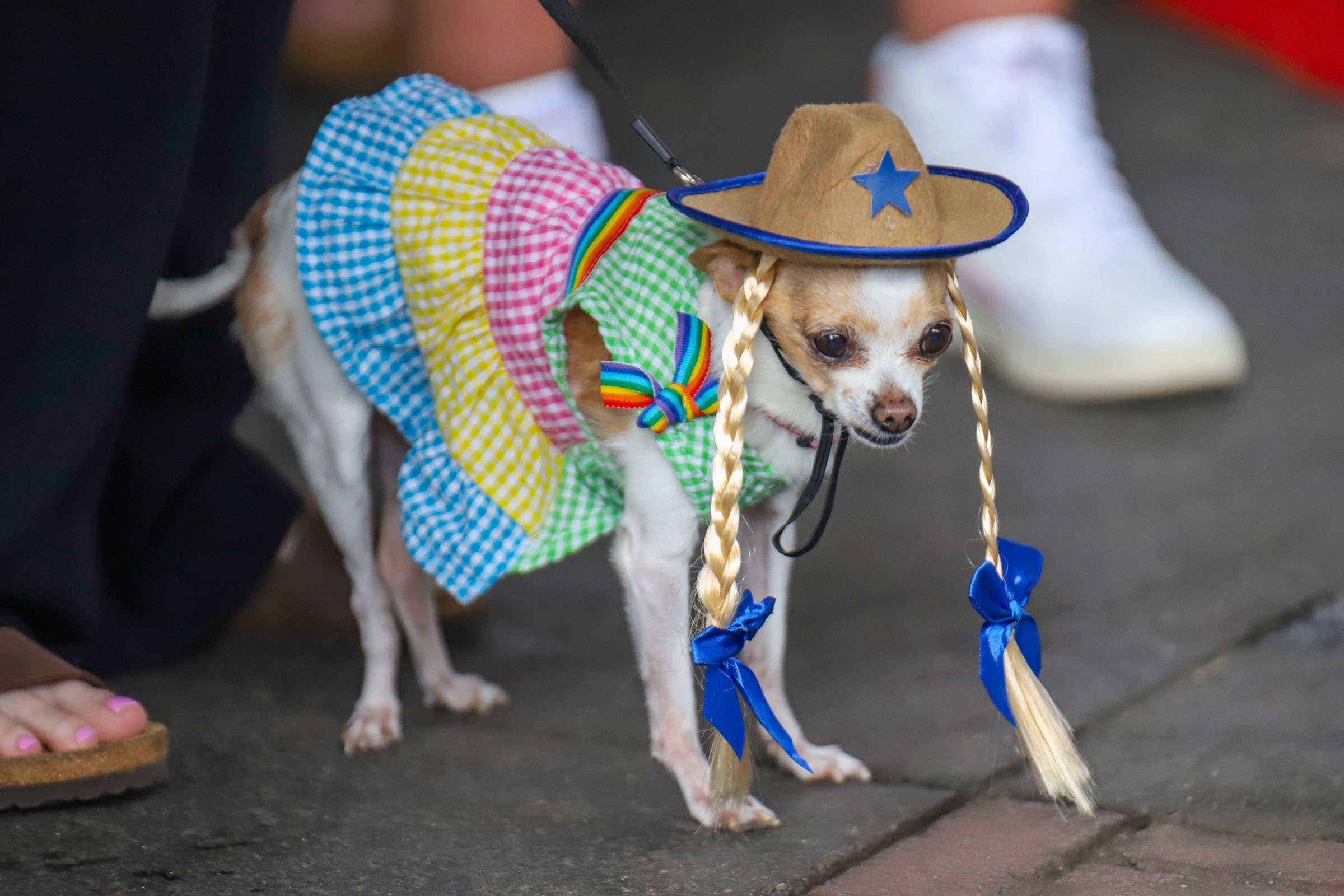 Staff file photo by Olivia Ross / A Chihuahua awaits the best-dressed contest at the Running of the Chihuahuas on April 30, 2022.

STABLE 41 FARMERS MARKET — 214 First St., Fort Oglethorpe, Ga. Opening weekend includes plant sale, 1-4 p.m. April 30. stable41market.com
(READ MORE: New farmers market coming to downtown LaFayette)
WALKER COUNTY FARMERS MARKET — Producer-only market for vendors within 25 miles. facebook.com/DDALaFayetteGA
— May 3: Opening day for 19-year event in Rock Spring, Ga., 2-5 p.m. at Walker County Agricultural Center, 10052 N. Highway 27.
— May 6: Opening day for new Market on the Square in LaFayette, Ga., 9 a.m.-1 p.m., 100 E. Villanow St.
WALKER COUNTY SPRING MARKET — Walker County Civic Center, 10052 Highway 27, Rock Spring, Ga. Food, music, shopping and activities, 8 a.m.-4 p.m. May 6. mysunshineevents.com
WOODLAND FAIRY CRAFT FESTIVAL — Point Park, 230 Chickamauga Drive, Dayton, Tenn. Crafts, vendors, music and food, 10 a.m.-5 p.m. May 6. Costumes welcome. facebook.com/WdFairyCrftFest
SPECTATOR SPORTS
CHATTANOOGA FOOTBALL CLUB — Finley Stadium, 1826 Reggie White Blvd. National Independent Soccer Association men's professional team vs. Savannah Clovers, 3 p.m. May 6. $11-$45 ($5 more on game day). chattanoogafc.com
(READ MORE: 9 things to know for the Chattanooga Lookouts' 2023 season)
CHATTANOOGA LOOKOUTS — AT&T Field, 201 Power Alley. Double-A affiliate of the Cincinnati Reds vs. Rocket City Trash Pandas April 30, Birmingham Barons May 2-7. Kids Run the Bases promotion after every game. $7-$12. lookouts.com
— April 30: 2:15 p.m.; donate canned good or other nonperishable to Chattanooga Area Food Bank for free general-admission ticket; Catch on the Field.
— May 2: 7:15 p.m.; buy-one, get-one general-admission tickets with Food City ValuCard.
— May 3: 7:15 p.m.; Chick-fil-A giveaway delivered via app.
— May 4: 7:15 p.m.; Star Wars Night; Thirsty Thursday drink specials.
— May 5: 7:15 p.m.; post-game fireworks.
— May 6: 7:15 p.m.; used car giveaway, Princess Knight (Night) with characters from Chattanooga Princess Parties; optional pregame tea party with light refreshments and photo-ops.
— May 7: 2:15 p.m.; donate canned good or other nonperishable to Chattanooga Area Food Bank for free general-admission ticket; Catch on the Field.
CHATTANOOGA RED WOLVES — CHI Memorial Stadium, 1 Stadium Way. USL League One men's professional soccer team vs. South Georgia Tormenta FC, 7:30 p.m. May 5. $13-$30. chattanoogaredwolves-sc.com
CHATTANOOGA ROLLER DERBY — Camp Jordan Arena, 323 Camp Jordan Parkway, East Ridge. Home season opens May 6 with three bouts: Chattanooga's Ruby Regulators vs. Atlanta Jr. Roller Derby at 3 p.m., All-Stars vs. Atlanta Dirty South Roller Derby at 5 p.m., B-Railers vs. Atlanta Rumble B's at 7 p.m. $6-$12. Proceeds benefit Girls Inc. of Chattanooga. chattanoogarollerderby.com
THEATER
ARTISTIC CIVIC THEATRE — 907 Gaston St., Dalton, Ga. "Law & Order: C-rhyme and Pun-ishment," 2 p.m. April 30 (final show). $12-$16. actdalton.org
ATHENS COMMUNITY THEATRE — The Arts Center, 320 N. White St., Athens, Tenn. ACT Children's Theatre production, "The Little Prince," 2 p.m. April 30 (final show). $15-$20. athensartscouncil.org
CHATTANOOGA THEATRE CENTRE — 400 River St. "The Cake," 2:30 p.m. April 30, 7 p.m. May 4, 8 p.m. May 5-6, 2:30 p.m. May 7. $20-$25. theatrecentre.com
CUMBERLAND COUNTY PLAYHOUSE — 221 Tennessee Ave., Crossville, Tenn. ccplayhouse.com
— Through April 30: "Things My Mother Taught Me." $19-$35.
— May 5-6: T3 presents "Home Grown: Celebrating the Music, the Stories and the People of Tennessee" 7 p.m. Friday, 12:30 p.m. Saturday (all times Central). $14-$23.
— Through June 1: Agatha Christie's "And Then There Were None." $19-$35.
MEMORIAL AUDITORIUM — 399 McCallie Ave. Theresa Caputo Live: The Experience, with entertainer known as "The Long Island Medium," 7:30 p.m. May 4. $44-$94. tivolichattanooga.com
OAK STREET PLAYHOUSE — 418 Oak St. (behind First-Centenary Methodist Church). George Bernard Shaw's "Pygmalion," 2 p.m. April 30, 7:30 p.m. May 4-6, 2 p.m. May 7. $12-$17. Tickets at door or brownpapertickets.com
RIVERMONT PRESBYTERIAN — 3319 Hixson Pike. "Cotton Patch Gospel," 3 p.m. April 30 (final show). Free; donations welcome. 423-877-8527
SOUTHWEST WHITFIELD HIGH SCHOOL — 1954 Riverbend Road, Dalton, Ga. Theatre Department's spring musical "Frozen Jr.,' 2 p.m. April 30, 7 p.m. May 5-6. $10. 706-226-2753
SHAKESPEARE IN THE PARK — Greenway Farms, 4960 Gann Store Road. "As You Like It" by Scenic City Shakespeare, 7:30 p.m. May 5-6, 12-13, 26-27, with improvised adaptation, Shakespeare From a Hat, May 19-20. Free; donations requested; paid VIP options available. sceniccityshakespeare.org
TENNESSEE VALLEY THEATRE — 184 W. Jackson Ave., Spring City, Tenn. "Senior Follies," 2 p.m. April 30, 7:30 p.m. May 5-6, 2 p.m. May 7. $12-$14. tennesseevalleytheatre.com
Find more events, and add your own, at timesfreepress.com/cnevents.
Contact Lisa Denton at ldenton@timesfreepress.com or 423-757-6281.