By the time Eddie Salter was 10 years old, he already knew he wanted to become a coach when he grew up.
That aspiration had nothing to do with the prestige of winning championships or working with talented athletes, but everything to do with wanting to influence young lives similar to the way his had been impacted.
In 1969, when Salter, as a first grader, was one of four Black students to be integrated into an all-white elementary school in racially charged Hamilton, Alabama, the school's physical education teacher became something of a personal hero.
"There was a group of bullies who would chase me and the other Black kids in the hall," Salter recalled. "They would call us names, and we knew if they caught us what they would do. But if we made it to the gym, the P.E. teacher, Ralph Emerson, would stand up for us and make them leave us alone.
"That became sort of a safe place. If we could make it to the gym, Coach Emerson would be there and we'd be OK. I said to myself then that I want to be like him when I grow up.
"I had a white friend, Joseph, who got picked on a lot because he was poor, too. He wound up committing suicide when he was just a kid. I remember thinking to myself that I never wanted other kids to have to know what it was like to get picked on because of skin color or anything else that made them different."
After attending Lookout Mountain's Covenant College on a basketball scholarship, Salter made good on his boyhood promise, although not at an inner-city school as he originally planned. For 37 years, he has worked as an elementary P.E. teacher at Chattanooga Christian School, where he is often the first faculty member to greet students as they exit their parent's car each morning.
After announcing that this will be his final year as a teacher and coach at the school, CCS declared Friday "Eddie Salter Appreciation Day" and planned to honor him before the Chargers' home basketball game against rival Boyd Buchanan.
"There aren't many coaches and educators who have stayed at one place for 37 years, so we are truly blessed to have someone who loves working with kids to be such a big piece of our school community," CCS athletic director Daniel Russell said. "He has helped build basketball at CCS to amazing heights and has lived out how athletics can contribute and enhance to the mission of our school and a Christ-centered education.
"I have two children of my own who look forward to seeing him every day in the carpool lane."
Chad Dirkse, the school's president, said Salter "has been a rock for us for 37 years. There is a reason one of the CCS gyms is named in his honor. He has blessed our school family beyond measure."
Photo Gallery
CCS coach and teacher Eddie Salter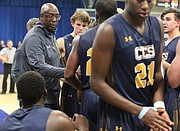 'THE BEST DECISION'
A three-sport athlete in high school, Salter found his way to Chattanooga because of the impression Covenant coaches and faculty made on his mother during a recruiting visit.
"My mom had a fifth-grade education and worked as a maid, and my dad was a sharecropper who couldn't read or write, so I was the first person in my family to go to college," Salter said. "My mom came with me when I visited Covenant and was really impressed. It was rainy and foggy and cold, so I didn't think I wanted to go to school there, but the way the people treated my mom really stood out.
"People in our little home town called her Nettie Mae, but everybody at Covenant addressed her as 'ma'am' and 'Mrs. Salter,' and that really stuck with her. There seemed to be so many good people at that school, so that's where I went, and it turned out to be the best decision I could've made.
"Because of my previous interactions with white people, I had my walls up when I got to Covenant. But every day that I was there, another brick got taken down as I began to realize there were good people that I could trust. That's where I learned what a true Christian looks like, and it's what I wanted to emulate."
For the first 11 years of his teaching career at CCS, Salter also ran the junior varsity basketball program and was a varsity assistant for the Chargers, earning a reputation as a no-nonsense coach and mentor.
"I think the school's reputation today is largely a credit to Coach Salter being the front man for decades," said Hamilton County Mayor Weston Wamp, a 2005 CCS graduate who played varsity basketball for Salter as a junior and senior. "The school couldn't have found, in those defining early years, a more respectable, decent leader.
"He was a seminal figure in my life and for countless other kids who attended CCS. He was the first person who treated me like he didn't care what my last name was. He allowed me, for the first time in my life, to earn something on my own. Coach Salter taught toughness and work ethic and self belief, but he cared more about instilling values like how to treat others than anything related to the game."
TYING SHOES, SAYING PRAYERS
When longtime Chargers basketball coach Steve Irwin stepped down, Salter was promoted to lead the varsity program. Salter guided CCS to 300-plus wins, four state tournament appearances and the 2001 Class A state championship before eventually stepping down as head coach.
Since that time he has remained a fixture in the lives of CCS students, whether that was simply with a smile and a joke as he greeted kids at the door, by organizing activities in the gym or, as he once admitted, each time a kindergarten or pre-K student asked him to tie their shoe, he would pray for protection and guidance for that child as he tightened the knot on their shoestring.
"My original plan was to teach at an inner-city school, but I believe God had a reason for me to come to CCS," Salter admitted. "I had a student tell me one time how glad he was that I was there because it was the first time he had interacted with a Black person.
"There's also a lot of little Eddie Salters around campus that just need some direction and to know that someone cares. Whenever I see minority kids at school, I'll tell them to enjoy sports but to get their education so they can make a difference in the world. I think it's good for those kids to see someone who looks like them succeeding, and also good for other kids to get to interact with someone who looks different than them.
"The lives that I've touched and who touched me along the way are what I'm most proud of and what I'll remember the most."
Contact Stephen Hargis at shargis@timesfreepress.com or 423-757-6293.