Chattanooga, how do we love thee? Let us count the ways.
One, the urban wilderness. Two, the internet speed. Three, the blue rhino sculpture in Coolidge Park. Four, Uncle Larry's restaurant, which just opened its fourth location serving up that famous fried fish.
We could go on — and we will. Below, we present you with dozens of reasons to love Chattanooga for its downtown and vibrant food scene.
Meet a few of the folks who make us most proud, from football legends to industry pioneers who are changing the world. See the stats that compare our cost of living to other mid-size cities, and reacquaint yourself with the history of our iconic cityscape. [See more reasons why we love Chattanooga here.]
Get ready to feel even more grateful to call Chattanooga home.
DOWNTOWN
The Chattanooga skyline is unmistakable between the Tennessee Aquarium's distinctive glass roof, Ross's Landing and the four bridges. It is the crown jewel atop our thriving downtown cityscape.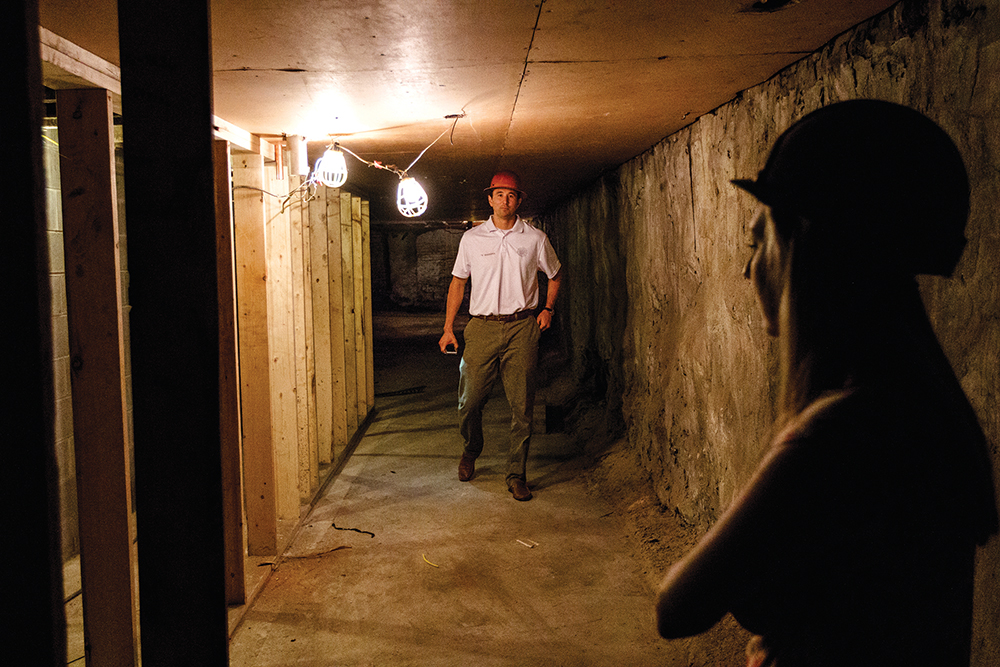 Staff file photo / The basements of several downtown buildings show landmarks of "Underground Chattanooga," such as formerly street-level window openings.

Did you know?
Downtown Chattanooga used to be at a lower elevation than it is today.
During the late 1800s, Chattanooga experienced a series of devastating floods, including the largest in city history in 1867 when the Tennessee River crested 30 feet above its normal banks.
To protect the city from future catastrophes, townspeople began quietly and steadily raising their street levels by 3 to 15 feet. In time, an estimated 40-block area, beginning with Market, Broad, Cherry and Chestnut streets, rose by about a story.
Presently, much of Underground Chattanooga lies beneath privately owned businesses. However, if you keep an eye out, you may spot odd-looking, semi-buried brick-covered archways once at street level, now evidence of Chattanoogans' resourcefulness and commitment to saving their city.
Walnut Street Bridge Fast Facts
> In 1891, the newly constructed Walnut Street Bridge opened to traffic.
> By 1978, the bridge had fallen into disrepair due to its age and was closed to traffic.
> The bridge was slated for demolition in the 1980s. But citizens rallied, helping raise funds to convert it into a pedestrian bridge.
> In 1993, the newly restored Walnut Street Bridge opened exclusively to pedestrian traffic. At the time, it was regarded as the longest pedestrian bridge in the world.
> Today the bridge is the oldest and largest surviving truss bridge in the South and has become a favorite landmark of residents and visitors alike.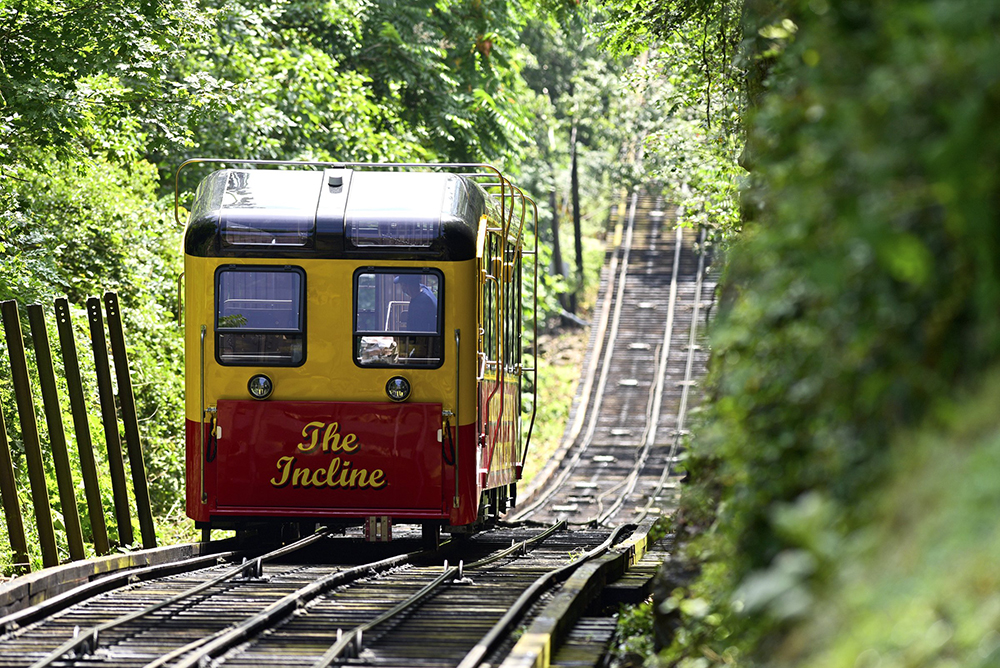 Staff Photo by Robin Rudd / The Lookout Mountain Incline Railway is Chattanooga's oldest tourism attraction and celebrated its 125th Anniversary in 2020.

"America's Most Amazing Mile"
Lookout Mountain Incline Railway in St. Elmo has been giving passengers vertical vistas for more than a century. Climbing the mountain at a 72.7% grade, the Incline Railway is the steepest passenger railway in North America. Over the decades, it has ferried millions of riders, including such famous passengers as President Theodore Roosevelt and actor Elizabeth Taylor.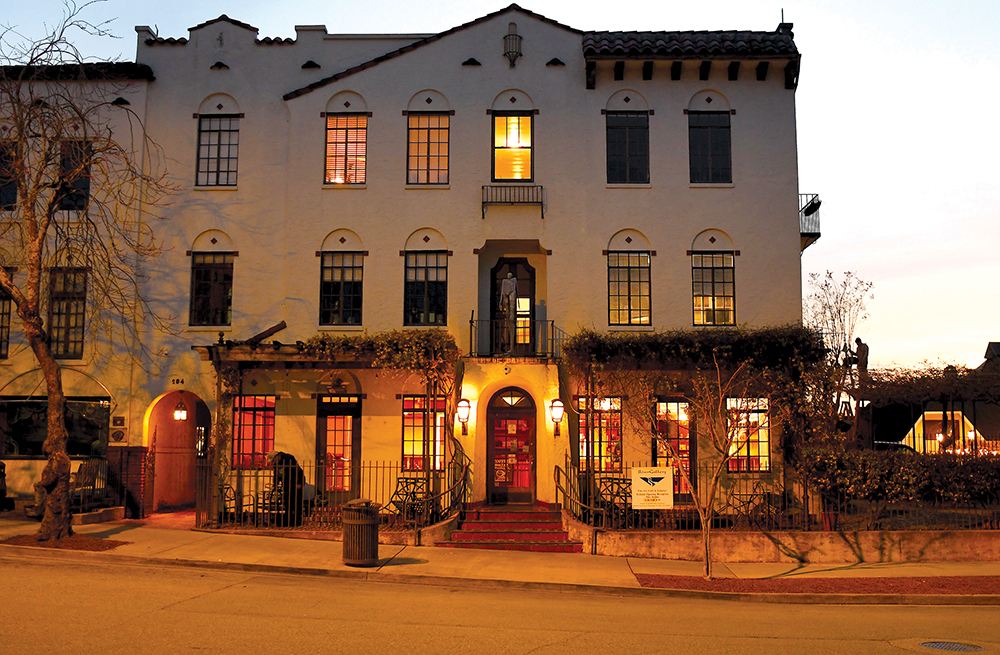 Staff Photo by Robin Rudd / Rembrandt's Coffee House and the Bluff View Art District comes alive just before dawn.

5 reasons to love Bluff View Art District
1. The Art. Bluff View was the city's first art district and stretches over 1.5 city blocks, boasting galleries, museums, sculpture gardens and more.
2. The Architecture: From the stone and ironwork to the greenery, visiting the district is like taking a trip to Europe without ever leaving the Scenic City. Century-old buildings add to the historic elegance.
3. The Food: Between Tony's Pasta Shop, Bluff View Bakery and Rembrandt's, the district serves up all things fresh and local.
4. The Coffee: Rembrandt's Coffee House, a European-style café, has won the Chattanooga Times Free Press' best local coffee house award for 10 years running.
5. The View: Set high atop stone cliffs, the district overlooks the Tennessee River with charming views of downtown Chattanooga and the Walnut Street Bridge.
History on the hillsides
As the gateway to the Deep South, Chattanooga was a key site for Civil War battles. Monuments and historical markers tell the city's history, but one of the more iconic indicators is the left-behind cannons found around town. Here are a few spots to see them.
> Missionary Ridge (Multiple sites along Crest Road)
> Orchard Knob Reservation (306 N Orchard Knob Ave.)
> Point Park and Craven's House (110 Point Park Road, Lookout Mountain)
> Chickamauga Battlefield (3370 LaFayette Road, Fort Oglethorpe, Georgia)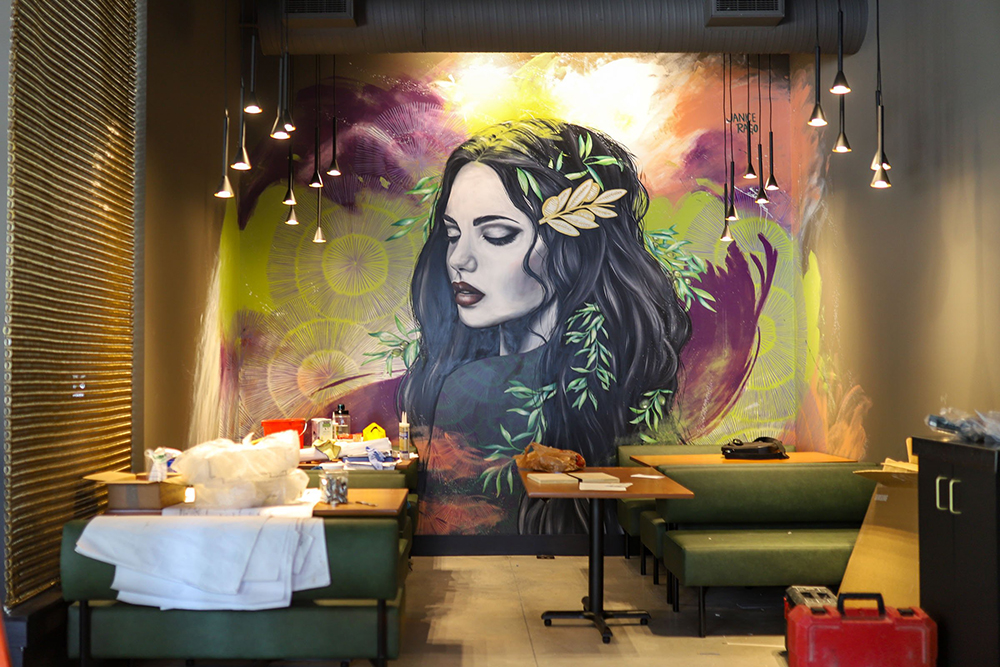 Staff photo by Olivia Ross / A mural painted by Janice Rago Carse is seen inside Amada Tapas and Wine.

THE FOOD
Chattanooga's restaurant scene thrives, from its long-lived cafes to its trendy new concepts. Our culinary arts are ever-expanding. Here are a few of the notable openings in the past year.
DOWNTOWN / NORTH SHORE / SOUTHSIDE
— Amada Tapas & Wine, 1413 Chestnut St. The traditional Spanish plates are made with seasonal, local ingredients for a Southern flair.
— Burger Republic, 203 W. Aquarium Way. Located in an old Coca-Cola bottling plant, the restaurant is known for its burgers, sandwiches and salads.
— Calliope, 422 E M.L. King Blvd. This restaurant inside the Proof Incubator space features the bright flavors and exotic spices of Levantine cuisine, compliments of the Jordanian chef/owner, with entrees that include seafood, vegetables and lamb.
— Honey Seed, 1705 Market St. It starts with the dough at this Southside restaurant, where Montreal-style bagels and wood-fired pizzas are the signature offerings.
— La Santa, 551 River St. This North Shore eatery serves Mexican food and drinks and Tex-Mex favorites.
— Number Ten Steakhouse, 1925 Myrtle St. Steaks and small plates are the stars at this new restaurant on the Southside.
— Slim + Husky's, 401 E M.L. King Blvd. The nation's largest Black-owned pizza chain adds an artisan touch to its pies.
— TailGate Brewery, 1464 Market St. The Nashville-based brewery serves craft beer and pizza.
— Whiskey Cowgirl, 1819 Broad St. This adults-only bar and restaurant offers American cuisine.
— Wooden City, 203 Broad St. Based out of Washington state, the restaurant features an eclectic menu including wood-fired pizzas.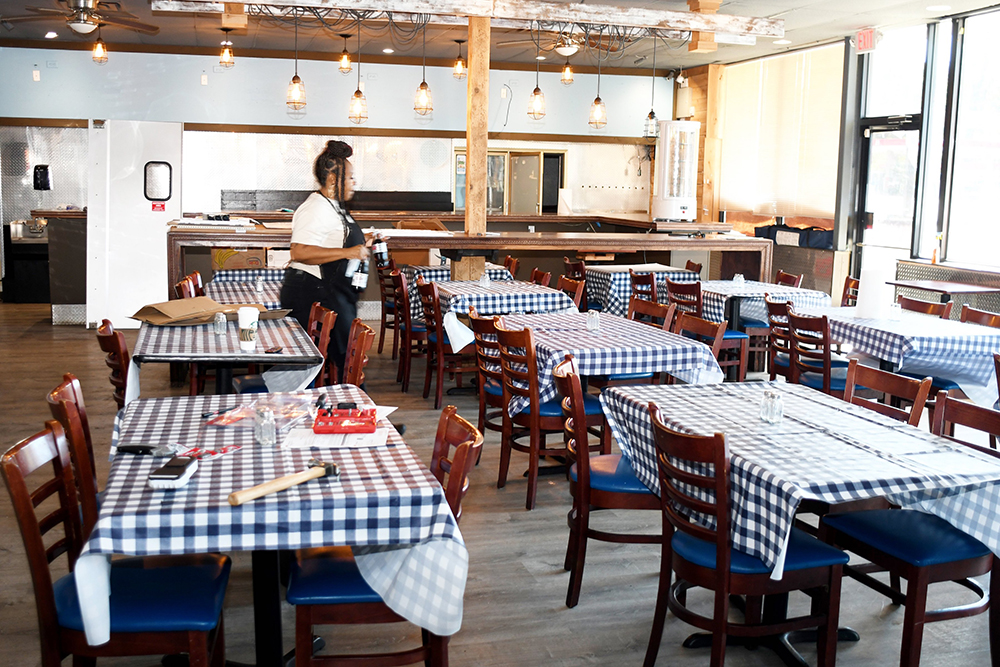 Staff Photo by Robin Rudd / The dining room inside Uncle Larry's new location is almost ready. Larry Torrence will be opening his fourth Uncle Larry's restaurant at 8701 East Brainerd Road. Uncle Larry's was photographed on October 6, 2022.

BRAINERD / EAST BRAINERD
— El BBQ Mexique, 7655 East Brainerd Road. The Tex-Mex comfort food is centered on barbecue pork, beef and brisket.
— Volcano Korean BBQ, 2011 Gunbarrel Road. This all-you-can-eat restaurant, where orders are prepared at the table, is named for the fiery cooking style of hibachi.
— Uncle Larry's, 8701 East Brainerd Road. This is the fourth location of the locally owned restaurant, where fried fish is the claim to fame.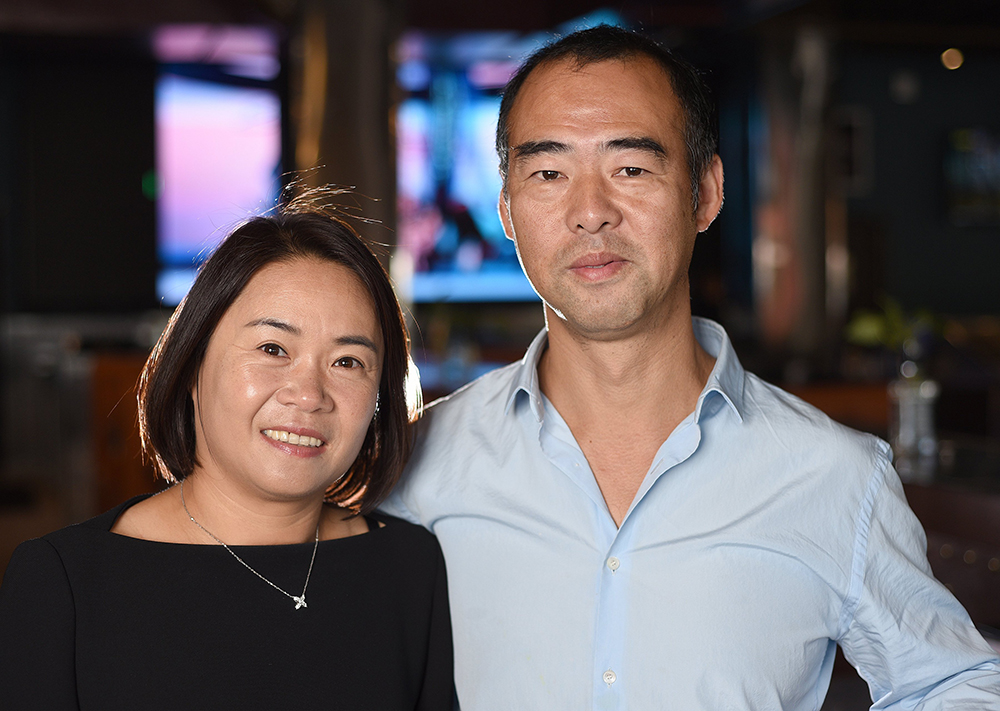 Staff photo by Matt Hamilton / Xiu Feng Lin, left, and Quan Ren Lin at Volcano Korean BBQ.

EAST RIDGE
— Twin Peaks, 500 Camp Jordan Parkway. This restaurant and sports bar, decorated like a wilderness lodge, serves American, Southwest and Southern cuisines.
HIXSON / RED BANK
— Clever Alehouse, 2122 Dayton Blvd. The Red Bank restaurant offers bowls, tacos and sandwiches in addition to beer and cocktails.
— Spanglish Modern Mexican, 5622 Highway 153. The Hixson restaurant is known for contemporary Mexican food with an American twist.
— Miller's Ale House, 574 Northgate Mall Drive. After the success of the first location on Gunbarrel Road, the restaurant and sports bar opened a second outlet north of the river.
— Monkey Town Brewing, 724 Ashland Terrace. The longtime favorite in Dayton, Tennessee, chose Chattanooga for its second location.