Insurer Unum Group on Friday marked 175 years in business as some employees bagged about 1,000 snack packs for food-needy children in the lobby of its downtown Chattanooga headquarters.
"It was a good year for Unum," said Martha Leiper, the company's chief investment officer, about 2022. "It's a good time for employees to engage in giving back."
The voluntary benefits company that offers disability, life, dental and vision insurance among its products has lasted so long because it meets a need, Leiper said in an interview.
"People need financial protection," she said. "They need a way to have a backstop in case something happens in their lives."
The company that employs about 2,800 in the city and around 10,000 worldwide is one of the oldest businesses in Chattanooga. It traces its start to 1848 when Union Mutual was chartered in Maine and later became Unum.
In 1887, Provident Life and Accident Insurance Co. was founded in Chattanooga. A series of mergers and acquisitions from 1993 to 1999 by Unum, Provident, Paul Revere and Colonial Life created what was known as UnumProvident and later Unum. Chattanooga became the headquarters of the insurance powerhouse.
Photo Gallery
Chattanooga-based Unum Group marks 175 years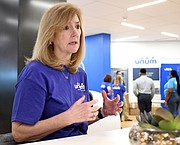 (READ MORE: Chattanooga's Unum Group names new head of diversity and inclusion)
While the combined company initially stumbled executing its business plan with the share price of its stock tumbling, it later regrouped.
Early this year, Unum posted better earnings for 2022 over 2021 on solid operating performance and favorable trends in its business, the insurer reported.
For the year, after-tax adjusted operating income was $1.25 billion, or $6.21 per share, versus $890 million, or $4.36 per share, in 2021, according to Unum.
Last December, Unum officials said it was adding about 100 new posts in Chattanooga and 200 companywide.
Leiper said the company will celebrate 175 years throughout 2023, with a big event in July, and have three so-called "caring spirit campaigns" such as the Heroes for Hunger effort this month.
"We're doing it in the U.S., Ireland, the UK and Poland," Leiper added, citing the other locations where it has offices.
Rachel Hargis, a corporate social responsibility manager in Chattanooga, said in an interview that the snack packs will benefit the Y-Community Action Program, which does early intervention and prevention for youth ages 10 to 15 referred by the juvenile court or school systems.
(READ MORE: Chattanooga-based Unum reports higher earnings for fourth quarter, year)
On Thursday, Unum volunteers had packed hygiene kits for the Community Kitchen, Hargis said.
"Unum is pretty unique," she said, adding that employees can take time to volunteer during the work day as long as business needs are met. "Unum is super-supportive. There's no shortage of need in Chattanooga."
Leiper said Unum supplied the food for Friday's volunteer effort.
"It's a core value for Unum," she said. "It's by giving time, talent, being an advocate and making a difference in the community. Younger people want to work for a company that gives back to the community."
Leiper said that through the pandemic, many employers had trouble finding workers. She said employee benefits is one of the top reasons people will decide to go to work for an organization.
"It's top of mind," Leiper said. "It makes us very relevant."
UNUM TIMELINE
• 1848: Union Mutual chartered in Maine, later becomes Unum.
• 1864: American reinsurance market born when Union Mutual reinsures Chicago Mutual Life.
• 1887: Provident Life and Accident Insurance Co. founded in Chattanooga, gets start by insuring railroad workers.
• 1937: Colonial Life and Accident Insurance Co. founded in South Carolina in 1937.
• 1939: Provident becomes first insurer to offer disability benefits.
• 1990: Unum expands to United Kingdom.
• 1993: Mergers and acquisitions from 1993 to 1999 combine Unum, Provident, Paul Revere and Colonial Life. Initially known as UnumProvident, the company becomes Unum Group in 2007.
• 1999: UnumProvident becomes first to offer employee assistance plan with group disability coverage.
• 2015: Unum expands to dental market with acquisitions of National Dental Plan and Starmount Life. Starmount also offers vision coverage.
• 2023: Company celebrates 175 years.
Source: Unum
Contact Mike Pare at mpare@timesfreepress.com or 423-757-6318.