Two events on or near the water this weekend offer illuminating experiences — literally and figuratively. Radiant puppets will give Renaissance Park and the Chattanooga Green an extra glow during the Light Up Chatt Parade, part of Rock the Riverfront. At Chester Frost Park, engineering students will set sail to see if their concrete boats can float.
ARTS
-- Hunter Museum of American Art, 10 Bluff View, will use the exhibition "Really Free: The Radical Art of Nellie Mae Rowe" as inspiration for a discussion of the effect of municipal changes in Chattanooga's African American community over the years. A Sense of Place: Memories of Chattanooga, set for 6-7:30 p.m. Thursday, will feature insights from community leaders Edna Varner and the Rev. Ann Jones-Pierre. Admission is free. huntermuseum.org
-- Institute of Contemporary Art at the University of Tennessee at Chattanooga will close out the academic year with the 2023 BFA Senior Thesis Exhibition, presented in two parts to showcase the works of 24 students graduating with a Bachelor of Fine Arts. The first show opens with artist talks 5-6:30 p.m. Friday, the second show on April 14. Talks take place in Benwood auditorium in the Engineering, Math and Computer Science Building, 735 Roland Carter St. Receptions follow until 8 p.m. in the galleries, 752 Roland Carter St. icachatt.org
COMEDY
-- The Comedy Catch, 29 Station St., will host actor and comedian Chris Clarke in shows at 7:30 and 9:45 p.m. Friday and Saturday. Among his projects is a YouTube channel, "Csnacks," which draws millions of viewers for his critiques of the latest snacks in the front seat of his car. Tickets are $19-$22. thecomedycatch.com
-- Gem Theatre, 114 N. Wall St., Calhoun, Ga., will welcome actor and comedian Henry Cho at 7:30 p.m. Saturday. The Knoxville native often draws humor from his childhood experiences as an Asian American growing up in the South. Tickets are $40-$56. calhoungemtheatre.org
Photo Gallery
Chattanooga area events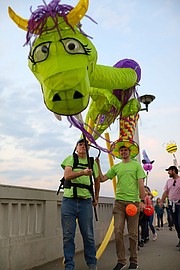 FILM
-- Imax Theater, 201 Chestnut St., will pair the opening of the new feature film "Dungeons & Dragons: Honor Among Thieves" with a giveaway at 7 p.m. Thursday. For the premiere showing on the six-story screen, the first 50 guests will receive a complete set of seven dice used in the D&D tabletop games (one set per guest). Seven more screenings are scheduled through Tuesday. Tickets are $15. tnaqua.org/imax
-- Chattanooga Jewish Documentary Film Series continues next week with "Xueta Island," about a group of families on the Spanish island of Majorca who have been discriminated against since the 1400s because their surnames have a connection to a once suppressed Jewish heritage. The fourth of five films in the series, it will be available virtually Sunday through April 7 (noon to noon) and may be viewed in person at 7 p.m. Monday at the Jewish Cultural Center, 5461 North Terrace. Tickets are $12. Virtual screenings must be paid in advance to receive the login code. jewishchattanooga.com
MUSIC
-- Barking Legs Theater, 1307 Dodds Ave., will welcome the Mike Salter Quartet for the weekly installment of Jazz in the Lounge at 7 p.m. Wednesday. Cover is $5. barkinglegs.org
-- Barrelhouse Ballroom, 1501 Long St., has four upcoming shows, including a twofer with country-folk artist Charles Wesley Godwin, with special guest Josh Meloy. Tickets are $25-$27 and available for the Wednesday show at 8 p.m.; the Thursday show is waitlisted. Jam band Spafford will play at 9 p.m. Friday. Tickets are $20-$25. Back in Black: A Tribute to AC/DC will play at 9 p.m. Saturday, with support from Chattanooga rock band Moon Juice. Tickets are $15-$20. barrelhouseballroom.com
-- Chattanooga Symphony & Opera will present "Mozart's Requiem" as its next Masterworks concert at 7:30 p.m. Thursday in Memorial Auditorium, 399 McCallie Ave. Also on the program is the world premiere of "Journey in 4 Movements" by composer Douglas Hedwig, a New York native who has lived in Chattanooga, with his wife, Mimi, for almost 10 years. In an email, Hedwig said his piece was inspired by the works of American philosopher Joseph Campbell (1938-1987), whose writings have been cited by film director Georgia Lucas as themes underlying the "Star Wars" movies. Tickets are $15-$90. chattanoogasymphony.org
-- Songbirds, 35 Station St., has four shows in the weekend lineup. Thursday features Grammy nominee Roosevelt Collier, a fourth-generation lap steel guitarist, at 7 p.m. Opposite Box opens. Tickets are $22-$25. The Shindellas, whose style is a modern take on jazz, soul and R&B music, will perform at 7 p.m. Friday. Tickets are $25-$30. Indie rock band Susto will play at 7 p.m. Saturday. Tickets are $17-$20. Jazz trio The Bad Plus will play at 7 p.m. Sunday. Tickets are $35. songbirdsfoundation.org
-- Walker Theatre, 399 McCallie Ave., will welcome the Mountain Goats on the indie folk/rock band's Spectral Tide tour at 8 p.m. Friday. Adeem the Artist supports. Tickets are $35-$40. tivolichattanooga.com
-- Chattanooga Community Orchestra, which originated in 1967 as the Senior Neighbors Orchestra, will perform one in a series of spring concerts at 2 p.m. Saturday at Hamilton Place, 2100 Hamilton Place Blvd. Admission is free. facebook.com/seniorneighborsorchestra
-- East Tennessee Symphony Orchestra, an all-volunteer ensemble, will present a "Spring Symphonic Soiree" at 7 p.m. Sunday in the Collegedale Community Seventh-day Adventist Church, 9305 Four Corners Place. The concert will include music by Bach and Mussorgsky and feature trumpeter Brian Reichenbach in Alexander Arutunian's Trumpet Concerto. Admission is free. etsomusic.org
OUT & ABOUT
-- Jersey Mike's locations in the Chattanooga area have designated local YMCAs to receive 100% of sales, not just profits, Wednesday during the chain's annual Day of Giving. Participating locations are at 2260 Gunbarrel Road in Chattanooga, 5510 Highway 153 in Hixson, 5975 Elementary Way in Ooltewah, 1415 Dietz Road in Ringgold, Ga., and 2416 N. Ocoee St. in Cleveland, Tenn. Nationwide, the full day's sales at the nearly 2,500 Jersey Mike's restaurants are expected to top $20 million. The sub shops are open 10 a.m.-9 p.m. jerseymikes.com
-- Spring rummage sale, benefiting the preservation work of the Whitfield-Murray Historical Society, is this weekend at Crown Garden & Archives, 715 Chattanooga Ave., Dalton, Ga. Hours are 10 a.m.-4 p.m. Thursday and Friday, and 9 a.m.-1 p.m. Saturday. whitfield-murrayhistoricalsociety.org
-- Local author readings are scheduled 6:30-8:30 p.m. Friday at Mountain Arts Community Center, 809 Kentucky Ave., Signal Mountain. Listeners will hear excerpts of recent works by Edward Earl Sherman Braggs II, Paul Luikart, Andrew Najberg, Dana Shavin and Kris Whorton. Admission is free, but reserve a ticket to assure a complimentary glass of wine. eventbrite.com
-- Tell It on the Mountain, a storytelling session, is set for 6:30 p.m. Friday in the Walden's Ridge Civic League auditorium, 2501 Fairmount Pike, Signal Mountain. Tellers from the University of Tennessee at Chattanooga and the Cleveland Storytellers Guild will offer family-friendly stories, legends and tall tales. A Clever Alehouse food truck will be on-site at 5 p.m. The evening will end with s'mores and impromptu storytelling around a bonfire until 9:45 p.m. Admission is free; donations are appreciated. facebook.com/waldensridgecivicleague
-- Engineering concepts will be put into practice this weekend as the University of Tennessee at Chattanooga hosts the American Society of Civil Engineers Mid-South Student Symposium. More than 300 civil engineering students from 15 universities will take part in off-campus public competitions, including concrete canoe races 9:30 a.m.-2 p.m. Friday at Chester Frost Park, 2277 N. Gold Point Circle, and steel bridge construction 7:30 a.m.-1 p.m. Saturday at the Chattanooga Convention Center, 1 Carter Plaza. Spectators are welcome to see how the projects turn out. 423-425-4111
-- Rock the Riverfront, a continuing event centered on an interactive art installation, Los Trompos (spinning tops), will be highlighted by the second annual Light Up Chatt Parade this weekend. Lineup starts at 6:45 p.m. Saturday near "cardboard hill" at Renaissance Park, 133 River St. For the past few weeks, community artists guided by Playful Evolving Monsters and Art 120 have crafted puppets and lanterns that will glow with LEDs for the walk to the Chattanooga Green, 140 Riverfront Parkway, where Rock the Riverfront takes place. Los Trompos is open 10 a.m. to8 p.m. daily. Weekends add live music, art vendors, family activities and food trucks during select hours. Friday's musical act is DJ Tony Dub, performing 5-7 p.m. Saturday features Spanish rock band La Rumba at 6 p.m. Admission is free. rivercitycompany.com
-- Park Day, organized by the American Battlefield Trust for volunteers to help with the upkeep of battlefields and other historic sites, is Saturday. Locally, volunteers are needed at Chickamauga Battlefield to clear brush and debris from the Brig. Gen. Bushrod Johnson earthworks and paint cannon carriages belonging to Capt. Tyler Peeples' Georgia Battery. Participants will meet at 8:30 a.m. in the lower parking lot at the visitor center, 3370 LaFayette Road, Fort Oglethorpe, Ga. When the work is done, park historian Jim Ogden will lead an interpretive program explaining the role Peeples' Battery played in the Battle of Chickamauga. nps.gov/chch
-- Bee Green Day, a community conservation event, is scheduled 10 a.m.-2 p.m. Saturday on the front lawn of the Museum Center at Five Points, 200 E. Inman St., Cleveland, Tenn. Included are an art contest, workshops and educational exhibits by environmentally conscious sponsors. Admission is free. museumcenter.org
(READ MORE: It's too soon to start the garden, but these classes and events will get you ready)
-- Reflection Riding Arboretum & Nature Center, 400 Garden Road, has two field outings Saturday. A Wildflower Walk to see spring ephemerals is 10-11 a.m. It repeats Saturdays through April 29. Tech Trek, to learn to use the iNaturalist app to identify plants and animals, is 2-3 p.m. It repeats Saturdays through April 15 and is designed as training for the 2023 City Nature Challenge, a global identification event April 28-29. Cost for either outing is $5-$10. reflectionriding.org
-- Good Old Days Museum, 11298 Wall St., Soddy-Daisy, will mark its seasonal debut with a cruise-in and swap meet 10 a.m.-3 p.m. Saturday. The museum, which is operated by the Soddy, Daisy and Montlake Historical Association, features artifacts and memorabilia of Soddy-Daisy's Indian and pioneer settlers, prominent families and the history of coal mining and other industries. Admission is free, but donations are welcome. good-old-days-museum.weebly.com
(READ MORE: Soddy-Daisy museum is latest in a network of facilities exploring region's history)
-- Spring Market, the April installment of a monthly, themed art, food and farmers market, is 10 a.m.-4 p.m. Saturday at Mountain Arts Community Center, 809 Kentucky Ave., Signal Mountain. Admission is free. shopthemarketat.com
-- Archaeology Day is 10 a.m.-4 p.m. Saturday at the Chief Vann House, 82 Highway 225 N., Chatsworth, Ga. Themed activities will include artifact and map displays from the site's 1958 excavation, dig boxes, pottery crafting, modern and primitive tool exhibits and lessons in how time and place can be assessed through soil. All activities are included in $6 park admission. gastateparks.org/chiefvannhouse
-- Autism Day Celebration, presented by the Chattanooga Autism Center, is 11 a.m.-3 p.m. Saturday at the East Ridge Community Center, 1517 Tombras Ave. The event includes a presentation by an author who has an autistic son, a fire truck to explore, games, snacks and character appearances. Admission is free. facebook.com/CHAautism
-- Sip TN Wine Festival is noon-4 p.m. Saturday at First Horizon Pavilion, 1826 Reggie White Blvd. The event features more than 100 wines from producers across the state, plus gourmet foods and artisan crafts. Tickets are $45. siptn.com/chattanooga
-- Hot Slaw & Art Y'all Festival is noon-8 p.m. Saturday in downtown Cleveland, Tenn. Made with a mixture of mustard, mayonnaise and a secret sauce, hot slaw has long been a culinary sensation among Cleveland cooks, according to press material. The festival will celebrate that heritage with food vendors, art exhibits, contests, live music and street performers. Activities will be set up around First Street Square, 223 Inman St., and elsewhere near the Bradley County Courthouse. hotslawfestival.com
-- Chattanooga River Market will have the last two-day gathering of its spring kickoff this weekend on the Tennessee Aquarium plaza, 1 Broad St. The vendor emporium of handmade arts and crafts, artisan foods, food trucks and live music, will run 10 a.m.-5 p.m. Saturday, 10 a.m.-4 p.m. Sunday. The market will be on a Saturday-only schedule April 8-Oct. 28. Admission is free. chattanoogamarket.com
-- Magnolia Market Days, an arts and crafts festival, is this weekend at Bradley Square Mall, 200 Paul Huff Parkway, Cleveland, Tenn. In addition to the more than 150 vendors inside, the parking lot will have food trucks, pony rides, inflatables and photos with the Easter Bunny. Hours are 10 a.m.-5 p.m. Saturday and noon-5 p.m. Sunday. Admission is free. touchtheskyevents.com
-- Healthy Taste Vegfest is scheduled 11 a.m.-6 p.m. Sunday at Collegedale Commons, 4750 Swinyar Drive. The vegan and plant-based festival includes diet and health-related products from local vendors, panel discussion by local physicians and health educators, spring gardening class and multiple cooking demos. Children's activities will include interactive "Snakes Alive" programs by Rick Teepen at noon and 3 p.m., a science show by Ben Roy and readings of "Why I Eat Broccoli" with author Sarah Victor. Admission is free. healthytaste.net
-- Chattanooga Spring Break Safari, designed for families to explore local places of interest, continues through April 9 as Hamilton County Schools students start spring break Monday. Themed scavenger hunts can be completed outside of the featured tourist attractions. Regular admission is required to enter. visitchattanooga.com
SPECTATOR SPORTS
-- Chattanooga Football Club, a National Independent Soccer Association men's professional team, will open the 2023 home season against Gold Star FC Detroit at 3 p.m. Saturday at Finley Stadium, 1826 Reggie White Blvd. Tickets are $11-$20 ($5 more on game day). chattanoogafc.com
-- Chattanooga Red Wolves, a USL League One men's professional team, will play Central Valley Fuego out of Fresno, Calif., at 7:30 p.m. Saturday at CHI Memorial Stadium, 1 Stadium Way. Tickets are $13-$30. chattanoogaredwolves-sc.com
THEATER
-- Lee University Theatre will close out a run of "Jack's Tale: An Appalachian Musical" this weekend. Shows start at 7:30 p.m. Thursday, 7 p.m. Friday, and 2 and 7:30 p.m. Saturday in the Communication Arts Building, 345 Church St. NE, Cleveland, Tenn. Tickets are $10-$15. eventbrite.com
-- Ocoee Theatre Company will present final performances of "Harvey," about a 6-foot-3 1/2-inch-tall invisible rabbit, this weekend at Cleveland Middle School, 3635 Georgetown Road NW, Cleveland, Tenn. Showtime is 7:30 p.m. Friday and Saturday and 2 p.m. Sunday. Tickets are $20. facebook.com/ocoeetheatre
Find more events, and add your own, at times freepress.com/cnevents.
Contact Lisa Denton at ldenton@timesfreepress.com or 423-757-6281.