Volkswagen Group of America's chief executive is now living in Chattanooga, and he plans to shift some jobs from the company's headquarters in Virginia to the plant as he brings more engineering, supply and purchasing to the area.
CEO Pablo Di Si said in an interview last week he doesn't know how many headquarter-type posts will come to Chattanooga, but key roles related to VW's products and manufacturing will move here.
"The first one to move was me," he said, adding he began renting a residence in Chattanooga about two months ago. "I need to be close to the factory, close to the people, close to the supply bases. I can't do that on video conferences."
VW's only U.S. assembly plant has nearly 5,000 workers in Chattanooga.
Di Si, 53, who took over as head of Volkswagen's entire North American region last September, said shifting some roles to Chattanooga will be painless.
Photo Gallery
VW of America CEO moves to Chattanooga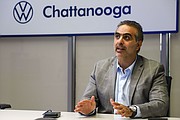 "I won't force anybody to move here," he said
For example, he said, the company's lead engineer, who in the past has operated out of VW's headquarters outside of Washington, D.C., left that post to return to Germany, and the new job opening will be in Chattanooga.
The company CEO said while he will maintain an office in Herndon, Virginia, he travels a lot to this area to visit the plant and suppliers. Recently, he said, he visited SK Innovation's factory in Northeast Georgia, which supplies the batteries that go into the Chattanooga-built electric ID.4 SUV.
"That was the third time in seven months at SKI," Di Si said.
About a week ago, VW unveiled a plan to hire more than 500 additional workers in Chattanooga this year to meet growing demand for its ID.4 as well as the conventionally powered Atlas and Atlas Cross Sport SUVs, which also are built here.
Burkhard Ulrich, VW Chattanooga's senior vice president for human resources, said in an online interview that there's high demand for all of the vehicles.
Ulrich said the automaker is hiring production employees primarily for its second and third shifts for its assembly, body and paint shops as well as logistics workers. All the new employees will be directly hired by VW and eligible for benefits on day one, he said.
VW's moment
Di Si, who was born in Argentina and was executive chairman of the German automaker's South American region before he was elevated to his current post, said "the moment is now for VW" to boost sales in North America.
"We have full support of the board in Germany to make the North American region a strong third leg after China and Europe," he said. "We have all the ingredients. Now we go to work."
He cited the progress made in Chattanooga to produce the ID.4. Assembly started in August, and plans are to build 7,000 of the battery-powered SUVs at the plant this month. That's in addition to 10,000 Atlas vehicles, Di Si said.
"We're increasing capacity," he said. "We need to have parts, logistics, the whole ecosystem. It takes a lot to tango."
Workforce development
Di Si said one initiative he believes is coming involves bolstering education and training with plans under discussion to expand ties with the University of Tennessee System, particularly when it comes to engineering. Talks have included system President Randy Boyd, he said.
"It's in the DNA of the company," Di Si said about education. "Now, we need to work through the details."
He said VW and the state of Tennessee are "of the same mindset. The important thing is the direction and going in the same direction." Di Si mentioned commitments made by the automaker and the state in the past.
"It's a two-way street," he said. "We've both honored our commitments."
While Di Si is only nine months into his current post for VW, he's not new to America. He said he came to the U.S. at 17 on a soccer scholarship to Loyola University in Chicago. He said he later earned the presidential scholarship at Loyola for his studies in finance. Still later, he attended Northwestern University in Illinois, where he received an accounting degree.
Di Si said he became a U.S. citizen in the early 1990s. After jobs with companies such as Abbott Laboratories, Monsanto and Kimberly-Clark, he returned to South America and worked for the automaker Fiat. He joined VW in 2014.
"I was attracted to VW as a competitor," Di Si said. "The quality of their vehicles, the visionary people they had."
During his stint in South America, he said, the automaker launched 25 vehicles in five years, most of which were developed locally.
"It was quite intense," Di Si said. "It was a turnaround. It was quite difficult, but we had a good team."
Di Si replaced Scott Keogh, who oversaw the Chattanooga plant's $800 million expansion to produce the ID.4. Keogh became president and CEO of VW's recently established Scout Motors venture, which in March announced plans for a new production plant in Columbia, South Carolina, to build electric pickups and rugged SUVs.
Contact Mike Pare at mpare@timesfreepress.com or 423-757-6318.