MURFREESBORO, Tenn. — Helen Guerry remembers hitting tennis balls with Samantha Caswell as a young kid growing up around the Baylor tennis community.
During her eighth-grade year, Guerry recalled having the opportunity to play doubles with Anna Hawkins. That team didn't get a chance to play the spring season, which was cancelled in March of 2020 due to the COVID-19 pandemic and prevented the program from extending its nine-year streak of Division II-AA state team championships.
To her, it was about winning. It was about being a part of the culture she had seen created during her youth, one created by Baylor director of tennis Ned Caswell when he took over in 2009. When Caswell got there, the program had struggled some, having not won a championship since 2000 and having watched rival GPS either compete for or win every titles in the five seasons prior.
The program he was creating? One of hard work. The results have followed, as the Lady Red Raiders are in the state finals for the 13th consecutive season after defeating Hutchinson 4-0 Tuesday at Adams Tennis Center. To return to the top, Baylor will have to defeat Knoxville Catholic, the two-time defending state champion which has defeated the Lady Red Raiders in the past two title matches.
To get to this point, though? Caswell called it hard work. Like any program with a sustained level of success, it's been about sacrifice and never stopping playing. His mentality is if the teams put in the work, the results will come. Not just results in the short term, but long-term results as in being effective human beings. The programs may get beat because an opponent will be better, but it won't be because Baylor isn't prepared.
Photo Gallery
Spring Fling tennis on May 23, 2023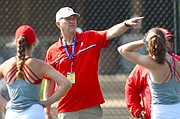 Hard work is all Caswell knows, having gone to Furman on a basketball scholarship and having played in 55 career games as a Paladin before moving onto a successful tennis career.
"We have to be serious year round in the fall, six months from playing," Caswell said. "You have to create that mindset in your kids, and then you get to watch them be successful. You give them the best chance to be successful adults if they buy in."
It's how Baylor has been the standard of the Chattanooga area in girls' tennis. McCallie is doing something similar on the boys' side, having routed Montgomery Bell Academy 4-0 on Tuesday to go for its fourth consecutive title Wednesday against Memphis University School, which beat Baylor's boys 4-1.
In Class A boys, Arts & Sciences advanced to the final with a 4-3 win over the University School of Johnson City, while in Class AA girls, McMinn County lost 4-2 to Houston.
The Lady Red Raiders are doing it with Guerry, a junior, and Gabby Czarnecki, a senior and co-captain of the team, with Czarnecki being considered the voice of the club. Guerry does it her way, trying to connect with everybody on the team from top to bottom.
It's similar to how Samantha Caswell treated her as a young child. She's just paying it forward. It's how the program has been built.
"I remember going to the matches when I was a little girl, wanting to be that when I was older," Guerry said. "I got to play up in eighth grade, and that's when COVID hit, but there were four seniors, and they had won state the last nine years in a row. We just want to continue that streak for them. Obviously, Knox Catholic has been crazy good, and it's been hard, but I think we've all just been working really hard to bring back the state title for the Baylor girls' team, because they kept it for so long. At the end of the day, we all love each other, and it's not about winning and losing because we practice all year round together, and I've been playing with half the team since we were five years old. Then we get boarders coming, and that's been fun, too.
"We just want to do it for each other, and hopefully we can take the win tomorrow — it would be great."
Contact Gene Henley at ghenley@timesfreepress.com.