Chickamauga Largemouths: If you bass fish, you already know that Chickamauga is one of the best largemouth bass fisheries in the country. If you don't, a fall trip to this 60-mile-long impoundment of the Tennessee River might just turn you into a lip-ripper.
Richard Simms, of Scenic City Fishing Charters, said the predictable fall patterns of bass make for some of the best fishing of the year.
The first bite Simms is excited about is a continuation of the summertime ledge pattern. Bass school up in cooler water on the 15- to 25-foot-deep river channel ledges. When TVA cranks up the dam turbines, the spiking current stirs up forage while consolidating bass on structure. These conditions lead to fast action with deep-running crankbaits, jigs and plastic worms.
A second bite Chickamauga bass anglers look forward to is the fall frog bite. Hopping a weedless, hollow-body frog across matted vegetation calls big largemouths up to explode on the surface. This bite requires heavy-duty casting tackle. For those not accustomed to baitcasting reels, another fun option is to fish the edges of the grass with finesse tackle and weedless soft plastics.
Check out Scenic City at sceniccityfishing.com or call (423) 509-4655.
Smallmouths on the River
There is an excellent smallmouth and spotted bass fishery on the Tennessee River, from Chickamauga Dam down through the Art District to Moccasin Bend. Another Scenic City guide, Chris Peters, has the fall pattern dialed in.
Peters' anglers typically experience 20-fish days, with mixed bags of spots and smallies, a couple of which might weigh in the 3- to 4-pound range. There's an outside shot at 5- or 6-pounders, which is huge for these hard-fighting river bass.
On the river, bass stack up in the current breaks and seams to ambush baitfish. Paddletail swimbaits are a good option to imitate the shad that are the primary forage. Jigs bounced around in wood or rock structure are good for fish keying on crayfish. Paralleling the banks with a crankbait will also draw strikes.
Fall is the best time of year for a topwater bite. Peters said he keeps a popper or a walk-the-dog style lure rigged on the deck because you never know when a school of bass will push a ball of frenzied baitfish to the surface.
Check out sceniccityfishing.com or call Peters at (423) 503-2809.
It's Trout Time in Chatt-Town
"Things tend to get real trouty around here when the weather cools off," said Seth Fields, owner of The Hatch Outfitters in Olde Town Brainerd. Cool-weather trout stockings have created some good fisheries on North Chickamauga Creek and Big Soddy Creek.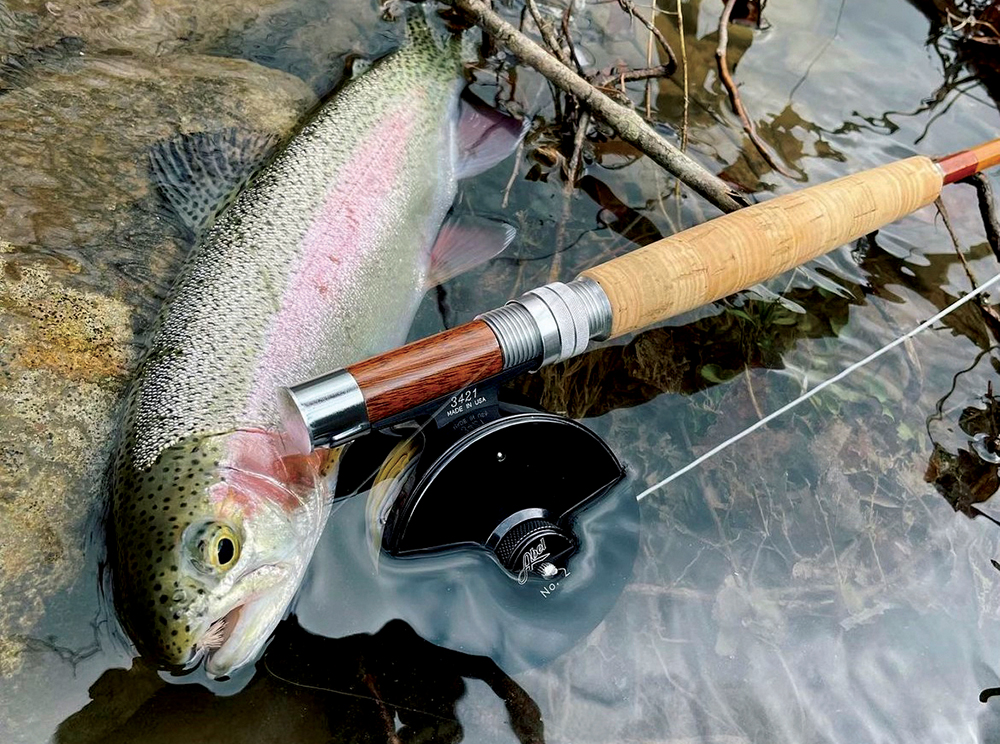 Photo contributed by The Hatch Outfitters / The Chattanooga area is home to two relatively new cool-weather trout fisheries.
Lightweight spinning gear is a good option for these creeks, which are also great fisheries for novice and experienced fly-fishers. If you're not into fly-fishing, bear with us through the following jargon.
When water conditions are right, usually in October or November, rainbow trout are stocked at North Chickamauga Creek Gorge. Fields said these stockings are limited in terms of numbers, but it creates a cool hike-in fishery in a gorgeous place.
Fields said the creek is well suited for 4- and 5-weight fly rods with floating lines. He suggested a double-nymph rig under an indicator, with brightly colored egg and worm patterns drawing looks from newly stocked fish. As the season progresses, transition to more natural-looking patterns. Streamers, like black or white Woolly Buggers, might turn a few better-sized fish. A high-floating attractor pattern, like a Chubby Chernobyl, with a small nymph dropped beneath is a good rig for covering water to find hungry fish.
The fish stocked in North Chick are mostly 8- to 9-inch rainbows, but previous stockings have included a dose of larger fish in the 12- to 15-inch range and a handful of 16- to 17-inchers.
An exciting new delayed harvest (DH) trout fishery made its debut at Big Soddy Creek Gulf last fall. Special DH regulations run from October 1 through the last day of February, when the stream is heavily stocked and fishing is catch-and-release only. Fields said TWRA stocked some large 17- to 20-inch fish last year.
Big Soddy fishes a lot like any other DH stream, meaning freshly stocked trout are suckers for bright and flashy egg and worm patterns and mop flies. They get smarter as the season progresses, and Fields said a double-nymph rig with a big stone fly trailed by something small and flashy is a good way to continue getting bites. Big Soddy is also a great place to Euronymph or to throw big articulated streamers.
The creek is suitable for 4- and 5-weight fly rods. Only artificial lures are allowed at Big Soddy during the DH season. Conventional anglers should try in-line spinners, small jigs or crankbaits.
If you're interested in learning to fly-fish, contact The Hatch Outfitters at (423) 541-4691 or go to thehatchoutfitters.com.