Get ready to embark on a taste adventure with the "Pumpkin Spice Harvest Crunch" — the ultimate treat for fall enthusiasts who can't resist a hint of pumpkin perfection. This recipe is like a cozy hug from autumn itself, blending pumpkin, a sprinkle of spice and all the delightful ingredients that make you think of being outdoors in the fall.
Food blogger and author Lindsay Ostrom gave inspiration for this recipe on her food blog, "Pinch of Yum," but this rendition has been slightly modified.
This recipe is an ode to outdoorsy types who are also head over heels for all things pumpkin-flavored. This granola is a seasonal love affair — a symphony of flavors that makes every spoonful feel like a pumpkin-patch picnic. It's a quick and easy recipe to whip up and bring along on a camping trip, hike or paddle.
Did we mention that this splendid snack comes with a healthy twist? Brace yourselves for this jaw-dropping fact: Each serving is rocking fewer than 400 calories! It's like enjoying a magical pumpkin carnival without the guilt trip.
So, whether you're a Chattanooga hiking champion, a leaf-peeper, a camping fanatic or just someone who's pumpkin-obsessed, get ready to savor the Pumpkin Spice Harvest Crunch. It's more than a recipe — it's a flavor-packed escapade that will keep you crunching through fall and beyond.
Pumpkin Spice Harvest Crunch
Prep Time: 10 minutes
Cook Time: 30 minutes
Total time: 40 minutes
Provides: 18 half-cup servings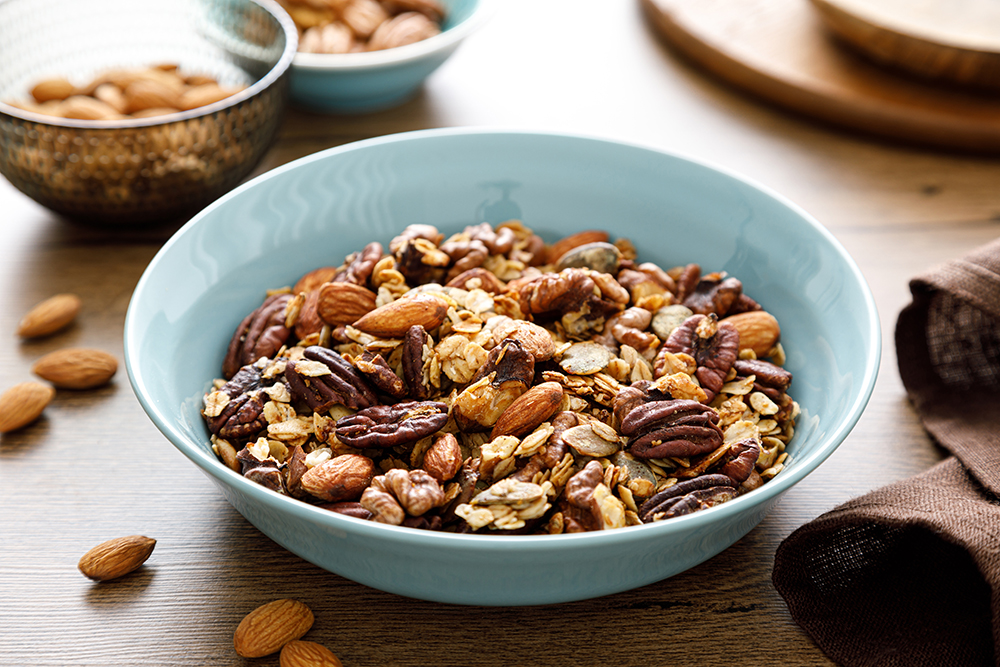 Getty Images / Pumpkin-spiced granola

INGREDIENTS
6 cups rolled oats
1 cup sliced almonds
1 heaping cup pecans
1 cup flaked coconut
1 cup pumpkin puree
1/2 cup pumpkin seeds
1 cup olive oil
1 cup maple syrup
2–3 tsp. salt
1–2 tsp. cinnamon
1-2 tsp. pumpkin spice
Approx. 1 tsp. pumpkim, vanilla and/or almond extract (or more to taste)
INSTRUCTIONS
1. Preheat the oven to 350 degrees.
2. Mix oats, almonds, pecans, pumpkin seeds and coconut together.
3. Whisk pumpkin, olive oil, maple syrup, salt, cinnamon and pumpkin spice together. Add extract(s) to taste.
4. Mix dry ingredients with wet ones.
5. Spread the granola onto a nonstick baking sheet.
6. Bake for 15 minutes, give the mixture a stir and continue baking for 15 additional minutes. Mixture should bake for a total of 30 minutes.
Remember to keep an eye on the mixture — some ingredients bake at a faster rate than others, so keep watch so that nothing gets overly toasty.
7. Store mixture in plastic Ziploc bags and combine granola with yogurt, milk or fruit. But the granola also tastes great on its own, as is.
8. Enjoy!