On a crisp morning, mist rises from the Tennessee River, signaling that fall is near, and with it, two premier watercraft races in downtown Chattanooga.
Each year, Chattajack 31 and Head of the Hooch attract thousands of athletes and spectators from around the world.
Chattajack, scheduled for October 28 this year, is a 31-mile paddling race through the Tennessee River Gorge, beginning at Ross's Landing. Head of the Hooch, held the first full weekend in November, is a two-day rowing regatta — the second largest in the country. In 2022, the events together brought nearly $10 million to the city.
"We can always talk about the economic benefit," says Tim Morgan, chief sports officer at Chattanooga Sports, a division of Chattanooga Tourism Co. "But there are intangible benefits, too. These events show visitors who we are as an outdoor destination. The volunteerism involved shows them who we are as a community."
Here's what else to know about these races.
Chatta-jacked
How a grassroots paddling race grew into a world-renowned event
Chattajack is notoriously difficult to get into. If you're not up at midnight when registration opens, there's a chance you'll get waitlisted, says event founder Ben Friberg. A paddler and endurance athlete, Friberg organized the first Chattajack in 2012.
"I did it for my own selfish reasons," he says. "I wanted a distance race, and all the [paddling] races during that time — regionally — were in the 10K range."
That first year, 30 paddlers competed. The following year, that number tripled — then again and again until Friberg capped the roster where it is today, at 700-plus paddlers with 200 more on the waitlist.
Athletes travel from all over the world, from Florida to France, to race Chattajack. In 2022, 90% of competitors traveled 80 miles or greater to compete, according to data from Chattanooga Sports.
But the roster boasts a number of homegrown competitors, too, like Chattanooga native Tom Popp, who has raced Chattajack every year since its inception. For the past three years, he has been joined on the course by all four of his children.
Here, in his own words, Tom Popp shares memories from his 10 years of Chattajack experience.
I race every year in the men's kayak division. The first year, [I chose] a boat designed for shorter whitewater races, and it was not a good choice for Chattajack. ... I came back the next year better prepared and finished second in the men's kayak [division].
Wind and waves can be an issue anywhere on the course, but I always find miles 24-30, just past Sullivan's Landing, the toughest. By that point, you are getting fatigued. ... It is a long, straight stretch that often has significant wind.
When I hit [a wall] in the race, I pick a spot a short distance ahead and tell myself to just make it to there. Then I pick another spot, and so on.
Haley, my oldest daughter, was the first to [compete]. She did it in a kayak in 2013. Bryson was next, in 2015, and he won the [open canoe] class. Colton joined in 2018. But 2021 was a really special Chattajack year for me because all of my children paddled. Selena joined us, racing with Haley in the women's double kayak.
Five "Team Popp" members completed Chattajack in 2021 and 2022, and everyone will be back on the water for the 2023 Chattajack.
At this point, with 10 in a row, I feel obligated to continue [racing Chattajack] as long as I am able.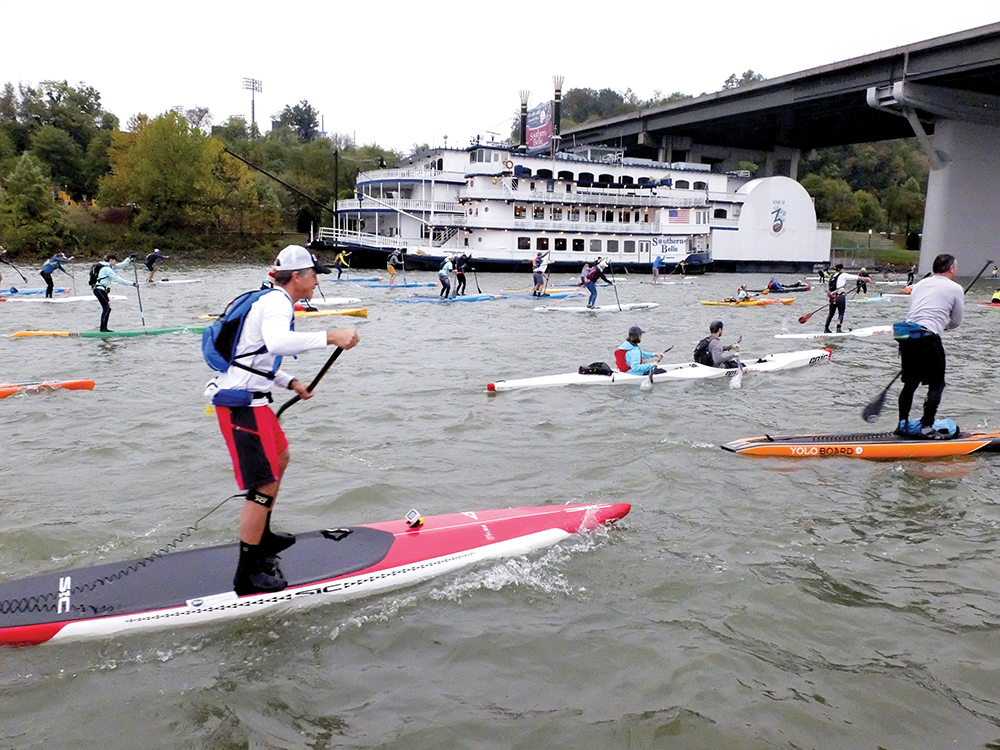 Staff file photo / Chattajack 31 race participants pass the Southern Belle riverboat at its dock, beginning a 31-mile trip through the Tennessee River Gorge.

Chattajack by the Numbers
31 miles the course covers
8.5 hours competitors have to complete the course
40 states represented in the race
701, the number of competitors in 2022
635, the number of paddlers who traveled 80 miles or greater to compete in 2022
$800,000, Chattajack's economic impact in 2022
Sources: visitchattanooga.com/sports and chattajack.com
4 Places to Cheer on Racers
1. Mile 0: Ross's Landing
2. Mile 10: Suck Creek boat access area (This is an exciting place to be, Friberg says, as it is the first cut-off point. Paddlers have 2 hours and 30 minutes to reach mile 10; otherwise, they are disqualified.)
3. Mile 16: Raccoon Mountain boat ramp
4. Mile 31: Hales Bar Marina & Resort (Paddlers must make it to the finish line within 8 hours and 30 minutes, where they are met with music and other festivities.)
Learn about Chattajack volunteer opportunities at chattajack.com/volunteer. Chattajack will take place on Saturday, October 28, 2023.
Row With It
Volunteers are crew-cial to the country's second-largest regatta
Head of the Hooch is a celebration of the sport of rowing. Athletes compete in racing shells — long, narrow, multi-person boats outfitted with oars.
The Chattanooga course runs 3.1 miles through the heart of downtown, ending at Ross's Landing. Every year, the two-day event attracts more than 8,000 rowers from around the world, ranging in age from 14 to 90.
Like Chattajack, securing a spot on the roster can be difficult, and the waitlist grows every year. These logistics are managed by volunteers. Everything is.
Produced by Friends of the Hooch, a nonprofit partnership between Lookout Rowing Club and Atlanta Rowing Club, the local regatta is 100% volunteer-run — from registration to race day.
When it comes to race-course capacity, the volunteers have it down to a science, says Tim Morgan of Chattanooga Sports.
"They've figured out how many boats they can get in and out of the water given how much light they have in a day," he says. "These people are enthusiastic and passionate about rowing. They define volunteerism."
In 2020, longtime volunteer Mike Connors became the volunteer regatta director. The weekend of the event, he works 12-hour days, which he has done since 2005.
"My first Head of the Hooch — as an athlete — was back in 1987, when it was still [hosted] in Roswell, Georgia. ... I competed and won the Men's Championship Single event," Connors says. "Volunteering is my way of giving back to a sport that has meant so much to me in my lifetime."
Fred Robinson, one of several assistant regatta directors, has been volunteering with Head of the Hooch for 17 years. He began rowing in the 1970s just after college and rekindled his love of the sport in 2003 when his daughter took it up in high school.
"I've found it to be a sport that most can enjoy from high school to old age," he says. "What brought me to the Hooch was simply a love of rowing and sharing a sport with my daughter. What keeps me here is the people."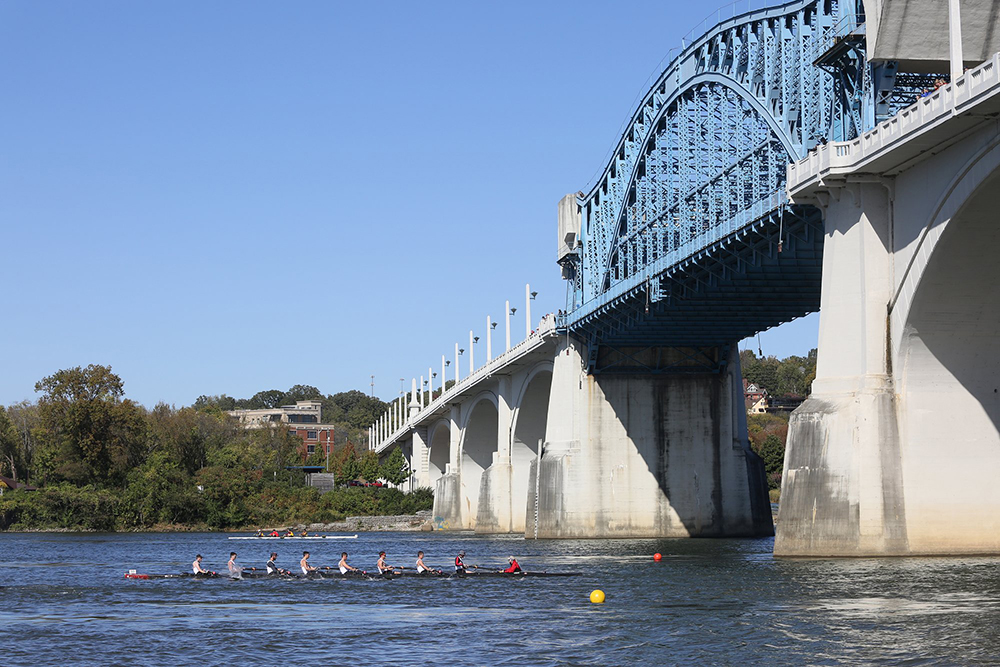 Staff file photo / A University of Georgia rowing team competes in the Head of the Hooch rowing regatta in Chattanooga.

Head of the Hooch Volunteers by the Numbers
600, the number of volunteers
4,000, the number of volunteer hours the week of the event
2,500, the total number of volunteer hours spent preparing for the event throughout the year, beyond the week of the event.
60, the number of volunteer hours Mike Connors logs the week of the event
Source: Mike Connors
Head of the Hooch by the Numbers
40, number of states represented in the race
8,000+, number of rowers who compete
200+, number of organizations represented
23, average age of rower
14, age of youngest rower
90, age of oldest rower
15,000, estimated number of spectators
$8.2 million, Head of the Hooch's economic impact in 2022
Source: headofthehooch.org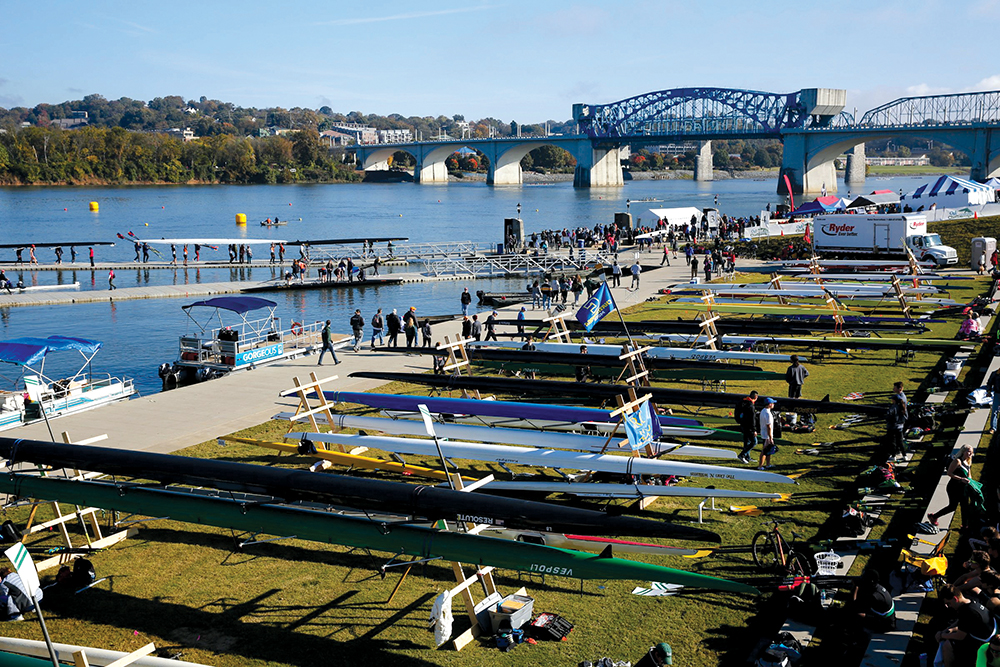 Staff file photo / Crews set up for the Head of the Hooch rowing regatta at Ross's Landing. Thousands of rowers gathered at the riverfront to compete in one of the world's largest regattas.

3 Ways to Watch the Race
1. The Walnut Street Bridge gives a bird's-eye view of the race. Spectators can look down on the river and watch crews as they glide under the bridge. This is also a good location for photographers.
2. Coolidge Park is a good vantage point to see boats on their way to the starting line as well as crossing the finish line.
3. People with bikes may want to follow the racers by biking on the Tennessee Riverwalk, which parallels the course. To rent a bike, check out bikechattanooga.com.
Source: Chattanooga Times Free Press
Learn about Head of the Hooch volunteer opportunities at headofthehooch.org. Sign up opens on October 6 at 9 p.m. The event will take place on November 4-5, 2023.