As the Howard School of Academics and Technology marching band made its way down Market Street, Shaniah Jones sat on her grandfather's shoulders and bobbed her head from side to side.
Then another float rolled by at the Starlight Parade on Saturday, this one belting out "Santa, Can You Hear Me?" on its speaker system.
Fred Jones came to the parade at 6 p.m. for his granddaughter. He missed the Lighted Boat Parade in November because he was working, so he brought his granddaughter, his daughter and his mother to the parade of floats on Market Street. He said he goes along for them, but he admits he likes watching the parade.
"I like the colors," he said. "The floats, they're pretty cool."
Last year, the parade was canceled because of a lack of funding. Carla Pritchard, president of Chattanooga Presents, said last year that the parade costs about $15,000, and no one could front the money. This year, Volkswagen signed on as a presenting sponsor.
Wayne Chambers said he has 50 years' worth of parades under his belt. He's been attending the Starlight Parade since the late 1980s, and this one might be one of the best.
"It's very interesting to see all the communities come together," he said. "Volkswagen seems to have done a good job this year."
A dozen Chattanooga police officers rode motorcycles and drove cars. Dogs barked from the Humane Educational Society's float marked with a sign reading "ADOPT." About 35 elementary, middle and high school students banged on drums, blew trumpets and danced in the Howard marching band. Fifteen kids dressed in military fatigues represented the Young Marines. Volkswagen's own float lit up a 2012 Passat and a 2012 Beetle, surrounded by Christmas lights.
Jessica and David Blair brought 7-year-old Zack and 5-year-old Kaylee, from Hixson, to see the lights and colors.
"You don't really get many night parades," Jessica Blair said. "So the kids like the lights."
They huddled on the side of the street with a blanket to prepare for the cold.
"We remember the last time we came," David Blair said, "it was freezing."
This year, the temperatures hovered in the high 30s.
Brittany Rawlins, 23, came with her three children and called all of her friends and family because she said it's a way for everyone to come together.
"I look forward to it every year," she said. "I called everybody and told them to come."
Her 5-year-old son, Melaki, said he likes hearing the Christmas music.
Photo Gallery
The Fountain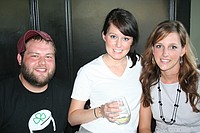 Wednesday, June 24.