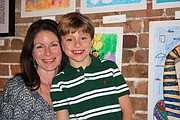 Several inches of snow, sleet and freezing rain fell overnight, blanketing the Tennessee Valley and North Georgia and making the Monday morning commute nearly impossible for some.
The snow has crippled even the most-trafficked thoroughfares in the area, according to Tennessee Highway Patrol dispatchers.
Monteagle is open with two lanes of travel, but the rest of I-24 has only one lane open. I-75 is also down to one lane, said dispatcher Stacey Boyd.
"We've been out with broken down motorists all night," Boyd said.
Both the W Road, Roberts Mill Road and Ochs Highway are closed to traffic. The Tennessee Department of Transportation traffic cameras show interstates that still are coated in snow and ice. All roads in Soddy-Daisy are impassable, WRCB Channel 3 is reporting.
Some roads on Whitfield County, including Dug Gap Battle Road, are closed. Highway 52 east in Murray County is closed, WRCB reports. All roads in DeKalb County, Ala., are impassable, the National Weather Service reports.
All regional schools and colleges are closed.
The governors of Tennessee, Georgia, Alabama and Louisiana have declared states of emergency.
The winter storm rolled across the South overnight Sunday, causing at least one death in Louisiana. The powerful storm that also dumped snow and ice in Mississippi, Alabama, Tennessee, Oklahoma, Arkansas and Texas. Forecasters said the front could also bring sleet and freezing rain lasting into Tuesday in Georgia.
Temperatures were not expected above freezing into Tuesday, so the snow and ice won't melt.
"Since it's going to be pretty cold over the next few days, we could see whatever accumulates sticking around for a few days," National Weather Service meteorologist Daniel Lamb said.
The weather is expected to cause flight delays and cancellations at the Chattanooga Airport, and airport officials are urging passengers to avoid travel. In Atlanta, the world's busiest airport canceled thousands of flights.
In Tennessee and Georgia, call 511 for road conditions.
Check the Times Free Press all day for updates about the weather, road conditions and school closing for Tuesday.