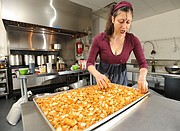 The recent arrest of a doctor accused of illegally writing prescription drugs in North Georgia highlights a growing epidemic across the state, authorities say.
Cases are on the rise of doctors who aren't licensed pain management physicians, yet they work at special clinics and often write hundreds of prescriptions for medications such as Oxycontin and Xanax.
And the easy access to prescription drugs is making it easier for illegitimate users to get the drugs on the streets, officials said.
"This is an epidemic situation," said Catoosa County Sheriff Phil Summers. "Our No. 1 drug problem is illegal drug medication."
The increase in "pill mills" - prescription clinics set up to dispense drugs illegally - can be traced back to the recent crackdown in Florida, said Rick Allen, the executive director of the Georgia Drugs and Narcotics Agency.
By the numbersInvestigated deaths in Georgia in 2008:3,000 autopsies conducted by GBI630 of those deaths were drug related520 drug-related deaths also were related to prescription drugsFast factsCharacteristics of a pain management clinic that could be operating illegally:Physician has minimal training in pain managementLarge volume of patients seen dailyClinic is run on a cash-only basisDrugs are dispensed on sitePatients drive long distances, often from out of stateClinics advertise on CraigslistSource: Georgia Composite Medical Board
Pill mills, which are different from legitimate pain management clinics, have distinct characteristics such as attracting patients from long distances or out of state, allowing or requiring cash purchases and often having physicians without training in pain management, law enforcement said.
Last week, Dr. Norman Neal, of Cleveland, Tenn., was charged with writing at least 29 blank prescriptions for medications such as hydrocodone after local and federal police raided Doctor's Health Center on Cloud Springs Road in Catoosa. Neal was the clinic's contracted doctor, and the owner said she had no idea he was doing anything illegal.
While some doctors run their own illegal operations locally, many pill mills are illegal businesses in Florida that have moved to Georgia, Allen said. Such operations are attracted to Georgia because it's one of only seven states that doesn't have a prescription monitoring program, he said.
Such programs keep track of prescription drugs and who buys them throughout the state.
Proposed legislation this year to implement a prescription monitoring program in Georgia in both the Senate and the House of Representatives is being backed by law enforcement and the Medical Association.
"We're an island state," said Rep. Tom Weldon, R-Ringgold, who is sponsoring the house bill. "All the states around us have prescription monitoring laws ... so that's pushed the drug dealers and people who are doctor shopping to Georgia."
PDF: Georgia House Bill 184
But other representatives worried about patients' privacy and asked Weldon to rewrite parts of the bill. On Monday, the bill was discussed in the House's Judiciary Non-Civil Subcommittee, but it was unclear Monday night whether it had been passed or voted down.
Committee Chairman Rep. Ed Setzler, R-Acworth, didn't return calls seeking comment. But at a meeting with Weldon last week, Setzler questioned how easily law enforcement could view a patient's history with the database.
But Weldon argued that police would need a subpoena to view the database if they were suspicious that a patient might be doctor shopping. Only the Drugs and Narcotics Agency would have full access to the information and could monitor physicians and pharmacists who used the system, he said.
While patients' privacy is important, the Georgia Composite Medical Board is increasingly concerned with the growing number of clinics and doctors who abuse their licenses or operate without a license, said Dr. John Antalis, a Dalton physician and member of the Composite Medical Board.
"We have a responsibility to try to eliminate this type of pill mills and have patients see a true pain management specialist," he said.
Law enforcement now is eyeing about 40 known pill mills in the state and a few are in the North Georgia area, Allen said.
"They're inside Atlanta, but there also out in the more suburban areas," said Georgia Bureau of Investigation Special Agent Rusty Grant, who is in charge of the Regional Drug Office in Canton, Ga.
Usually the business owners set up shop near major interstates such as Interstate 75, which makes it easier for patients to drive into the state and leave unnoticed, Grant said.
It takes police months to make a case against a suspicious doctor or clinic, said Larry Black, commander of the Lookout Mountain Judicial Drug Task Force.
"It's something that needs to be highly regulated in Georgia," he said.
Contact staff writer Joy Lukachick at [email protected] or 423-757-6659.